San Diego and the communities around it are one of our favorite destinations for sand and sun.
We were encouraged to try a restaurant called Campfire during our most recent visit to LEGOLAND, California and we were so happy we did. 
We not only fell in love with the restaurant's vibe and food, but we also fell in love with the area it is located in. 
Now we know there are so many reasons to visit Carlsbad Village and we will be back for sure.
1 Carlsbad Village is Home to Campfire
Campfire is a unique and inviting restaurant where you feel the warm comfort and nostalgia of sitting around the campfire with family and friends. We would never describe ourselves as foodies, but after eating here my kids and I may take up the art.  The food was rich in the aroma and flavors, filled with the warmth of a campfire.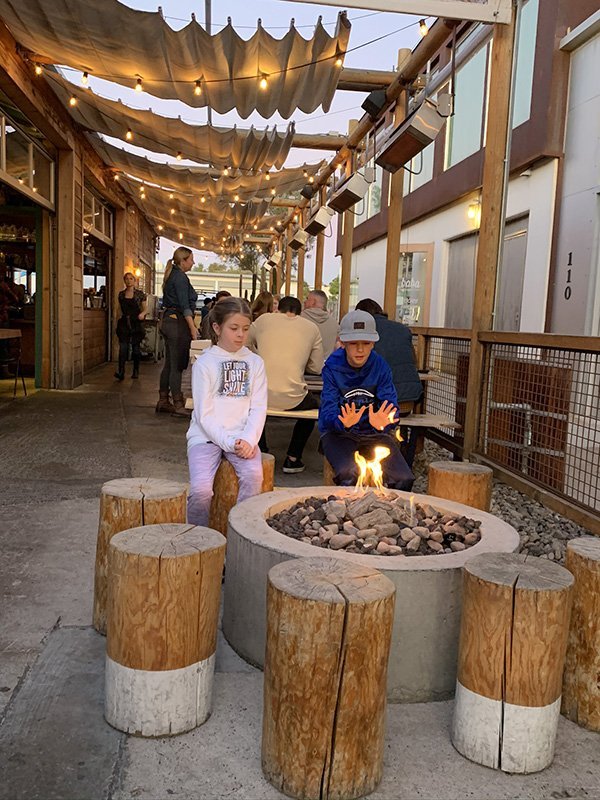 From the crafted cocktail that I enjoyed to the most beautiful kids' meals I had ever watched my kids receive, to the hand-crafted s' mores that we roasted right at our table, Campfire served up a night to remember. 
My kids can't wait to go to Campfire again.  This amazing restaurant and the other places we discovered are the reasons that Carlsbad Village is now one of our favorite Southern California spots. 
2 Carlsbad Village is Full of Beautiful Beach Town Shoppes
The small shops filling Carlsbad Village were colorful and charming.  We enjoyed looking around in each one that we meandered into. 
I loved the surf shop, Sun Diego, housed in the beautiful old sea blue building.  I can't surf yet, maybe I'll take lessons for my 50th birthday!  Anyone with me? 
However, I do love the ocean and the waves.  I love the beachy vibe felt in the fashion and gear sold in this quaint shop.  Check it out to see for yourselves, just how you feel when you walk in.    
My daughter loved the Mermaid's Boutique.  It was a conglomeration of curated artistic pieces from clothing to jewelry to home goods all revolving around the sea and its life.  I could have spent hours there, looking at every thoughtful detail, so many mermaid items.
My son loved the used bookstore we found, where each of my kids chose a book to read on the way home.
3 Carlsbad Village has the Best Homemade Ice Cream: Handel's Ice Cream
We couldn't get enough of Handel's Homemade Ice Cream!  This truly was some of the creamiest, most amazing ice cream.
The flavors that are handcrafted each day, made it so hard to choose just one.  And it was a good thing I did choose ONE!  Just look at this SINGLE scoop! 
Yes, this picture is what they call a single scoop.  I wish I had asked the girl next to me to take a picture of her double scoop.  We were all laughing so hard as the attendant kept making the skyscraper size ice cream taller and taller.
4 Yummy Mexican Food
We are die-hard Mexican Food fans. If you are too, you will appreciate the delicious menu at Norte Restaurant. We ate here on our day visit to Carlsbad Village.
Then with our full bellies, we walked around and enjoyed the shops and the beach.
5 Carlsbad Village allows easy Access to the Beach
We have always appreciated a beach that was not only nearby, but also easy to get to. We found easy access points right down to the sand. This was perfect when we wanted to leave shopping behind and go dip our toes in the salty seawater.
We spent our last day in California in Carlsbad Village, so before we headed back to the Arizona desert, we wanted to chase one more wave. 
Carlsbad Village made it so easy to enjoy the day shopping and eating then still get some last-minute sand and surf before leaving the area. 
Carlsbad Village is a great stop for top local restaurants, beautiful ocean shops, and a little sand and waves too. 
This little area of town offers everything a great beachfront should offer to create a relaxing, rejuvenating environment for your next beach vacation. 
While you are in SoCal, be sure to visit Carlsbad Village and spend some time, you will not be disappointed.