Is it worth going to an indoor waterpark with all the sun?
If you are like me living in a state like Arizona that doesn't (or didn't until recently) have a Great Wolf Lodge, you may not even know what they are. I didn't know until I heard one was being built in Scottsdale, Arizona, across town from me.
Maybe like you, my first thought was an indoor waterpark, a Great Wolf Lodge in Scottsdale, Arizona? Why on Earth would we need that here?!
When a city like Phoenix boasts 299 days of sun and already hosts 4 outdoor water parks, why do we need an indoor water park like Great Wolf Lodge? Is there any point to go to an indoor park in a state like Arizona? Is it worth it?
Here are the top reasons it is a great getaway, even in Scottsdale, Arizona.
Indoor Waterpark = No Sunburns!!!
For me, this is my top reason to go to an indoor water park. As much as I love the outdoors. Someone with fair skin like mine will truly understand why there is a huge benefit to an indoor water park in a sunny state like Arizona.
I went to the waterpark for 3 days straight with my kids. I enjoyed the swimming and the waterslides, and all the fun without getting a sunburn. At. All! That is a miracle for me.
I grew up in Arizona and I used to get absolutely fried like a lobster when I was a kid and teenager in the water parks here. I would try to reapply my 30+ sunblock multiple times, but it didn't matter, the sun would eat me up to the point of blistered skin. Not only is that extremely painful, but it is dangerous.
Other Posts that Might Interest You
Why LEGOLAND is Perfect for Single Parents
Top Tips for a One Day Visit to LEGOLAND
Kids Go Free October: Best for Single Parents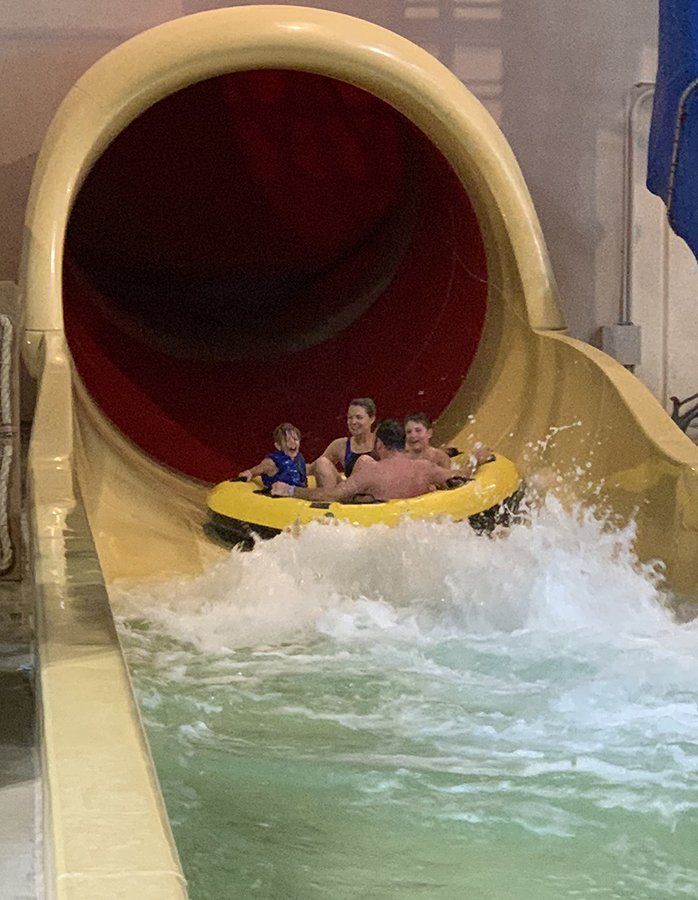 Indoor Waterpark = No Sunscreen!
I also realized with utter joy that not only did I not get burned or allow my kids to get burned while enjoying the water fun, but I didn't have to apply sunscreen over and over. Actually. Not. Even. Once!
This was wonderful since I can never seem to apply enough to keep us burn-free during long days in the water.
I am also becoming more and more chemical conscious and beginning to remove chemicals from our home.  Sunscreen is a big culprit that contains harmful chemicals and applied directly to the skin allows those chemicals to penetrate right into our bodies.  No sunscreen eliminates this concern altogether.
Indoor Waterpark = No 115-degree days!
The waterpark part of the resort is kept at a balmy and comfortable 84 degrees year-round. Now, don't get me wrong. It is not cool inside, but it does feel much more comfortable for playing a full day during the summer than out at the outdoor parks.
I do recommend that you still pack lots of water to bring along. You can refill your bottles at the Coca-Cola Freestyle machine near the restaurants. The humidity makes you feel hot and thirsty so don't forget to drink even though you are not outside in the direct sun.
Indoor Waterpark = No Need for a Shady Spot
One of the biggest drawbacks to the crowded outdoor waterparks here in Arizona is that if you don't get there early enough you may not find a shady chair to sit in or place to put your belongings.
Out in the heat and direct sun, you need a shady spot to spend some time in.
I have found difficulty with both finding a shady spot and keeping a shady spot in outdoor parks. The problem is your spot may be shady when you land there, but a couple of hours later when you need it most you may find it is not shady anymore!
In the indoor park at Great Wolf Lodge, all the seats are equally comfortable and shaded from the sun of Arizona's summer.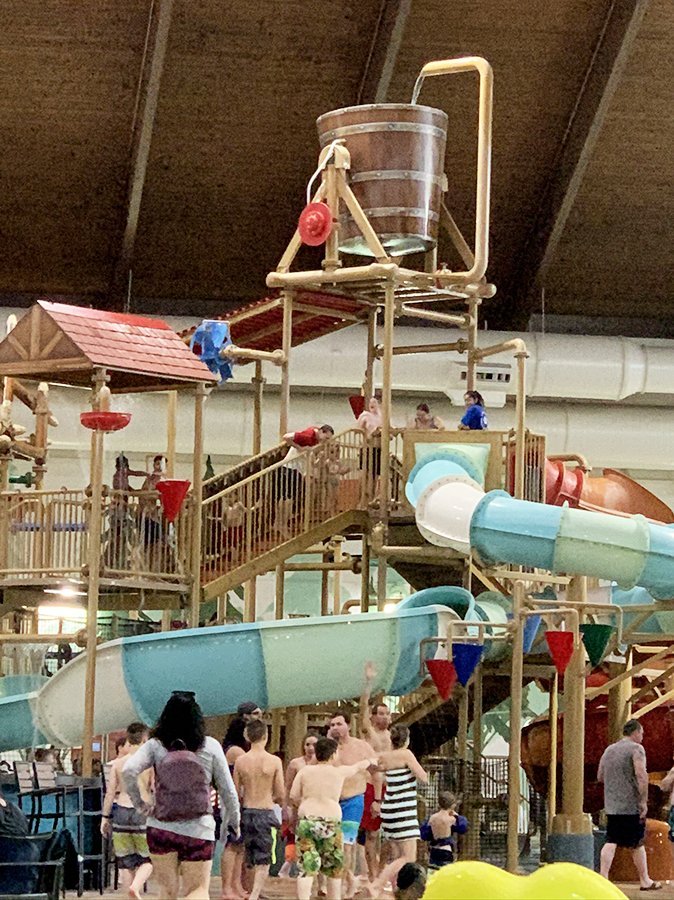 Indoor Waterpark = More Energy for Fun and Play
At the outdoor parks, especially when the sun is beating down, it can drain your body of energy due to heat exhaustion.
The nice thing about the indoor maintained temp is this is far less likely. Your kids will have the energy to play and play and play. Mine even wanted to return to the park after dinner for more play!
This will be good if you want them to sleep well but beware, parents, they may not want to quit till the park is closed for the night.
Indoor Waterpark = No Need for Water Shoes and still No Burned Feet
At the outdoor parks, the sidewalks get blazing hot. Even though you spend a lot of time in the water, you need shoes to get from place to place.
At the indoor park, the ground stays nice and cool which means you don't have to wear the sometimes-uncomfortable shoes or keep track of flip flops left near the various attractions.
Indoor Waterpark = This Mama's Favorite
After a few days at this indoor park, I am not going back. I think it would take a lot to get me to spend my money at one of the big outdoor parks after visiting Great Wolf Lodge, Scottsdale, Arizona.
How about you? Are there other reasons why you like the indoor park best? Or do you prefer the outdoor parks? Let us know in the comments.