After a busy day full of activity at the park, the last thing you want to do is have to think hard and do a lot of research to find where to eat on the way to the hotel or on your way out of town.
Here are a few of the top restaurants near LEGOLAND to relieve some of the stress of deciding the best place to eat after a day at the amusement park.
Plan ahead, plug it into your phone, and then head there immediately after the park!
LEGOLAND Hotel/Castle Hotel Dining Options
The easiest and most convenient stop would be the LEGOLAND Hotel or the Castle Hotel for the dining options they offer.
The Castle Hotel – Dragon's Den Restaurant and Bar
A full-service restaurant featuring "locally sourced ingredients, entertainers, LEGO Models, and tasty seafood, pasta and steak options…it's a unique dining experience unlike anything else."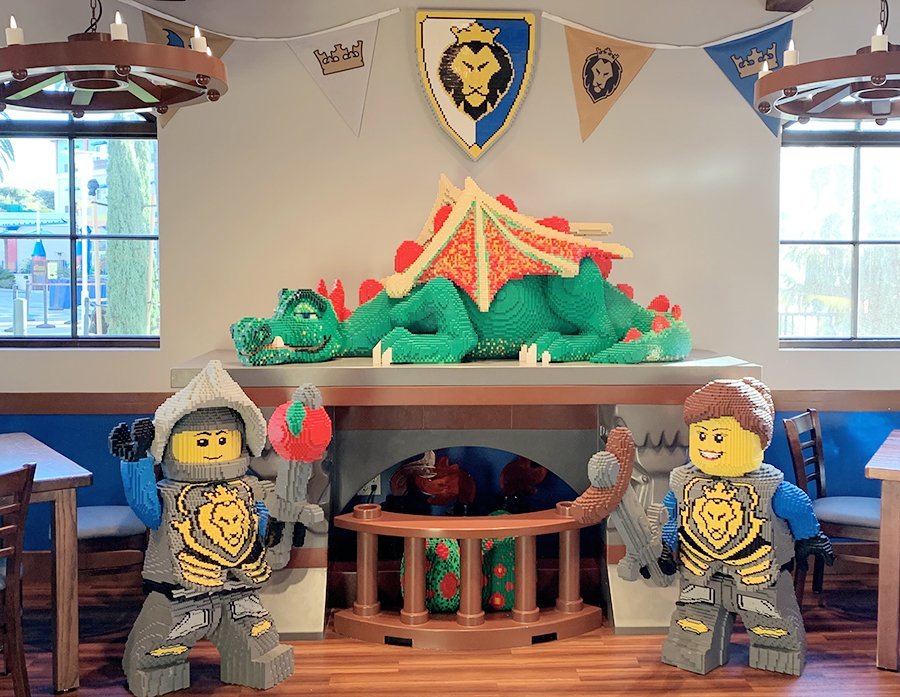 The LEGOLAND Hotel – The Brick's Family Restaurant
Brick's features an amazing and fresh all you can eat buffet for dinner. The buffet includes a "wide selection of fun, freshly prepared dishes for the whole family. Enjoy homemade soups, California fresh salad bar, carved meats sliced to order, a variety of hot and cold entrees, side dishes, desserts and sweets, our signature "Just for Kids Buffet" and our new live-action cooking station! Children 2 and under eat free."
Don't forget the LEGO entertainment that comes along with the meal, making for a fun extension of the fun had during the day at LEGOLAND theme park.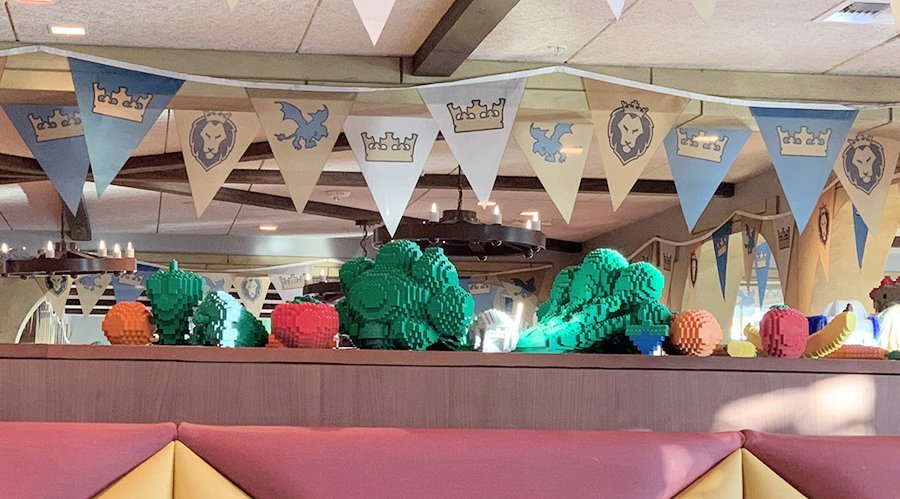 The LEGOLAND Hotel – The Skyline Café
The Café serves up "a variety of delicious, made-to-order appetizers, lunch and dinner menu options, as well as a wide variety of tap beers, wines and spirits."
We have really enjoyed the Brick's Family Dinner Buffet, all of us find many items to enjoy and have fun watching the entertainers throughout the meal.
Other Helpful Posts
Why LEGOLAND is Perfect for Single Parents
Top Tips for a One Day Visit to Legoland
It is recommended to reserve ahead if you plan to attend dinner at the Dragon's Den Restaurant and Bar. Also, expect there to be a lot of people in these restaurants after the park closes.
Other Great Nearby Options
Karl Strauss Brewing Co 5801 Armada Dr, Carlsbad, CA 92008
The Brewing Co is right across the street from the amusement park. It is a local favorite and great place to stop even with kids. The food is great, and the beer may be a welcome relaxing opportunity after a long day with the kids in the park.
Island's Restaurant 889 Palomar Airport Rd, Carlsbad, CA 92011
Up the road, right off the highway is Island's. This is a chain restaurant, but one that is sure to please with its great burgers, salads, and my favorite the Northshore Tacos. Yum! This is one place that the whole family is sure to love. Islands lives up to its name with the tropical theme and surfing videos playing on the screens around the restaurant. This unique restaurant is a great spot to unwind after LEGOLAND.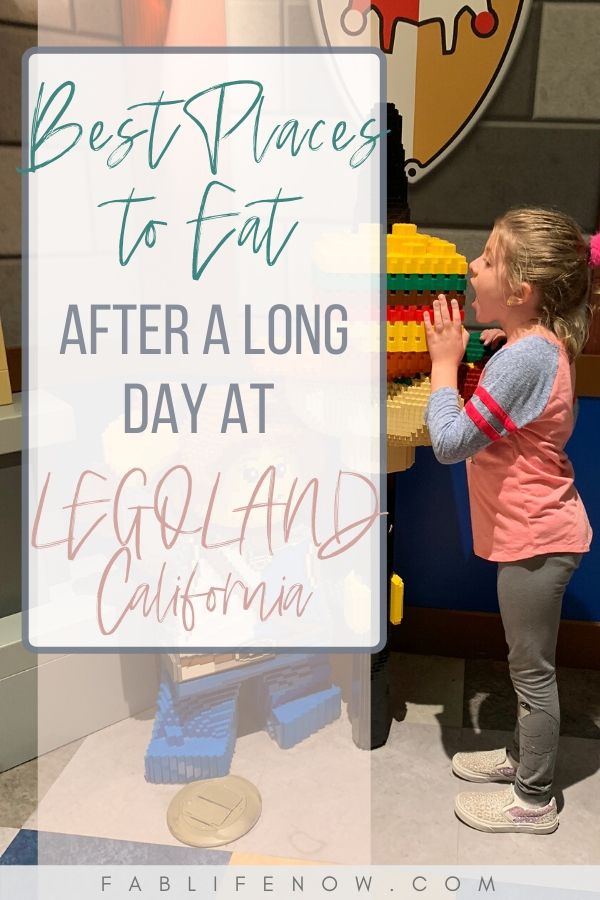 Burger Lounge 961 Palomar Airport Rd, Carlsbad, CA 92011
Not far down the street past Karl Strauss is a hip little Burger Place called the Burger Lounge. Burger Lounge serves grass-fed burgers, chicken, turkey, vegetarian, and fish sandwiches. These can, of course, be paired with French fries and shakes in the classic burger style. They do also offer salads and even have a full gluten-free menu.
Miguel's Cocina 5980 Avenida Encinas, Carlsbad, CA 92008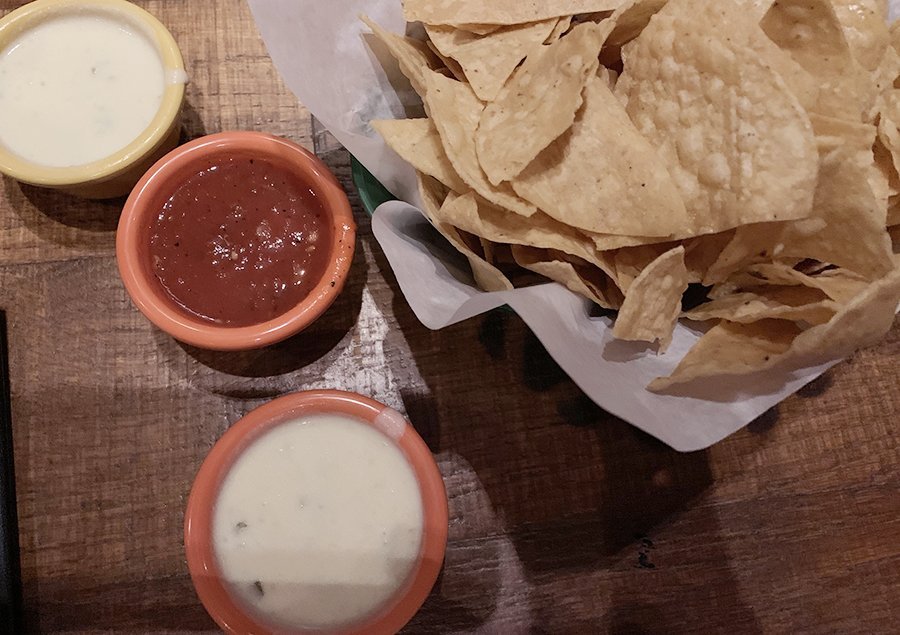 If you would like to taste the local flavors and enjoy an authentic Mexican dish with a San Diego flair, then Miguel's Cocina is the place. I am partial to Miguel's because I love Mexican food and they have great flavor. We loved the fact that they serve queso with the chips and salsa that are standard with a Mexican meal.
Campfire 2725 State St, Carlsbad, CA 92008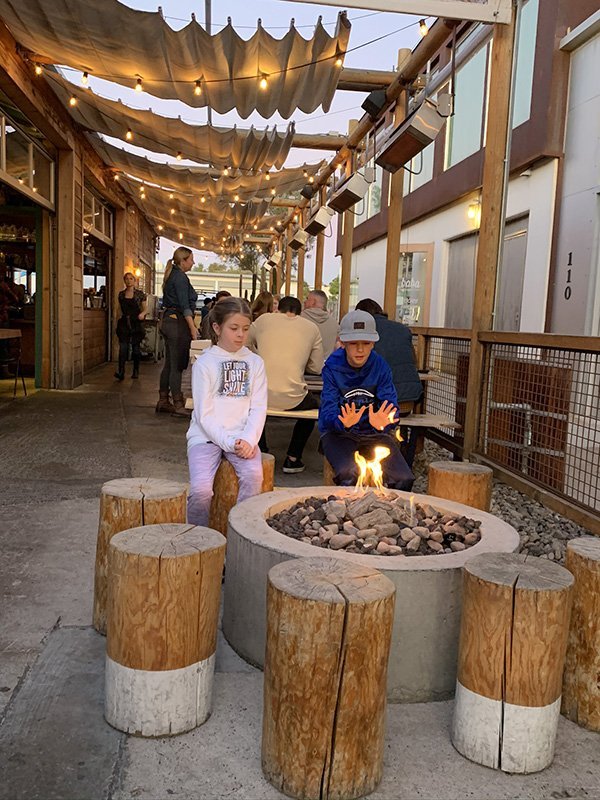 If you want something a little more upscale and unique, try Campfire, set in the heart of Carlsbad Village, just a short drive from LEGOLAND. An amazing fare that changes with the season. Always cooked over an open fire and an evolving menu that integrates the freshest ingredients from local markets. We especially loved this place. Campfire was different than the usual restaurants we go to, but we went after a recommendation from a local in Carlsbad and we were so glad we did.
My kids said they have never had a better kid's meal! Then we roasted marshmallows right at our table, it was magical, and they tasted better than any smores we had ever eaten. If you have the time, we recommend Campfire while you are in the area. I also recommend making reservations before going as it may be the only way you get a seat.
Handel's Ice Cream 2825 State Street, Carlsbad, CA 92008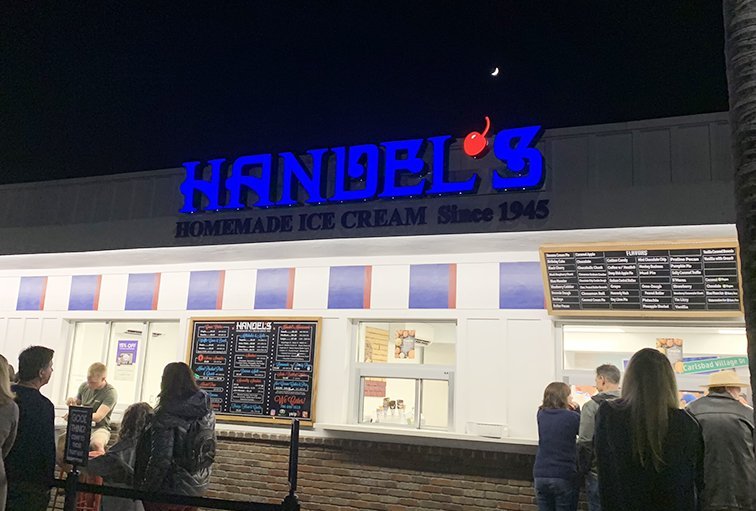 I am not sure that you will have any room left after a night at Campfire, but I can't send you to Carlsbad Village without mentioning Handel's Ice Cream. This is the best homemade ice cream I have ever tried and the flavors, oh the flavors! They change with the seasons and are AH – MAZE – ING! I had Pumpkin Ripple when I was there in the Fall and just thinking about the creamy, to die for sweetness makes me want to head back out to Cali tomorrow just for Handel's Ice Cream! If you are in California an extra day, head to Handel's, it will be worth it!
Costco 951 Palomar Airport Rd, Carlsbad, CA 92011
Yep, you read that right, I added Costco to my list of local dinner possibilities! Because sometimes you want the special foodie spot where you can relax and linger to enjoy the flavors, that would be Campfire. However, sometimes you are tired, have spent too much money, and you want something fast, cheap, and reliable. That is where the Costco food court comes in. If you leave the park early enough, you can head down the street and grab some Costco hotdogs or our favorite, a whole combo pizza to feed the fam. With less than $20 you can feed the family quickly and easily and then continue on your way.
Whatever you decide, just take the time to wrap up the fun LEGOLAND day with your family. Talk over your favorite rides, best characters of the day, and when you plan to return.
Enjoy the last bit of your LEGOLAND getaway with your loved ones.
Cherish every moment as you savor every bite.