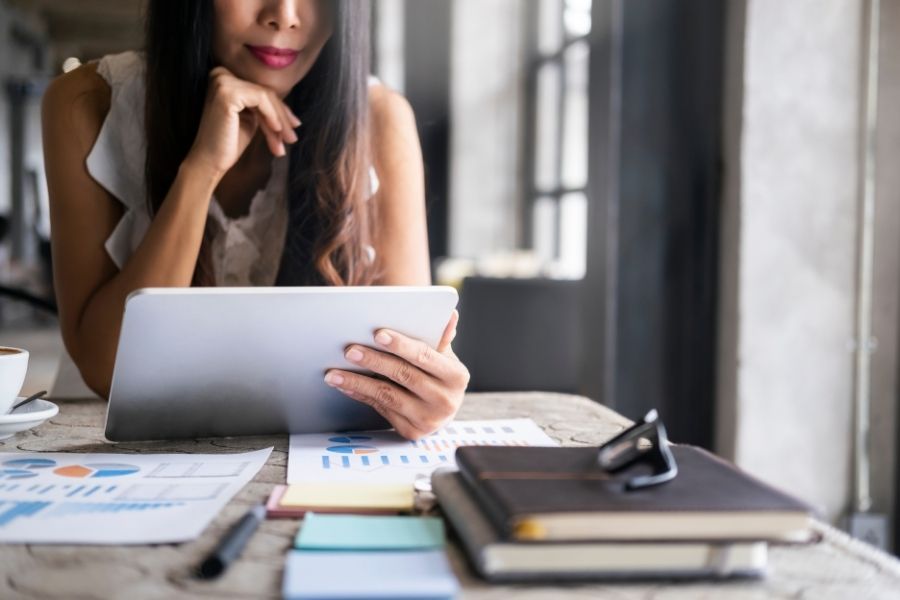 The ONE thing that can set women up for success in retirement is to start TODAY. Delaying is the single worst thing a woman can do when it comes to retirement.
Women tend to delay their financial moves due to a lack of knowledge or fear. The best advice I can give is to start now. Any woman that is not fully retired, should be saving money in their retirement account, every single month.
Don't pay debt first
Don't wait for debt to be paid in full before starting. When you have high interest debt (over 6% interest), I would prioritize paying that off, but I would not wait to invest until after it is paid off.
Make saving a habit
Start the habit of saving now, even if you can only start with $10 a month. I bet just about anyone can find a few extra dollars a month to get started.
It doesn't have to be complicated. If your company offers a 401K or similar, start there. Aim to get all that your company provides in matching funds. Then expand from there up to the max the government offers each year (currently $19,500). If you are over 50 years old, you can also add an extra $6500 per year.
Start simply, simply start
When it comes to choosing what to invest in, start simple. Choose a fund that is age-based or target-date funds. Then the fund managers will automatically put your money in a fund that is an appropriate risk level for your age. As you learn more, you can always move your money to other types of investments.
If your company does not offer a retirement fund, call up a company known as offering low fee investments like Vanguard, Fidelity, or TD Ameritrade.  Tell them you want to open an IRA and how much you have to get started.  They will guide you.  It is as simple as opening a regular bank account. 
Decide if you want a Roth IRA or a Traditional IRA
The main difference between Roth and Traditional is when you pay taxes on the money. With Roth, you pay money this year on your earned income, then you put it in the Roth and the growth will be tax free. You can grow your money to over $1Million tax free! That is a beautiful thing! Where else in this country can you earn $1M tax free?! (Well, legally that is!)
With a Traditional IRA, you put your money in the IRA first, then the rest of your income is taxed. You save some on taxes now, but then the growth will be taxed when you withdraw it as income that year.
It is generally a good idea to go Roth if you can afford it. However, if you can reduce enough taxes to save more than you would otherwise by choosing Traditional, you may want to consider that option.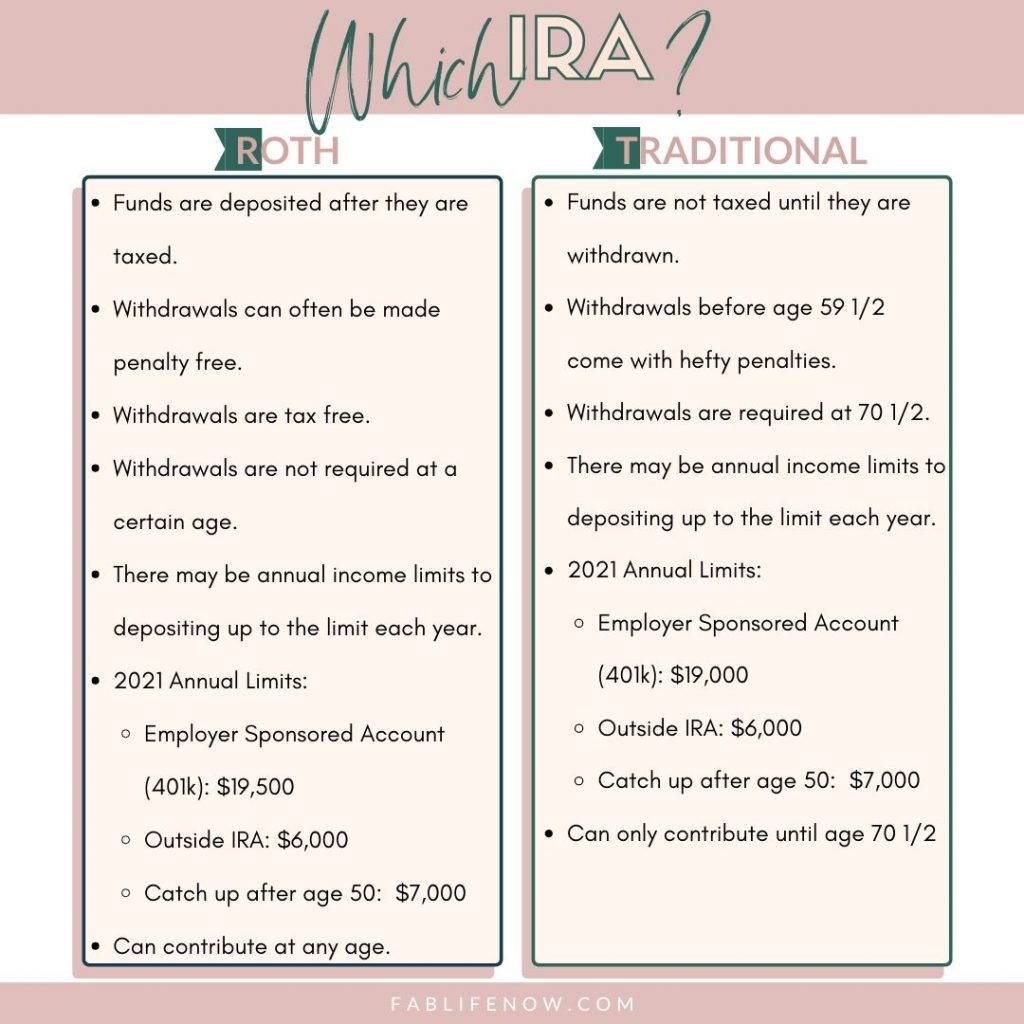 The best part about both is the tax breaks. IRAs are a win-win situation. You get the growth of compounding interest over time like no other type of account. You also get the tax breaks on either the growth or the deposits. It's a way to both save money and grow wealth at the same time.
The bottom line is, don't wait to invest because TIME is the magic element with investing. The longer your money is invested the more it can grow. Ideally, your money will grow in your IRA for 20, 30, or even 40 years.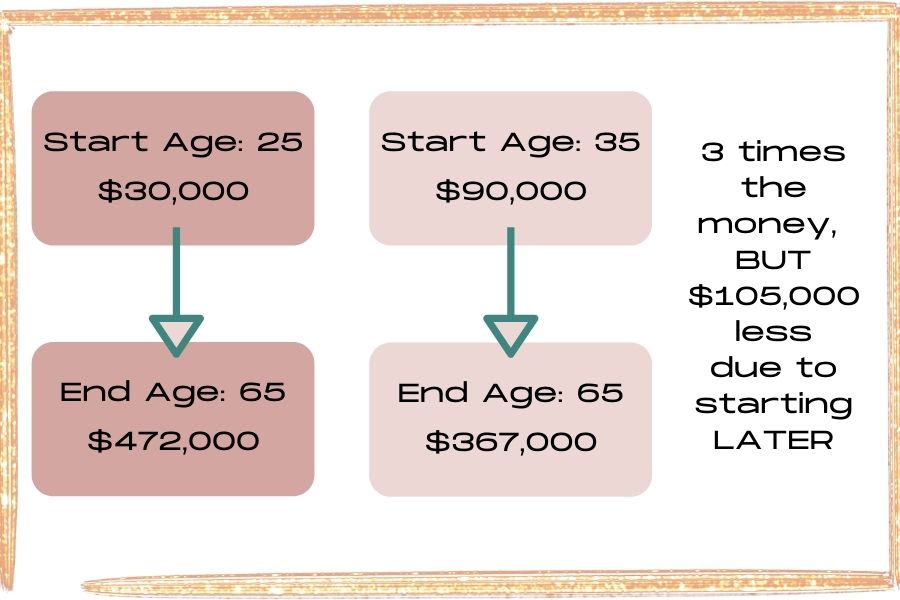 The earlier you start saving, the more money you will have when it is time for you to retire. Let me give you an example of two investors.
Investor 1 starts at age 25, and puts aside $3,000 a year for 10 years – and then stops contributing at age 35. Assuming an average 8% return, over the next thirty years, the original $30,000 investment will have grown to more than $472,000…even though Investor 1 didn't contribute to the account after age 35.
Now let's say Investor 2 waited to start saving until age 35, and then put $3,000 a year into the retirement account until the age of 65. During those 30 years, Investor 2 contributed $90,000 – three times the amount of money that Investor 1 contributed – but Investor 2's $90,000 will grow to only about $367,000 assuming the same 8% annual return.
All in all, the longer you wait to start a retirement account, the more money you'll need to contribute from your paycheck – and the less in returns you can expect. Start today!
If you want help getting started, deciding how much to invest each month, or how to adjust your spending so you can save more, then set up a Clarity Call or other Coaching session today. I am here to help, I can help you every step of the way.