Nestled among the majestic landscape of Prescott, Arizona, several hidden gems await wine enthusiasts and adventurous souls alike. In Prescott Wineries, every sip promises a journey of flavors and an exploration of the senses. For those who live in the Phoenix Valley, a Prescott winery is a perfect serene getaway to cooler temps in the vineyards of the high country.
With rich soil and a unique microclimate, Prescott has become an emerging destination for wine connoisseurs seeking a taste of the extraordinary. From boutique vineyards to family-owned estates, we will guide you through the secret treasures, uncorking the secrets behind where to find the best wines. Whether you like white wines or red, you will indeed find one that pleases you.
But it's not just about the wines. The wineries of Prescott offer more than just exceptional vintages. From scenic vineyard tours to intimate tastings, they provide an immersive experience beyond the glass, connecting you with the heart and soul of the region.
Prepare to be enchanted as we embark on a journey to sip, savor, and uncover the hidden gems of Prescott, Arizona wineries.
The history of winemaking in Prescott
Prescott area has a rich history of winemaking dates back to the 19th century. In the late 1800s, Italian immigrants brought their winemaking traditions to the area, planting vineyards and establishing the first wineries. These early pioneers recognized the potential of the region's fertile soil and ideal climate for grape cultivation.
However, the winemaking industry in Prescott faced challenges over the years, including Prohibition and economic downturns. Many vineyards and wineries were forced to close their doors, and the art of winemaking in the area was nearly lost. It wasn't until the late 20th century that a resurgence of interest in winemaking sparked a revival of Prescott's wine industry and made it the epicenter of Arizona wine country in the North.
The unique characteristics of Prescott wineries
What sets Prescott wineries apart is their dedication to producing small-batch, handcrafted delicious wines. Unlike mass-produced wines, which sometimes lack character and depth, Prescott wineries focus on quality over quantity. Each bottle is a labor of love, with winemakers carefully selecting the finest grapes and employing traditional techniques.
The region's unique microclimate also contributes to the distinctiveness of Prescott wines. The combination of warm days and cool nights allows the grapes to ripen slowly, producing exceptional flavor profiles. The high elevation of the vineyards further adds to the complexity and balance of the wines, creating a truly remarkable drinking experience.
Top wineries in and around Prescott to visit
D.A. Ranch
A hidden gem in the Prescott region, D.A. Ranch is known for its boutique-style winemaking. Focusing on small-batch production, they offer a unique and intimate tasting experience. Their Pinot Noir and Viognier are standouts, and the rustic charm of the ranch adds to the overall ambiance. It's an excellent spot for a relaxed afternoon of wine tasting or a special event that your guests won't soon forget.
D.A. Ranch Address: 6750 N Antelope Meadows Dr, Prescott Valley, AZ 86315
Mogollon Vineyards
Mogollon Vineyards is a family-owned winery found a little south of Prescott in Dewey. They produce wines that reflect the high desert environment, such as Cabernet Sauvignon and Malbec. The winery offers a serene escape, making it a hidden gem for wine enthusiasts. Here you will find an old house converted into a wine-tasting room and an open music pavilion where they have concerts on the weekend. If you like what you taste, Mogollon Vineyards offers a private wine club to receive discounted wine and invitations to private events.
Mogollon Vineyards Address: 2430 AZ-69, Dewey, AZ 86327
Alcantara Vineyards
Along the banks of the picturesque Verde River, Alcantara Vineyards is a must-visit for wine enthusiasts. Boasting over 20 acres of vineyards, this winery produces different varietals, including Cabernet Sauvignon, Chardonnay, and Syrah. Enjoy a picnic overlooking the vineyards, participate in a guided tasting, or enjoy the small bites while you are in the tasting room. Alcantara offers unique tour options of the vineyard, such as kayak, paddleboard and YOGA, horseback riding, electric bike, or jeeps. Alcantara Wineries would be the perfect
Alcantara Vineyards Address: 3445 S Grapevine Way, Cottonwood, AZ 86326
Winey Cats at Granite Creek Vineyard
Nestled in the town of Chino Valley is a unique winery. It used to be family-owned, but when the family was ready to close up and sell, some of the land was purchased by a non-profit to move their cat sanctuary there. The community didn't want to lose one of their beloved local wineries, so they convinced the new landowner to try and keep it open. She decided to embark on this dream venture and is working to revive the vines, but in the meantime, she is holding special events and hosting wine tasting and live music. She is currently offering wines brought in but hopes to one day again offer wines from the vineyard itself. They are open during the summer season from May to October and for special events.
Winey Cats Address: 2515 N Rd 1 E Chino Valley, AZ 86323
Arizona Stronghold Vineyards
Arizona Stronghold Vineyards creates wines that reflect "the fierce and wild Arizona terrain. We pride ourselves on being pioneers and farmers first, who use the landscape of Arizona to produce unique and prized wine that will compliment any occasion or collection." Their Tazi white blend and Mangus red blend have received critical acclaim. Visit their tasting room for a journey through the flavors of the state and its unique wine regions. Arizona Stronghold vineyards have two tasting rooms. One in Cottonwood and one in Old Town Scottsdale. Enjoy this unique creation in the high country or back in The Valley. Their rooms are available for corporate events.
Arizona Stronghold Vineyards Address: 1023 N Main St, Cottonwood, AZ 86326 or 4225 N Marshall Way Suite #2 Scottsdale, AZ 85251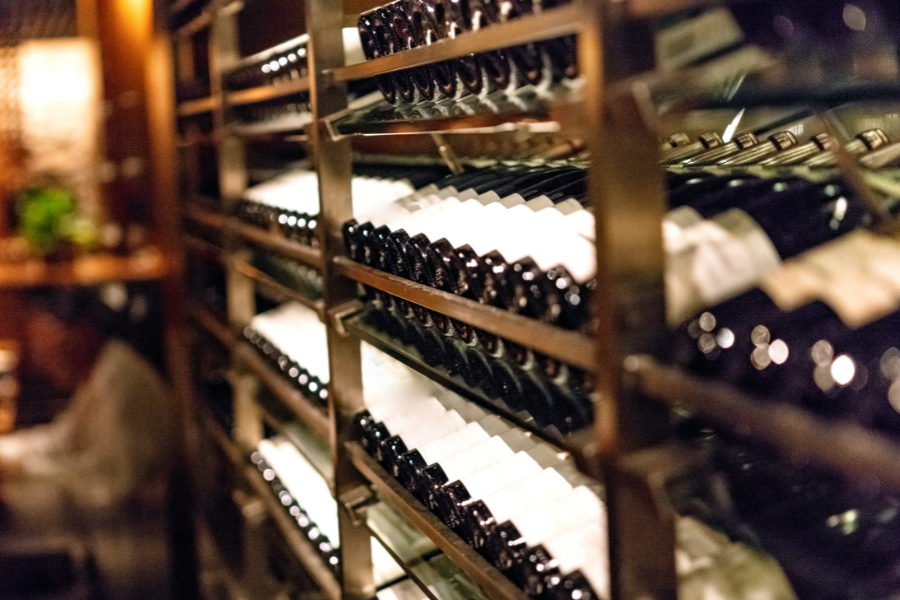 Page Springs Cellars
Located a short drive from Prescott in Cornville, Page Springs Cellars is an idyllic winery set along the lush banks of Oak Creek. Known for its Rhône-style small-batch wines, this winery offers a delightful experience. Explore their impressive vineyards with their tours, enjoy a wine flight, and soak up the serene environment by the creek. Their Syrah and Viognier are particularly noteworthy.
Page Springs Cellars Address: 1500 N Page Springs Rd, Cornville, AZ 86325
Chateau Tumbleweed
A collective effort of four winemakers, Chateau Tumbleweed, is a quirky and artistic winery focusing on small-batch wines. Their tasting room is a hub of creativity, and their wine labels are as captivating as the wine itself. Be sure to sample their unique blends and enjoy the friendly, laid-back atmosphere. They source their fruits from vineyards around Arizona for a different taste than some of the other wineries in the area. The tasting room features small bites along with your bottle of wine and a wine club for those who want to become regulars.
Chateau Tumbleweed Address: 1151 AZ-89A, Clarkdale, AZ 86324
Pillsbury Wine Company
Situated in the high desert of Northern Arizona, Pillsbury Wine Company offers a range of Arizona varietals influenced by the region's unique climate and terroir. Their WildChild White and Roan Red have garnered attention for their quality. Pillsbury boasts of making "food wine, not cocktail wine," estate-grown wild yeast fermented vegan wines. The vineyard occasionally hosts special events. However, they offer a tasting room in Cottonwood where you can enjoy your tasting flights with charcuterie boards or monthly chef's specials.
Pillsbury Wine Address: 989 S Main Street, Suite A, #496, Cottonwood, AZ 86326
Superstition Meadery
For those looking to explore beyond traditional wines, Superstition Meadery offers a unique experience. Mead, an ancient fermented beverage made from honey, takes center stage at this innovative winery. Sample a variety of meads, from dry and traditional to sweet and fruit-infused, and discover a whole new world of flavors.
Superstition Meadery Address: 120 W Gurley St, Prescott, AZ 86301
Caduceus Cellars
Another venture by Maynard James Keenan, Caduceus Cellars, is renowned for its commitment to quality and sustainability. Caduceus Cellars has several vineyards around Arizona. One to visit is Merkin Vineyards Hilltop Winery andTrattoria. Enjoy amazing views of the Verde Valley while sipping spectacular wine and dining on farm-to-table seasonal fare, and don't forget to finish it all off with gelati or sorbetti. This is the perfect getaway for wine lovers.
Be inspired to visit with this video.
Caduceus Cellars Merkin Vineyards Hilltop Address: 770 Verde Heights Drive, Cottonwood, Arizona 86326
Del Rio Springs Vineyard
Del Rio Springs Vineyard is a charming boutique winery known for its picturesque setting and dedication to crafting excellent wines. Situated in the lush Verde Valley, they offer a variety of wines, including Chardonnay, Syrah, and Merlot, that truly capture the region's essence.
Del Rio Springs Vineyard Address: 861 N Page Springs Rd, Cornville, AZ 86325
If you want to venture further away from Prescott, you can also find excellent wineries on the Verde Valley Wine Trail.
Wine tasting tips and etiquette
When visiting Prescott area wineries, it's essential to approach wine tasting with curiosity and respect. Here are a few tips to enhance your tasting experience:
Savor the experience
Take your time to appreciate each wine. Observe its color, inhale its aromas, and let it linger on your palate. Allow the flavors to unfold and evolve with each sip.
Engage with the winemakers
Don't be afraid to ask questions and converse with the winemakers. They are passionate about their craft and can provide valuable insights into the wines you are tasting.
Use descriptive language
When discussing the wines, use descriptive language to convey your thoughts and impressions. This not only helps you remember your favorites but also allows others to understand your experience.
Remember, wine tasting is a personal journey, and everyone's preferences are unique. Trust your palate and embrace the adventure of discovering new wines.
The best time to visit Prescott wineries
Prescott's wineries are open year-round, each season offering charm and beauty, while some are specific to the season. Spring brings lush green vineyards and vibrant blooms, while summer offers warm days and cool evenings, ideal for outdoor tastings. Fall is a magical time, with the vineyards ablaze in a riot of colors, and winter brings a cozy ambiance, perfect for enjoying rich, full-bodied reds by the fireplace.
To avoid crowds, consider visiting on weekdays or during the off-peak months. However, if you prefer a livelier atmosphere and the opportunity to attend events and festivals, plan your visit during the peak season and on the weekends. Be sure to check the wineries' websites for details, event schedules, and hours.
Food and wine pairings at Prescott wineries
No wine-tasting experience is complete without food pairings. Many Prescott wineries offer delicious culinary options that complement their wines perfectly. From gourmet cheese platters to artisanal charcuterie boards, these pairings enhance the flavors and create a harmonious balance on your palate.
When selecting food to accompany your wine tasting, consider the flavors and characteristics of the wines. Lighter wines, such as Sauvignon Blanc, pair well with fresh salads and seafood, while bold reds, like Cabernet Sauvignon, are best enjoyed with grilled meats and hearty pasta dishes. Experiment with different combinations to find your personal favorites. Be sure to ask the server for their recommendation for pairings when in the tasting rooms or venues.
Events and festivals at Prescott Wineries
Throughout the year, Prescott wineries host various events and festivals that celebrate the art of winemaking. From wine release parties to grape stomping festivals, these gatherings offer a unique opportunity to immerse yourself in Prescott area wines.
Exploring the surrounding area: other attractions near Prescott Wineries
While the wineries offer a captivating experience, there is much more to explore in the surrounding area. After a day of wine tasting, take the time to discover the natural beauty and cultural attractions that make Prescott a truly remarkable destination.
Prescott National Forest: Just a short drive from the wineries, Prescott National Forest offers endless opportunities for outdoor adventures. Hike through towering pines, explore picturesque lakes, or soak in the tranquility of nature.
Historic Downtown Prescott: Stroll through the charming streets of downtown Prescott and immerse yourself in its rich history. Admire the Victorian-era buildings, browse the boutique shops, and indulge in the local culinary scene. Don't forget to visit the iconic Whiskey Row, where you can enjoy a glass of fine whiskey to complement your wine-tasting experience.
Sharlot Hall Museum: For a glimpse into the region's past, visit the Sharlot Hall Museum. This fascinating museum showcases the history and culture of Prescott and Arizona through exhibits, artifacts, and interactive displays.
Explore One of the Most Unique Ghost Towns: Jerome, Arizona
Conclusion: why Prescott wineries are a must-visit for wine enthusiasts
Prescott wineries offer a truly unique and immersive experience for wine enthusiasts. From the rich history of winemaking to the winemakers' dedication, every aspect of the journey is a testament to the passion and craftsmanship that goes into each bottle. Any one of these offers a unique Arizona experience.
Whether you're a seasoned oenophile or just beginning to explore the world of wines, Prescott's hidden gems are waiting to be discovered. So pack your bags, grab a glass, and embark on a wine-tasting adventure. Sip, savor, and uncover the hidden treasures of Prescott and other Verde Valley amazing Arizona wine.