Jerome is a unique little town that makes the perfect day trip from Phoenix, Flagstaff, or Prescott. The town is full of history and legends of ghosts that make it an adventure full of history. It can also add some fun for the superstitious and imaginative.
For me, the most unique thing about the town of Jerome is that the buildings are sprinkled along a mountainside. My kids were fascinated by this fact. The streets zigzag back and forth and visitors can reach different streets by walking up and down steep staircases.
Be ready for some exercise when you visit this amazing little town.
The day we went to Jerome, we started out in Prescott. We were spending a few days there to escape the heat of the Phoenix Valley during the summer. One of the days there, we decided to head to Jerome because my kids had never seen it before. They were mystified by the idea of a town on the side of the mountain.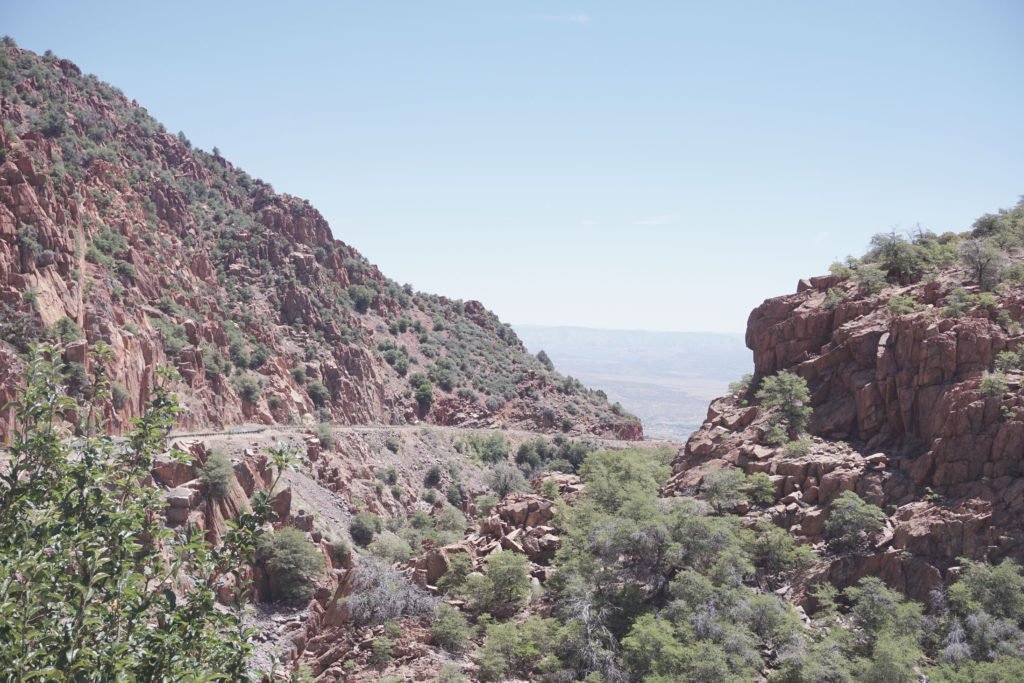 The journey from Prescott to Jerome sets the scene nicely. The road itself is amazing. It weaves and winds through the mountain with red cliffs covered with greenery. Every so often there is an opening to view the canyon below and off in the distance to the beautiful painted red rocks that Sedona is famous for.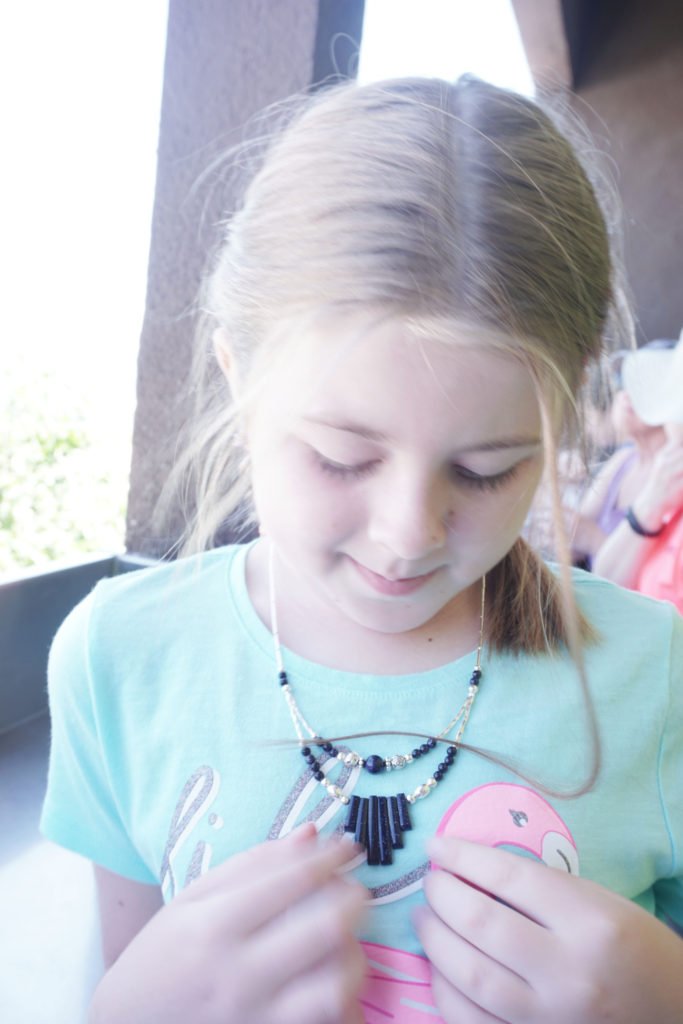 When we pulled off in a small parking lot for the view, we met some Navajo Indians that had brought out some of the jewelry they made to sell to tourists like us. You can imagine that my daughter couldn't pass by without a look. She couldn't believe that they were selling jewelry on this mountain road in the middle of nowhere! It is a special thing to buy authentic Navajo jewelry right from the handcrafters as you travel through Arizona. Mia chose a Waterfall design that was made from Purple Goldstone- a deep purple stone that has flecks of gold that shine in the sun.
If your trip originates in Phoenix, and you don't get quite enough of a scenic drive, you may want to trek a few miles toward Prescott to the first Viewpoint and turn around.,the road through the red cliffs is so amazing.
There is plenty of public parking around the streets of Jerome but if there are a lot of cars, you can go up Jerome-Perkinsville Road past the Fire Station, and there is a large public parking lot. On the weekend and major holidays, there is a shuttle that runs up to this lot, although it was not a far walk to get back to the town. This is a convenient place to park after a drive since there are public restrooms conveniently located at the side of the Jerome Fire Station.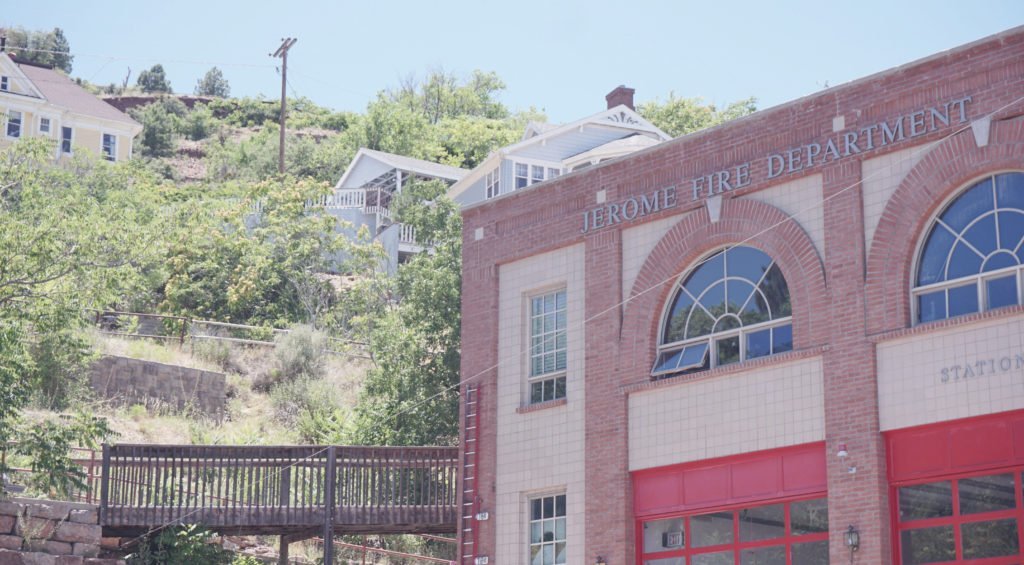 It was getting close to lunchtime when we arrived, so my kids were anxious to find a place to eat. They had heard there was a place called the Haunted Hamburger and they thought that was so funny that there was no question as to where we would be dining. We headed straight there, and they were not disappointed. There were skeletons sprinkled around the building "doing" various things. The kids loved that and laughed out loud with each new scene they found.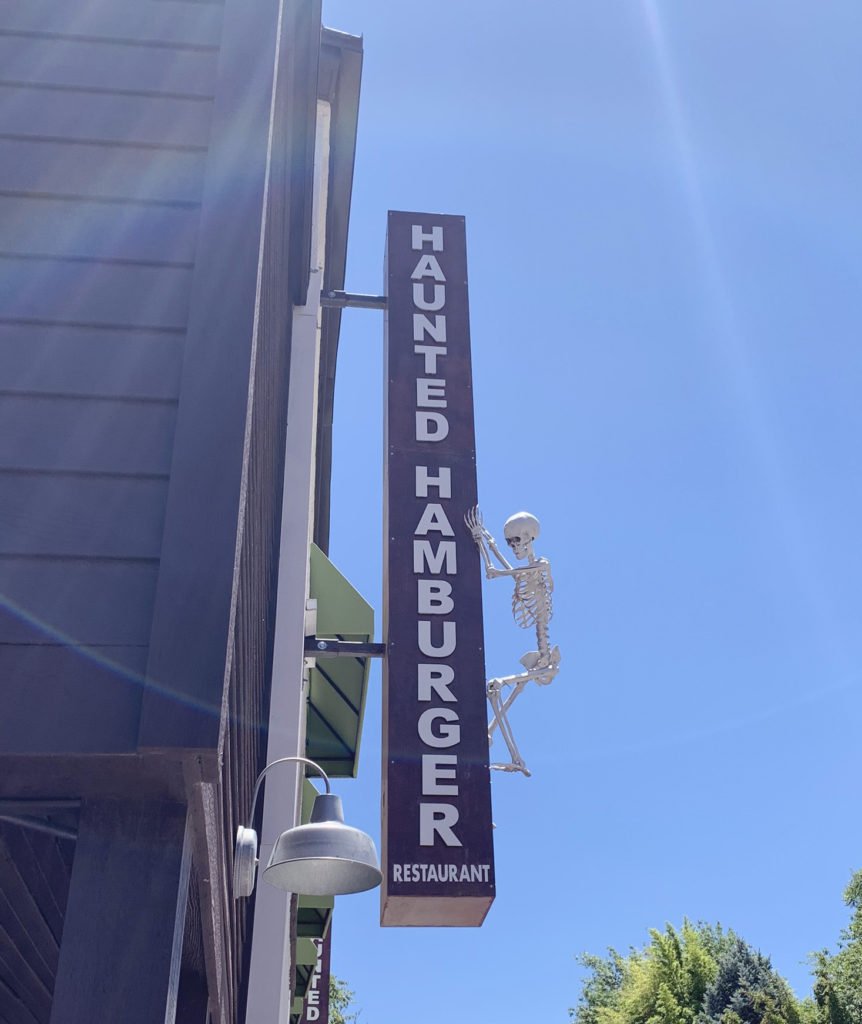 Like most buildings in Jerome, The Haunted Hamburger is hanging on the side of the mountain. It is set up to provide an amazing view while you eat. If there is room at the "View Bar", I encourage you to sit there. It is an open-air bar that looks out at the beautiful desert cliffs and canyons in the distance.
That was my favorite part of our visit there. I love the beauty of our painted desert. The kids had milkshakes and hamburgers, and I had an amazing Summer Salad while enjoying the serene overlook.
After we had some food in our bellies and had enjoyed the view, we were ready for the next stop. From the View Bar, Mia had spied a playground below and could not resist some playtime. The small playground we found was between two of the street levels, between Main Street and Highway 89A and you can find the stairway path to it right near the Haunted Hamburger. If you want to find it on Google Maps, it is called Jerome Park. The play equipment is simple, but it will allow the little ones to run, slide and swing for a while to give them more patience as you look through the shops in town!
After playing, we were ready to explore some of the cute little shops along the streets. Some of our favorites were the Firefly Gallery which housed many beautiful pieces of art all made from local artists. We especially liked the wind chimes that were found on the lower level. They made the most amazing rich sounds, not what you usually hear from wind chimes.
The Mooey Christmas and Udder Things Shop was fun! Who doesn't enjoy Christmas anytime? It was filled with all kinds of Christmas décor and ornaments. This is a great place to pick up a handcrafted ornament for a keepsake of your time in Jerome. The things that enchanted us the most, were the little antique TV music boxes. They were amazing and the kids wanted to try all of them. They played Christmas songs while the scene inside the "TV" moved. Be prepared, kids love them and will beg to take one home. We will have to save up and get one next time!
The other thing we all want to save for and bring home next time is a unique and beautiful Kaleidoscope from our very favorite shop in Jerome. Nelly Bly's Kaleidoscopes was the most wonderful shop, and we could have stayed there for hours. There were hundreds, maybe thousands of Kaleidoscopes in the shop. Most were unique works of art in themselves, but also interactive pieces that dazzled our minds. We especially liked one that had a kaleidoscope set up to view a small spinning statue covered in Swarovski Crystals. This shop is not for the budget minded but would provide a special piece of interactive art to display in your home or office.
After some shopping, the kids were anxious to go back to the car, so we could go to the Ghost Town and pan for gold as one sign promised.
We got in our car and headed up the road to the Jerome Ghost Town. It was a nice little walk-through area filled with old buildings and antiques from when Jerome was a booming mining town. To my daughter's delight, she was able to pan for gold and left with a small vile filled with her very own gold flakes that she mined herself.
Of course, there is an admission fee and then you must pay for the mining experience too. They do accept cards, but charge an extra $1 to use them, so if you think of it, get cash before coming up the road to the Ghost Town.
My son started to get bored with looking at the old tools, cars, and buildings. So, we made a game out of it. We started to see who could spot the best faces. Which do you like the best?
That made it more fun. This is also a great way to keep the smaller ones interested in looking through a museum- make up a treasure hunt game and they will enjoy it so much more!
After that, we were hot and tired so we made our way back through the beautiful mountainside to Prescott for dinner. There was so much more to see and do in Jerome, but we will save it for another time.
Our Top Tips for Visiting Jerome
Wear Sunblock! The town is a much higher elevation than Phoenix and even if it doesn't feel as hot, the sun is more intense and will burn you as you browse the shops.
Expect to spend some money. This town is running mainly on tourism. It is more geared toward the high-end tourist with art and well-made souvenirs. The restaurants are on the pricy side as well, but worth it for the view and experience.
To save some money on this day trip, plan ahead. Pack along water and snacks, and maybe even a sack lunch to save on purchasing a meal. You can still sit in a restaurant like Haunted Hamburger and enjoy a handspun milkshake at the View Bar. There is also a lot of great window shopping to be had. Go home with a wishlist for the next time you come.
Check out the tours and experiences ahead of time and decide which you will do on this trip, then you can tell the kids what to expect and it will be easier to say, "Not this time, it is not in our plan for today."
If your family does not appreciate a Ghost story, then you may not love a trip to this town. Realize that a lot of the town is themed for the Ghost and Haunted legends to draw people. There is much history and beauty to behold without this being overpowering, but there is a lot of it. Plan and expect accordingly.
Be ready to walk steep streets and go up and down steep stairs. If you are not physically healthy enough for this, you may want to wait on visiting Jerome.
Let us know if you visit Jerome and what your favorite parts were in the comments below!
Be sure to Pin and share!