The City of Prescott is the perfect Mountain Getaway; whether for a day trip out of Phoenix or a weekend, you will find lots to do in Prescott. The best part of a summer visit to Prescott is that due to the fact, the town sits at an elevation 4,000 feet higher than Phoenix, its summer high is about 20 degrees cooler than the valley, and those temps often come with cooler breezes as well as cool mornings and evenings. Prescott also has more cooling thundershowers in the summer than the Valley, which makes for a more bearable season.
So, if you make it up to this mountain town, what should you do while you are there? Here are some of our favorite things to do in Prescott.
Heritage Park Zoo is a nice small-town non-profit zoo.  Some zoos in big cities are overwhelming because of the distance that needs to be walked to see all the animals.  Heritage Park is easily enjoyed without exhaustion, and you can get close to enjoying the animals, even the black bears, which are our favorite.   We have also been fortunate enough to find discounted tickets on Groupon often, so check and see if you can!     
Visit, Shop, and Eat in Downtown Prescott
Downtown Prescott is known for its Whiskey Row. Historically located on the 100 Block of Montezuma Street, serving alcohol to the miners. Wyatt Earp, his brother Virgil, and Doc Holliday were said to have frequented The Palace Hotel and Restaurant, which still stands today, along with several other saloons to explore. It has been updated to include candy shops and art galleries as well.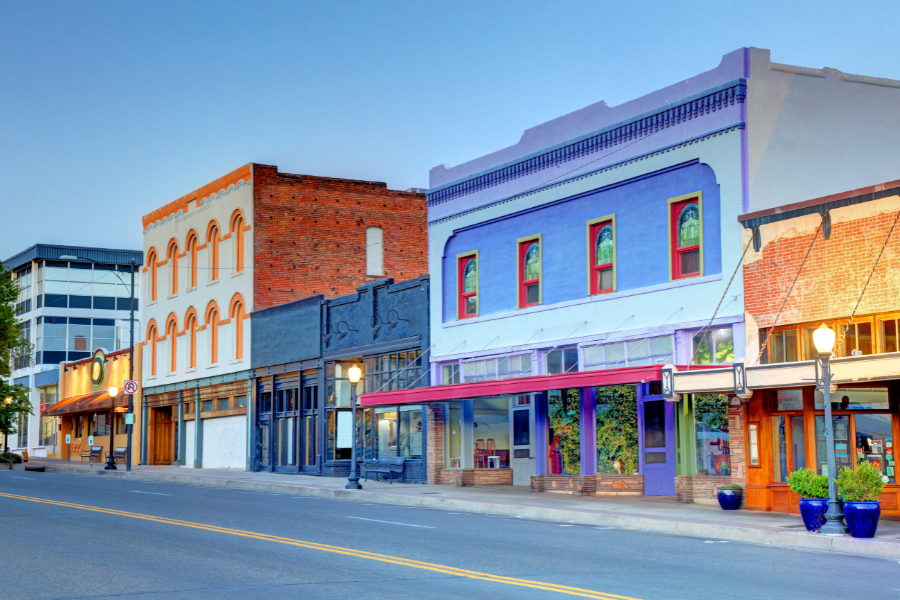 Whiskey Row is a part of my family's history, too, because my Grandma and Grandpa were married there. My Grandpa was a lineman in Arizona then and knew someone who owned one of the saloons on Whiskey Row. The owner let them use a room in the back for their small wedding!
There are lots of unique shops and restaurants in the downtown area. Bashford Courts Atrium Mall and Hotel St Michael host several shops and galleries all in one place. Hotel St. Michael also has a Bistro and is full of history, boasting of hosting guests such as Teddy Roosevelt and Barry Goldwater, and is now thought to host ghosts for those of you who like a good ghost story.
Get a Treat and then Relax in the Courthouse Square
Get some yummy homemade ice cream, gourmet popcorn, or fudge at the Treat Center, and then walk around or find a shady spot on the lawn at the Courthouse Plaza. The Courthouse Plaza is a beautiful spot in the center of Downtown, full of historic buildings, often filled with live music, and just a great spot to hang out. It has inviting grass, large trees, and historic statues and buildings. It is a great place to relax in the shade on a summer day. You may even find an outdoor event there. You can check the Prescott Calendar of Events (scroll to the bottom) to find out what is happening.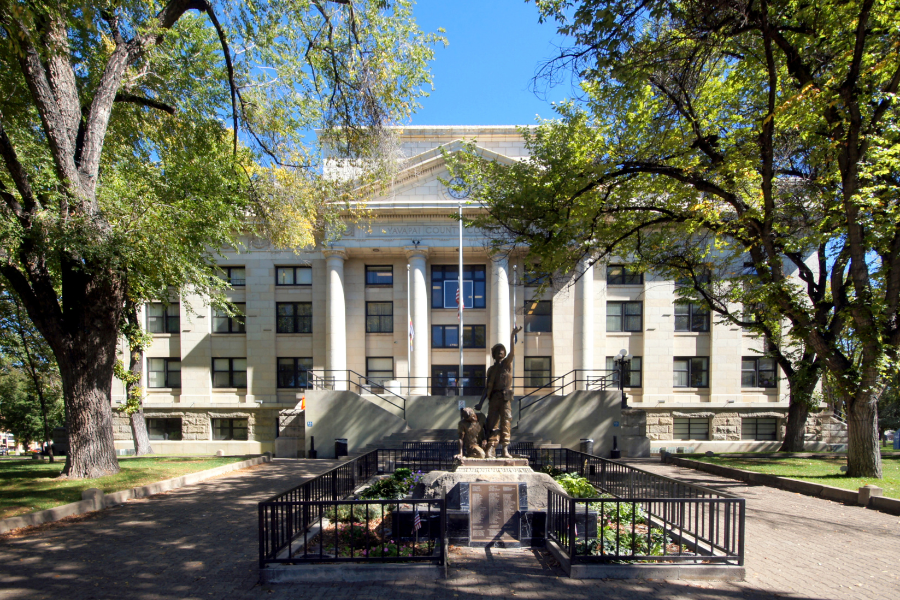 My kids and I love thrifting and have found the Stepping Stones Thrift Stores our favorite in Prescott. We especially like the Red Barn Location in Prescott Valley and will often stop there on our way into or out of town. We grab a book for our trip, and the kids usually find some fun toys for a very reasonable price. The books here are only $0.50 for paperback and $1 for hardback and are well organized and easy to browse. We especially appreciate that they support the Stepping Stones Non-Profit, which is dedicated to helping families like us escape the violence in their homes. This is a cause we understand and love to keep whenever possible.
Spend the Day at a Beautiful Lake
In our opinion, a trip to Prescott is incomplete without visiting one of our favorite lakes for the beauty and variety of outdoor activities they offer. Four leading lakes surround the town of Prescott; each is unique in its beauty, and all can be enjoyed in or out of the water. We love to take our inflatable kayak in the summer and go out to enjoy the beauty of the water. However, if you don't have your kayak or canoe, you can rent them from several rental companies in Prescott. Some are located at the various lakes, and some will deliver them to the lake you choose for the day. If you don't want to get on the water, any of the lakes can be enjoyed by hiking, picnicking, or biking.
Goldwater Lake has been our favorite spot for years. It has excellent shady picnic areas full of ramadas and picnic tables, a nice playground for the kids, and an easy hiking path that takes you around the lake. It is easy to get the kayak out in the summer. This is also one of our favorite spots for winter snowplay in the Prescott area.
We also love Willow Lake for its fantastic rock formations. It is not usually too crowded, even on the Fourth of July weekend. We were pleasantly surprised to find very few people in the parking lot and on the lake. Motors are only allowed below five mph, which tends to keep boaters away. It has some shade around the lake and nice paths to hike or mountain bike. There are some ramadas for picnics and shade as well.
Lynx Lake recreation area is also a local gem in the Prescott National Forest on the outskirts of town. We haven't been here much, but there is a Marina right at the lake for boat rentals and camping/fishing supplies. Some of the activities at Lynx Lake include hiking, mountain biking, camping, fishing, boating, and picnicking.
Watson Lake Park is a beloved spot for visitors and locals in the Prescott area. This is where the city hosts their Fourth of July celebration. Watson Lake has a large grassy area and a playground and allows camping with showers in the summer months.
Drive out to Jerome
Make the hour's drive through the beautiful mountains to find a Mining Ghost Town built on the side of a mountain. Jerome is such a unique place that it is worth the drive out for a half or full day of exploration. You can read more about what to do in Jerome here.
Head to the Purple Cat Bookstore, a friendly little used bookstore with many great selections at reasonable prices. This is a great place to get a book to read before you head to one of the lakes or the Courthouse Plaza. It also features local artist's pieces for sale, any of which would make a great keepsake for your trip to Prescott.
After getting a great read, walk down a few doors to the Method Coffee Shop. They have unique flavors for their coffee and offer any flavors in Italian Soda for the kids. I enjoyed a fantastic Blackberry Lavender Iced Latte, and my kids both had Italian Sodas, one with Blackberry, Raspberry, Blueberry, and Vanilla! We also enjoyed the yummy baked goods there. My son proclaimed that Method Coffee "should be all over the country, like Starbucks," as we left!
Mortimer Farms is a short half-hour drive outside of Prescott in Dewey-Humbolt. It would be a great stop on the way to or from Phoenix. This is an excellent stop for simply visiting the Country Store for some farm fresh treats or to enjoy more time at the farm with the U-Pick and Play. There are various fun things to do, such as farm toys and play areas for the kids. Check the website for what produce is in season, and to check if they have a festival going on while you are there. When we went in early July, there were strawberries and blackberries.
My kids had so much fun picking their berries, and they loved the unique play experiences. They couldn't wait to get the homemade fudge in the Country Store upon entering. They each got a piece to go as we left.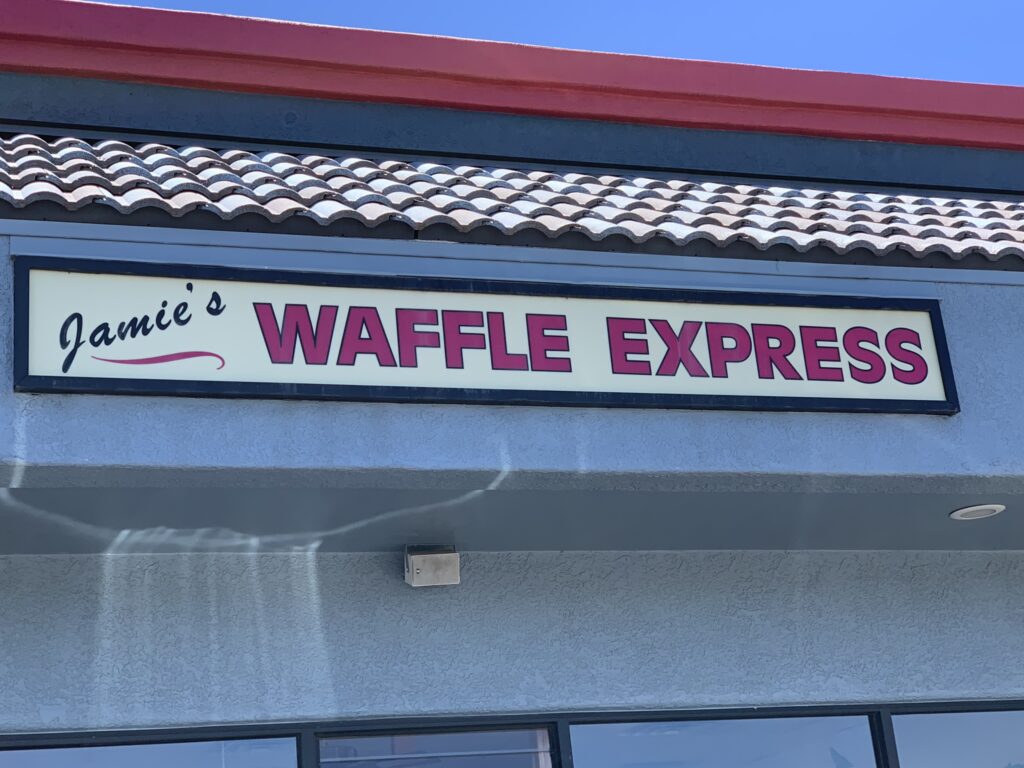 When we went to Mortimer Farms, it was a weekday, and they didn't have any food being served. We picked and played until the afternoon, then headed to Jamie's Waffle Express in Prescott Valley on our way back to Prescott. This is a great little small-town restaurant with fresh diner-type breakfast, brunch, and lunch food. My son and I shared the waffle of the day, which was a strawberry, mango, and blueberry waffle, and we requested the Buckwheat Batter; it was amazing! We also had a side of Jaime Browns, their version of hashbrowns with onions, green peppers, and cheese, yummm!
The 2003 Guinness Book of World Records Largest Collection of Handmade Model Airplanes is housed at the Embry Riddle Library and is available to the public to view during library hours. John Kalusa handcrafted over 5,500 miniature airplane models to scale at 1/18th of the original size. The miniatures will captivate the imagination of both adults and kids. The collection is all housed in one large glass structure. It is an exciting and free stop for your trip but won't fill much of your day.
For those of you Rock Climbers
"Prescott, Arizona, is well known in the climbing community [for the spectacular rock climbing]. With the Granite Dells, the Groom Creek Bouldering Area, and, of course, Granite Basin, the climbing offered in Prescott runs the range from introductory climbs through to expert climbing as well." Find out more information from Explore Prescott.
Check out a historical museum
Spend some time at Sharlot Hall Museum, named for Sharlot Hall, who believed in preserving Arizona's history and artifacts. She persuaded the City of Prescott to purchase the "Old Governor's Mansion" as a historic property. She later opened the Museum's doors to the public in 1928. Visitors have been enjoying her work and viewing history ever since. Look out as they open the doors to Sharlot's Cellar in 2024, where you can stop for "fine wines, gourmet hors d'oeuvres, artisanal pairings".
Another stop is the Phippen Museum, a Western art museum. The museum is named for local artist and first president of the Cowboy Artists of America, George Phippen. "The Phippen Museum has more than 17,000 sq. ft. of space dedicated to art exhibitions, workshops, special events, and art and heritage programming." Delve into the spirit of the West through its art. Then, move on to learn about the people here before the cowboys and pioneers at The Museum of Indigenous People, formerly the Smoki Museum.
Fourth of July Rodeo and Festivities
Prescott boasts of holding the "world's oldest rodeo." It started in 1888 but was then called "cowboy contests." The rodeo as we know it has expanded all around the world. They have continued holding this annual rodeo in Prescott ever since. There are always many events accompanying the rodeo, traditionally held on the week surrounding July Fourth every year. This is a fun but crowded week to visit Prescott. Many Arizonans travel from all around to descend on Prescott this week, especially those looking to get out of the heat in Phoenix for the holiday. The hotels are generally filled, and the surrounding forests are filled with campers who all come out to the Rodeo, parade, and other events. The train that travels through downtown Prescott has been going on for over 135 years! It is a special hometown treat that pleases old and young alike. Plan to enjoy this week in Prescott or head up for a day, but give yourself extra time for traffic and crowds.
Stop for a Wine Tasting
Enjoy a sip of Arizona-grown artisanal wine at the Flying Leap Vineyards and Distillery Tasting Room and view the artwork in the Art Gallery. If you want more wine and the rustic feel of a vineyard, seek out more wineries and vineyards in the area for some unique tastes and experiences.
Prescott is the perfect place to escape the blazing heat of the Phoenix Valley. Be sure to let us know what you do when you visit and what your favorite stop is in the comments below.