Can you see and do enough at LEGOLAND in a one-day visit for it to be worth it? My kids and I say a resounding YES! I have compiled our best tips for LEGOLAND, California, to make sure your one day visit is worthwhile and a day to remember.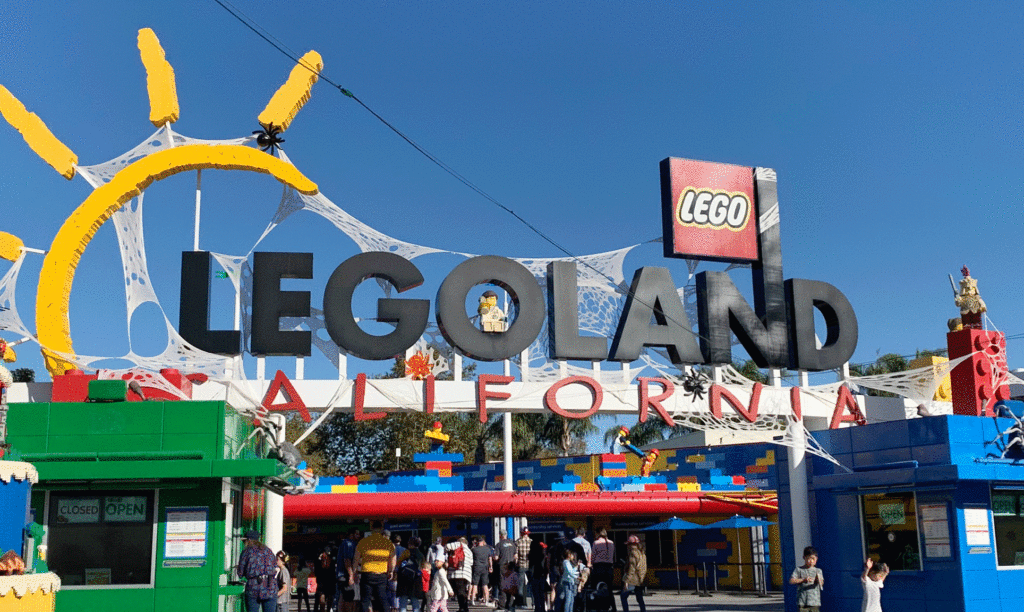 To see all of LEGOLAND California, you will want to spend 2 or 3 days there, however, if you plan your day and focus on top picks of the park, one day can be worth the time and money and be a great time away from home for kids and parents alike!
One of my favorite things about LEGOLAND is the limited park hours. As a parent, it helps to keep myself and kids from the exhaustion often experienced at other parks trying to fit in extra fun for every hour the park is open. The day we went the hours were limited to 9:30 am (early entrance for hotel guests) until 5 pm.
Due to the limited hours, it is most likely that you won't be able to see and do everything in the park in one day. However, with the following tips, your family can enjoy enough of the attractions to make a one day visit well worth it.
Choose a day that is not so crowded
For a one day visit, I suggest checking for a "Ghost Town" day as suggested by this Crowd Tracker Calendar. It will help with predicting that ride wait times will be short to enable the most rides in a one-day visit. If you can't make it on a Ghost Town Day, A "Hey It's Alright" day would still allow for a good number of rides in one day.
[ Need a great place to eat after a long day at LEGOLAND? Search no further! ]
Plan to arrive at the park early
Give yourself ample time to pay for parking, park, stock the stroller or backpack and get to the turnstiles and in line prior to the park opening time. I would plan to hit the parking lot 45 minutes to an hour prior to open times. If you are staying in one of the hotels, plan your morning to get to the turnstiles for the early entrance time to maximize your playtime.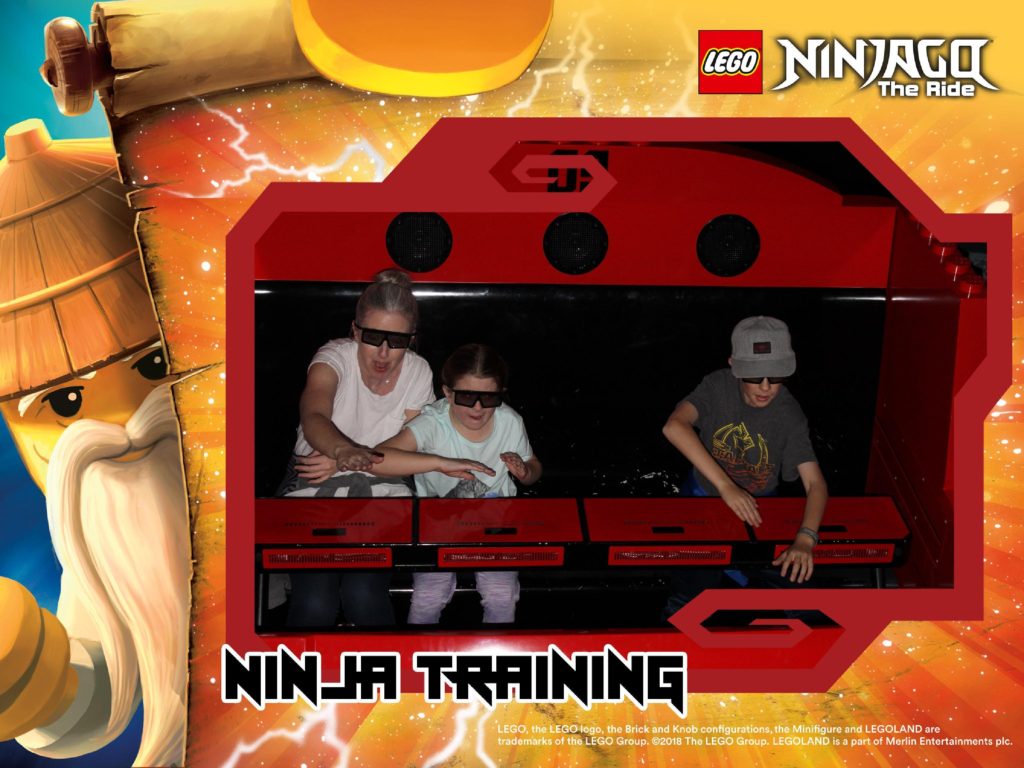 Choose your TOP CHOICE rides and start with those
We suggest heading toward your first-choice rides first to be sure you get on them and have time to ride again if you like them as much as you think you will. After you have ridden your first-choice rides, you can fill in with other rides and activities as time allows. This will help minimize disappointment as the park closes.
Top Suggestions for Thrill Seekers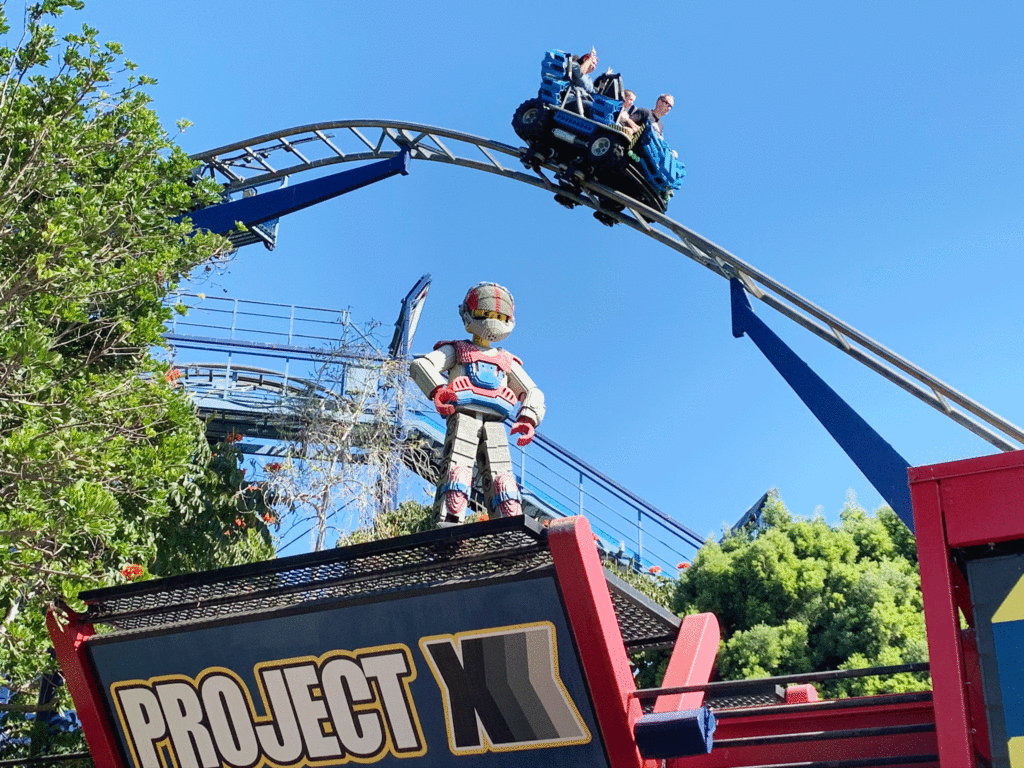 LEGO Technic Coaster – Imagination Zone
The Dragon Coaster – Castle Hill
Coastersaurus – Explorer Island (Available during early entrance!)
Top Suggestions for Interactive Game Experience
LEGO NINJAGO The Ride – LEGO NINJAGO World
Deep Sea Adventure – LEGO City Deep Sea Adventure
Lost Kingdom Adventure – Land of Adventure
Top Suggestions for Visual Tours
Deep Dea Adventure – LEGO City Deep Sea Adventure
4D Theatre – Imagination Zone
Coast Cruise – Miniland USA
Fairy Tale Brook – Explorer Island
LEGO STAR WARS Walk Through Areas – Miniland STAR WARS
Miniland WalkThrough – Miniland USA
The LEGO MOVIE 2 Experience – Imagination Zone
Top Suggestions for Smallest Visitors (3 -6-year-old Riders)
Safari Trek – Explorer Island
Royal Joust – Castle Hill (Kids 4+ can ride alone!)
Junior Driving School (Ages 3-6) – Fun Town
Kid Power Tower – Fun Town (Available in Early Entrance)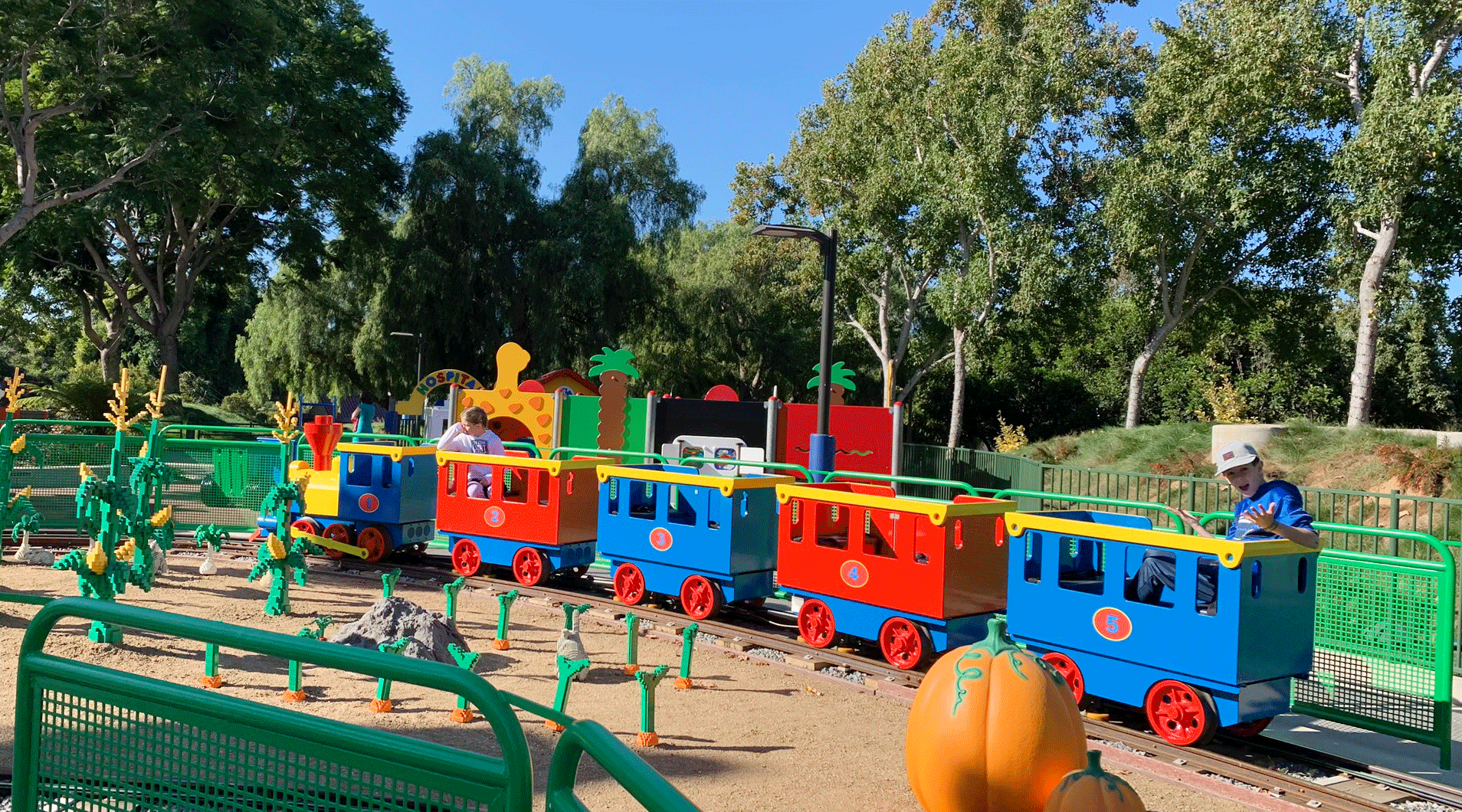 LEGOLAND Express – Fun Town (Available in Early Entrance)
Try a Top LEGOLAND Treat
There are a few top treats and we suggest you try at least one while you are on a one day visit to the park.
Granny's Apple Fries are a yummy warm treat found in Castle Hill. We missed these on our last visit as the fryer was down.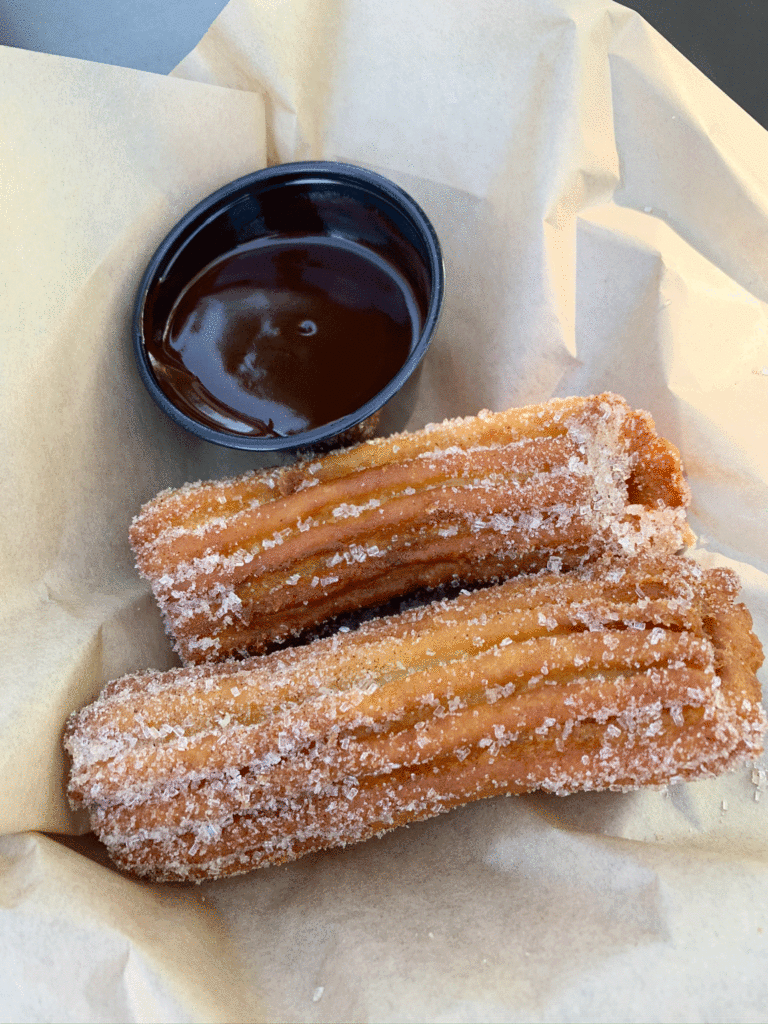 We liked the Churros and Chocolate BEST! The churros were the thickest and most delicious churros we have ever tried, and the dark chocolate dip was magnifique! I don't think we will miss these ever again on visits to the park! You can find the Churros stand in Castle Hill.
Magic Swirl Ice Cream Cone found at the Market near the entrance to the park. They swirl a fun colorful flavor ring around the soft serve cone for a unique treat.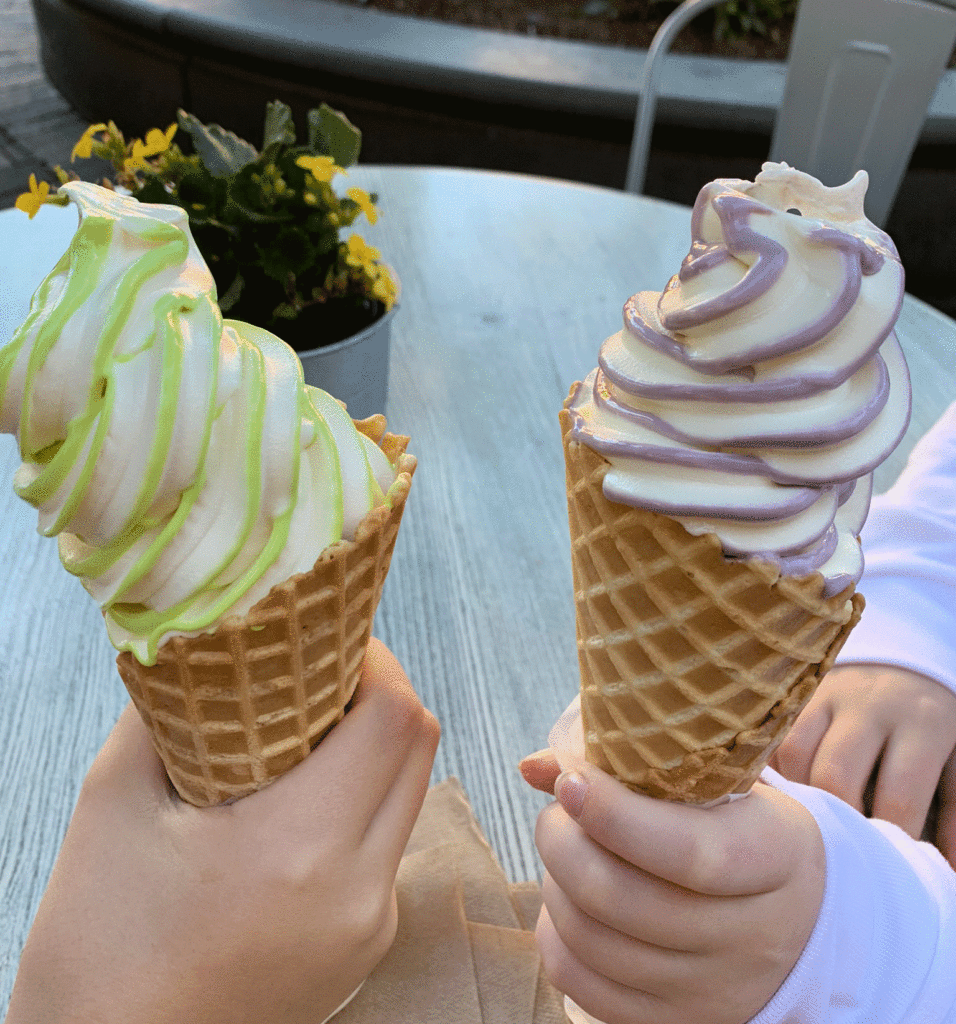 Get the Digital Photo Pass and download the unique photos from the entire Day!
[ Need a great place to eat after a long day at LEGOLAND? ]
If you pay for the photo pass, be sure to make time to add your photos from all the rides where photos are snapped as well as watch for the character photo ops that are found in NINJAGO World, The MOVIE Experience, and the Imagination Zone.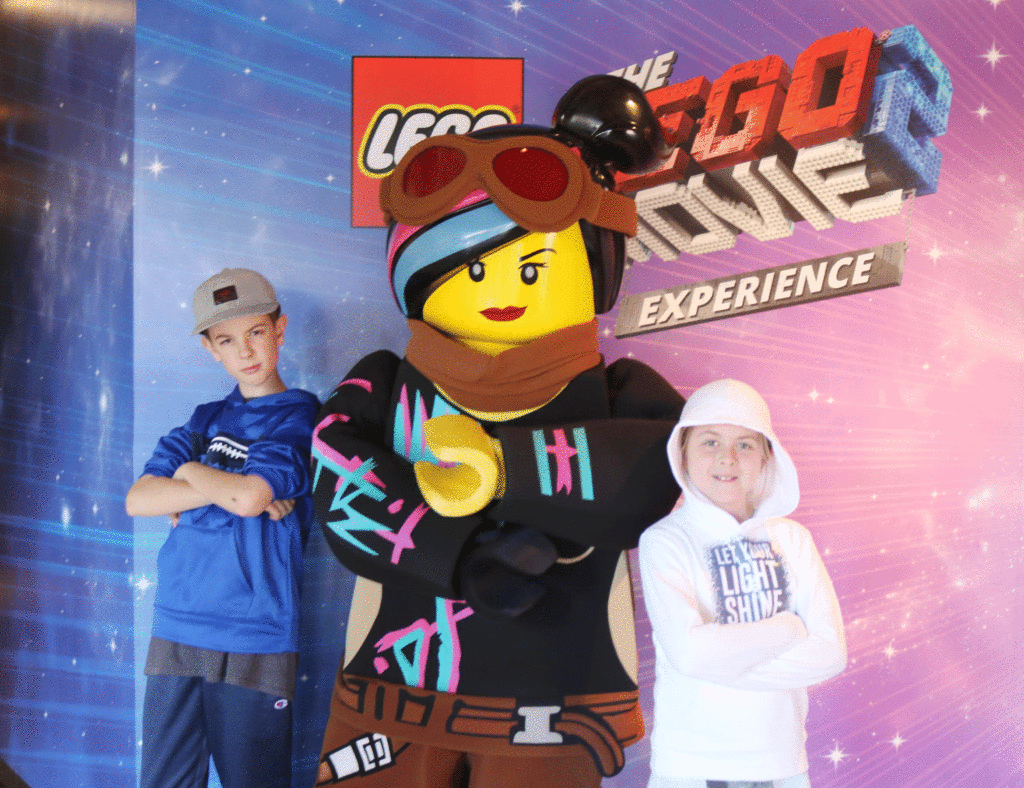 Download the Park Map ahead of Visit and Plot out a General Path to Follow
You can download the park map before your visit to think about a direction to take and where to play first, second and last during your visit. Be flexible to change as you go, but this will limit your map study times and family arguments on the day of your visit.
Use the Downloadable App to Help Throughout the Day
Download the LEGOLAND app to help you throughout your visit to the park. You can use the interactive map to find your way, see when characters are out and about, as well as check ride wait times. Be aware the wait times are not always accurate, but it can help judge where to go next. It is also helpful to check showtimes for shows like the 4D Theatre and Heartlake City.
Bring Minifigures for Trading
Minifigure trading is a fun aspect of the park. If you have been to Disneyland, you can relate it to Pin Trading. My kids made up several figures at home that they would be willing to trade. They did find a couple worth trading for; however they were disappointed to see that most available for trading were incomplete with heads, but no hair or hats on them. Many of the shopkeepers in the park have display cases with figures to trade and kids can also ask to trade the figures they find on staff member's name tags.
Save Shopping for the End of the Day
There are, of course, shopping opportunities throughout the park.  To save time, limit shopping until the end of the day when the kids can browse in the Big Shop at the entrance to the park. 
Following these Tips will Ensure Everything is Awesome!
You may not be able to see everything in LEGOLAND when your visit is limited to one day.  However, you can enjoy a fantastic LEGO-filled day with some planning and purposeful movement!
Be sure to comment below to tell us about your best LEGOLAND tips or your favorite parts of the park after your visit!
Looking for other things to do while in the San Diego Area?
Most Affordable Time to Go to San Diego
Be sure to pin and share!