When you are not up for braving the crowds at Hanauma Bay, another great option for snorkeling on Oahu is Shark's Cove and the Pupukea Tide Pools that are adjacent to one another. There are amazing things to see there. Although many people say Hanauma Bay is some of the best snorkeling on Oahu, I think Shark's Cove is just as good, if not better, due to the freedom you have while visiting. There are no fees to pay and no restrictions.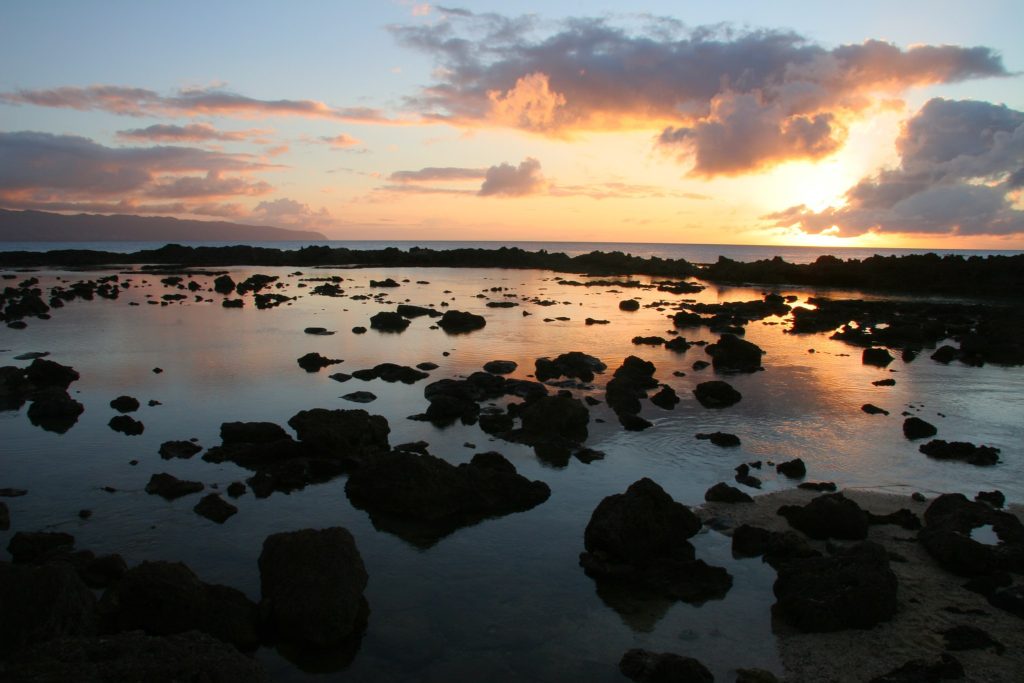 One thing my kids love about the ocean is finding tide pools so they can explore the life they can find in them. Hawaii was no exception. We were eating lunch one day and went into a shop nearby. My son heard the shop owner telling someone about nearby tide pools. His ears perked right up, and he begged me to ask where they were. We inquired and the answer was perfect because the amazing tide pools the man was speaking about were just across the street.
These tide pools were not like the Californian, La Jolla Beach Tide Pools my kids have come to love, they were different and full of the beautiful tropical fish and sea-life of Hawaii!
Things to Know Before You Visit:
If you have snorkel gear and water shoes, this is the place to bring them.
There is much to see with your snorkel and mask. We walked around the shallow tidepools and looked at all the fish and sea life often seeing clearly without going under the water. The water is clear enough to do so. The mask allowed us to get a closer look when we wanted to. If you don't have your own gear, there is a place to rent equipment right across the street from the cove.
You will most likely want to wear some sort of water shoes because there are many sharp rocks. However, many of the rocks in the water are also slick with algae. My son went in without shoes and he felt that was better. My daughter and I were glad we had our shoes on. Many people were heading across the street to buy water shoes after trying without them.
There is very little sandy beach to hang out on.
It is not a place to set up a beach lounging day. The beach is full of large, sharp, lava rocks. We found a small area in the rocks like everyone else and stashed our towels, snorkel bags, and other belongings. Then we climbed over the rocks into the cove and headed for the shallow waters to explore.
The waters were safe and relatively calm when we were there in early May. The waves would rock us around a little as we picked our way through, but we could manage to stand and walk without too much trouble. My cousin and I were there with 5 kids ranging in age from 10 years to 16 months. If you bring a toddler, just realize, they won't really be able to stand and play on their own, so there will be a lot of carrying and if you have other littles, you will often need to offer a hand to steady the older child too, so it may be difficult on your own.
My 10-year-old son led the way and was fine without assistance the entire time. The six and eight-year-olds needed more assistance and were more nervous due to the rough terrain and slick rocks. They were not so afraid that they couldn't enjoy the time, however.
Summer and early morning hours are the calmest on this side of the island.
If you are going with littles, you will want to avoid the cove in winter months altogether as it is on the North Shore area of Oahu which is known for its large surfing swells in the winter months. This makes the water very rough even in the cove at that time of year. When the water is rough, there is much more chance of getting wounded on the sharp rocks.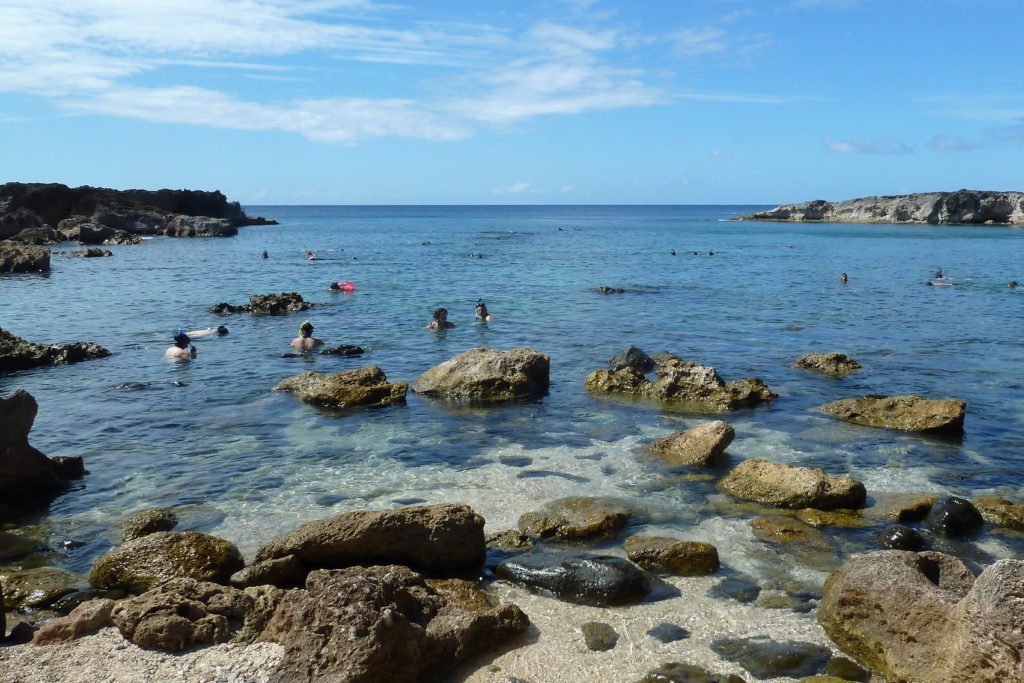 We were told that the tide winds pick up on that side of Oahu as the day wears on, so the waters are calmest in the morning. If you want calm waters, try to make it to the cove earlier in the day.
Because we had such small children with us, we didn't snorkel in the deeper cove. We spent all our time in the Pupukea Tide Pools and enjoyed it thoroughly.
Parking
There is a lot of free parking, but it does fill up. It seemed like there were people coming and going all day, so if you circle the long stretch of spots, a couple of times, you might see a spot open up. There is also parking for the food trucks across the way, and an easy walk just down the street is a grocery store parking lot. If you purchase something in the store, you can park in their lot for a while.
Facilities
There are beach bathrooms and faucets for rinsing the sand off at Shark's Cove. There are also Porta-Potties at the Food Truck lot across the street. The locals said after half the day the Porta Potties may be your best bet for the cleanest relief, but if you need beachside relief, the bathrooms will do. My son was shocked to find a grandpa changing in the men's room without a door, but that is what happens at the beach!
Nearby Eats
One of our favorite features of the North Shore area was the Food Truck Parks. There were a couple of locations where food trucks were permanently fixed with picnic tables and awnings laid out all around. It is a great place for a family where everyone wants to eat something different! Across from Shark's Cove was the North Shore Taco truck. This taco truck ended up being one of my kids' favorite things about the entire trip! My son loved the fish tacos and my daughter's favorite was the chicken tacos. I enjoyed the pineapple salsa. Island-style Mexican food at its best. My Arizona kids always love Mexican food, even when we are far from home!

Find North Shore Tacos Truck at LookIntoHawaii.com – Image Copyright LookIntoHawaii.com
The other food we sampled was the Hawaiian Shave Ice at the Shrimp Truck. It was amazing. I sampled the local flavors all wrapped up into one yummy bowl of shave ice.
The Good
The Shark's Cove Tide Pools didn't get its name because sharks are found there, rather, because legend has it that the lava formations used to look like an open shark's mouth from above. It is ironic because there is no sign of sharks in this amazing cove.
The sea life was beautiful and plentiful. When the smaller girls got scared because they were slipping too much, we were able to set them on a solid rock and just looking at the fish around them served to calm and excite them again, so they were soon ready to venture out into the water again.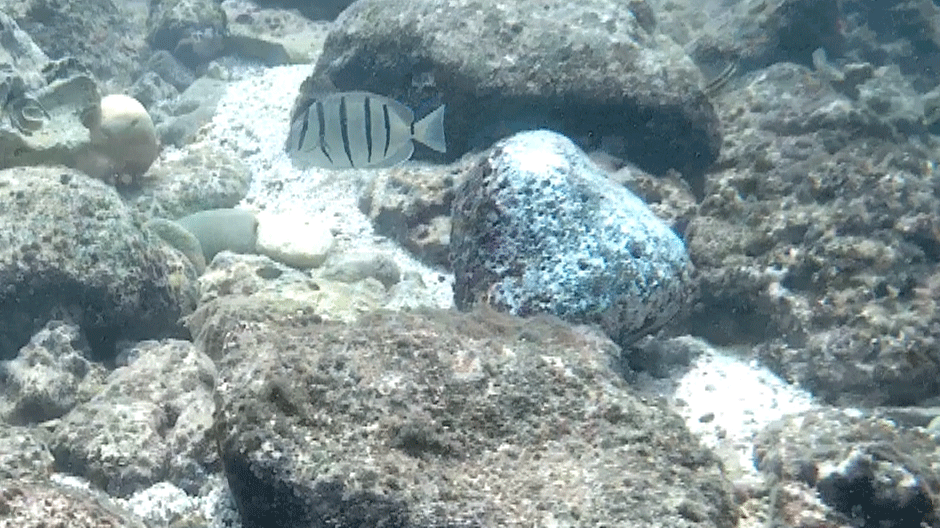 Some of the animals we saw this time included:
Anemones, angelfish, butterflyfish, parrotfish, an eel. We enjoyed many colorful creatures!
The Bad
Although we had a great time at Shark's Cove, it was our worst day on Oahu. First off, as we were heading back to the beach to get out of the water, our 6-year-old slid while walking and cut her arm on a sharp rock. It wasn't too bad but was bleeding and dripping some.
I would suggest making sure you have a small first aid kit with you when going to this beach. I recommend always carrying a small first aid kit containing some necessities when traveling but be sure to bring it along when you are going to a place with known dangers such as the lava rocks here. We were able to get some antibacterial cream on her and a Band-Aid, which made her feel better.
The other thing that was tragic for us was when we got back to where our belongings were left, we only found half of them still there. Someone decided to walk off with my backpack. Upon a little more inspection, we realized that whoever took it, was off having a joyride in our rental Jeep! As we looked for my bag and tried to regroup and figure out what to do, we realized the Jeep was also missing! This did begin some stressful times during our otherwise wonderful trip.
One of the locals offered the best solution to us for keeping those rental key fobs safe while swimming, as they can't get wet. He told us to bury them in the sand under a corner of our towel. That way we know where to find them again, but no one else does. Be sure to do it discreetly, so no one watching will see what you are doing. The other suggestion would be to take a good waterproof container with you that is easy to put a key and phone in it, then keep them with you. Leave all other things of value locked in the car or where you are staying.
The Ugly
All the little girls agreed that we did find something that was ugly. My son was thrilled to find an eel peeking out from a rock while exploring. We all rushed over to see it. Although we all enjoyed looking at it, the girls agreed that its sinister smile was unnerving and very ugly!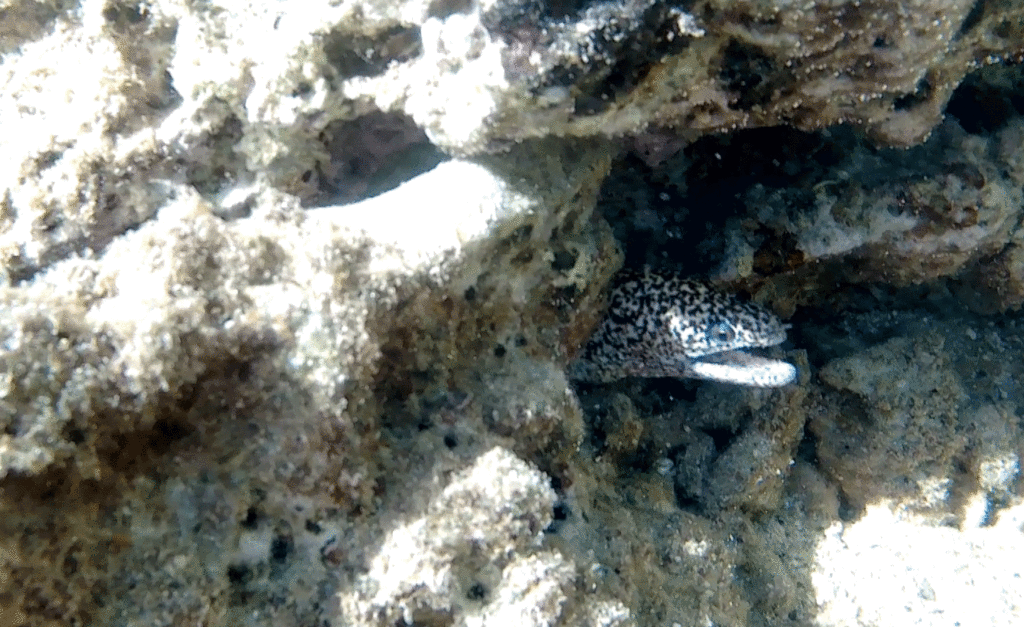 We all scooted away quite quickly when it was spooked and was trying to swim to another rock to hide. Later we Googled, "Are eels in Hawaii dangerous?" to find out if it was dangerous. We found that they may bite if afraid, so it's good that my son didn't get too close!
Even with all the bad of stolen belongings and insurance deductibles, we still enjoyed the day at Shark's Cove and all the beautiful things we saw. If you have visited or do visit, please add a comment and tell us the best thing you found in the tide pools there!