In the hustle and bustle of modern life, where financial pressures can weigh heavily on our shoulders, finding peace through prayer might not be the first thing that comes to mind. However, taking a step back to consider the profound impact a prayer for finances can have on our well-being and mindset is worth exploring. The article below will delve into money stress, the truth of what the Bible says about money and ten prayers for the financial breakthrough you need.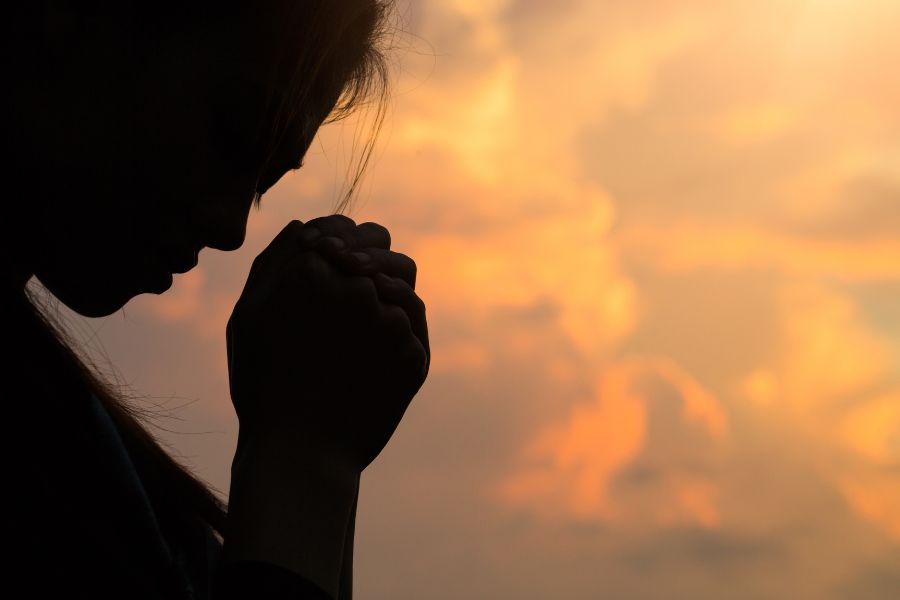 America's Money Stress Statistics
Money often emerges as a source of stress that causes anxiety. But take heart, for a closer look at some telling statistics unveils a reassuring truth: you are not navigating this tumultuous terrain alone. Countless others are treading similar paths, grappling with your financial challenges. It is normal and common to feel anxiety when it comes to finances.
Consider the insights unveiled by recent surveys, each confirming the weight of money-related stress:
A survey conducted by The American Physiological Association resonates with the experiences of many. A staggering 65% of respondents acknowledged that money is a significant source of stress.
As reported by CNBC,  a Capital One survey uncovered that finances override politics, work, and even family as the premier cause of stress. A resounding 73% identified financial concerns as their chief source of worry.
In a survey orchestrated by FINRA, you'll encounter striking revelations. An astonishing 60% of respondents admitted feeling anxiety when contemplating their finances, while an equally significant 50% confessed to experiencing stress during financial discussions. Factors weaving this web of economic fear include insufficient assets and income, daunting levels of debt, intricate money management dilemmas, and a foundation of limited financial literacy.
The resounding consensus from these surveys is that the stress levels are consistently sky-high. If you're perusing this post, it's more than likely that you're all too familiar with the intricate dance of financial stress in your own life.
Why Would You Want to Offer a Prayer for Finances?
In times of financial hardship, turning to prayer might appear counterintuitive to some. However, offering a prayer for finances goes beyond a mere request for monetary assistance.
It's about fostering a positive mindset, cultivating gratitude, and seeking guidance to make wise financial decisions. Prayer can be a source of comfort, providing a sense of relief from the burdensome weight of financial concerns.
How Do You Pray for Finances?
Praying for finances is an art that blends faith with intention.
Begin by finding a quiet, tranquil space to connect with your thoughts. Approach the prayer sincerely, focusing on gratitude for what you currently have while expressing your genuine needs.
• Step One: Cultivate a space for tranquility, serenity, and introspection.
• Step Two: Begin with an attitude of appreciation, acknowledging the treasures you already possess.
• Step Three: Request insight, clarity, bravery, steadfastness, and composure.
• Step Four: Seek abundant financial favor and profusion, encompassing all necessary to enhance your financial management.
• Step Five: Express gratitude to God for the forthcoming blessings and the guidance He will give.
• Step Six: Reinforce your unwavering belief in God's boundless love and steadfast attention.
Some people like to write their prayers in a journal to make it more real. Others speak them out loud when they are in a private place. Still, others think about them in their heart and mind, knowing God can hear their inner thoughts.
Whatever your preference, God doesn't have a requirement. He likes you to converse with him like a person sitting near you. He is a casual and friendly God in His relationship with His children.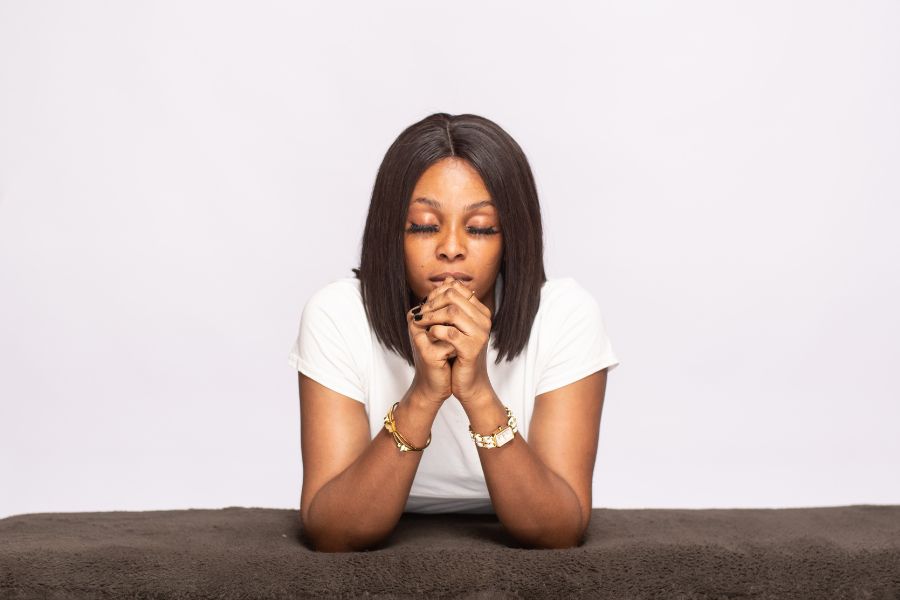 10 Comforting Prayers for Breakthrough in Your Finances
A Prayer for Abundance: "May abundance flow into my life like a river, washing away financial worries and bringing forth opportunities."
Divine Source of Abundance, I open my heart to receive the boundless flow of prosperity you offer. Just as a river courses through the land, let abundance surge into every corner of my life, erasing the traces of lingering financial worries. May this torrent of overflowing cleanse my thoughts, washing away doubts and fears, leaving behind a landscape of hope.
As opportunities bloom like vibrant flowers along the riverbanks, I am ready to embrace them with open arms and a willing spirit. Just as the river shapes the earth it touches, let this wave of abundance shape my life into one of fulfillment and purpose. With gratitude, I recognize that your blessings are as limitless as the waters that span the horizon. May this river of abundance carry me to new shores of prosperity and joy.
A Prayer for Financial Wisdom: "Grant me the wisdom to make sound financial choices, leading me towards prosperity and stability."
Eternal Source of Wisdom, I humbly seek your guidance as I navigate the intricate pathways of my financial journey. Bestow upon me the gift of discernment, that I may make choices that align with my highest good and the more excellent vision I hold for my life. Illuminate my mind with insights that transcend the moment, revealing the true impact of my financial decisions.
In the realm of finances, I understand that wisdom extends beyond numbers; it reflects understanding the value of patience, the importance of saving, and the significance of giving. Please grant me the foresight to sow the seeds of prosperity today so that I may reap the harvest of stability and abundance in the coming days. With your wisdom as my compass, I journey confidently toward a future filled with financial well-being.
A Prayer for Debt Relief: "Release me from the shackles of debt, freeing my spirit and paving the way for financial liberation."
Compassionate Provider, I stand before you burdened by the weight of debt that has lingered like heavy chains upon my shoulders. I implore your grace to break these chains, freeing me from the constraints that have limited my financial freedom. Just as you parted the seas to guide your people, part the sea of my debts, leading me towards a land of economic liberation.
Provide me the strength to take decisive actions to restore my financial equilibrium. As I release the grip of debt, may my spirit soar on the wings of newfound freedom. With gratitude, I step into a future unburdened by the past, embracing the promise of brighter days where financial prosperity and stability flourish.
A Prayer for Career Growth: "Bless my endeavors with success and advancement, opening doors to new avenues of financial growth."
Guiding Light of Opportunities, I place my aspirations for career growth and financial abundance before you. Bless the efforts I invest in my endeavors, illuminating my path with the radiance of success. Just as a sunrise heralds a new day, may your blessings usher in a season of advancement where doors swing open to reveal unexplored avenues of financial growth.
I trust in your divine timing, knowing that each step I take leads me closer to the summit of achievement. May my skills be recognized, my dedication rewarded, and my contributions valued. As I ascend the ladder of success, may I remain grounded in gratitude, never forgetting the journey that has brought me to this point. With your blessings as my compass, I embrace the promise of a prosperous future filled with opportunities.
A Prayer for Contentment: "Help me find contentment in the present moment while nurturing aspirations for a secure financial future."
Wise Guide of Inner Peace, in the hustle of life's demands, I seek the serenity that comes from embracing the present moment. Help me cultivate contentment within, even as I strive for a secure financial future. Just as a garden flourishes when tended with care, let contentment bloom in my heart, nourishing my soul as I nurture my aspirations.
As I dream of financial stability and abundance, let these dreams be a source of inspiration rather than anxiety. May contentment be the soil in which these dreams take root, ensuring that my pursuits are fueled by a desire for growth rather than driven by a sense of lack. With your guidance, I balance the scales between present contentment and future aspirations, creating a harmonious symphony of well-being.
A Prayer for Generosity: "May my heart be open to both receiving and giving, creating a cycle of abundance that touches the lives of others."
Compassionate Giver of All, I stand ready to embrace the beautiful dance of giving and receiving that creates abundance. Let my heart be a vessel of generosity, open to the inflow of blessings and the outpouring of kindness. Just as a river nourishes the earth it traverses, may this cycle of abundance touch the lives of others, leaving ripples of joy in its wake.
With each gesture of giving, I recognize that I am sowing seeds of blessing that will flourish and return to me unexpectedly. In giving, I become a vessel of your boundless grace, sharing the gifts bestowed upon me. As I embrace this cycle of abundance, I find fulfillment in what I receive and in my generosity's profound impact on the world around me.
A Prayer for Financial Healing: "Heal the wounds of financial struggles, restoring my faith in the possibility of a prosperous life."
Healer of Hearts and Finances, I come before you with the wounds of financial struggles that have left their marks upon my spirit. As you mend broken bodies, mend the brokenness within my financial journey. As a skilled physician who tends to wounds with care, I ask for your healing touch to soothe the pain of past financial hardships.
With each step toward financial healing, restore my faith in the potential for a life of prosperity and abundance. Let your light shine into the recesses of doubt and fear, dispelling the shadows hindering my progress. As I embark on a journey of renewed hope, may I find the strength to move forward, guided by your grace and the knowledge that my financial well-being is within reach.
A Prayer for Financial Courage: "Grant me the courage to overcome financial challenges, emerging stronger and wiser on the other side."
Source of Unwavering Strength, I humbly ask for the gift of courage as I face the daunting challenges that lie along my financial path. Just as a warrior stands firm in the face of adversity, instill in me the bravery to confront my financial struggles head-on. May each obstacle I encounter become an opportunity for growth and transformation.
With your courage as my shield, I take bold steps toward financial empowerment, knowing that every challenge I conquer strengthens the foundation of my journey. As I emerge from the crucible of difficulty, may I be infused with the wisdom born from experience and the resilience that only overcoming trials can bestow. With unwavering faith in your guidance, I navigate through financial challenges, emerging stronger, wiser, and victorious on the other side.
A Prayer for Gratitude: "I am grateful for the blessings in my life, both big and small, and I trust that abundance will continue to flow."
In the sanctuary of my heart, I pause to acknowledge the countless blessings that grace my life's journey. With a heart full of appreciation, I recognize the grandeur of the gifts that stand as pillars of strength and the delicate nuances of the small joys that color my days.
As I breathe in gratitude and exhale contentment, I invite the Universe to witness my genuine thankfulness. I understand that acknowledging the blessings surrounding me will pave the way for more abundant goodness to enter my life. Just as a river meanders through the landscape, carrying with it the promise of sustenance, I trust that the river of abundance shall continue to flow, nourishing my soul and blessing my path.
A Prayer for Financial Breakthrough: "Grant me a Financial Breakthrough that brings new opportunities, creativity, and ideas to change my financial situation."
Divine Architect of Opportunities, I humbly approach you with a heartfelt plea for a Financial Breakthrough. Just as dawn ushers in a new day, may this breakthrough bring the promise of dawn to my financial circumstances. Illuminate the path before me with the radiance of fresh opportunities, the brilliance of creative solutions, and the spark of innovative ideas.
With unwavering faith, I release my intentions to You, trusting that You hear the echoes of my heart's desire. I ask for the courage to embrace change, the discernment to recognize the avenues of growth, and the perseverance to follow your illuminating path.
As this Financial Breakthrough unfolds, may I rise above limitations, expanding the horizons of my financial situation with each step I take. May this transformation be a testament to your abundant grace and a reminder that, through your benevolence, new doors are opened, and new chapters are written. In your guiding light, I find the strength to navigate this journey of change and welcome the financial breakthrough that stands on the threshold of my destiny.
Bible Passages That Talk About Money
Matthew 6:24: "No one can serve two masters. Either you will hate the one and love the other, or you will be devoted to the one and despise the other. You cannot serve both God and money."
1 Timothy 6:10: "For the love of money is a root of all kinds of evil. Some people, eager for money, have wandered from the faith and pierced themselves with many griefs."
Proverbs 3:9-10: "Honor the Lord with your wealth, with the first fruits of all your crops; then your barns will be filled to overflowing, and your vats will brim over with new wine."
Proverbs 21:5: "The plans of the diligent lead to profit as surely as haste leads to poverty."
Proverbs 13:11: "Dishonest money dwindles away, but whoever gathers money little by little makes it grow."
Luke 6:38: "Give, and it will be given to you. A good measure, pressed down, shaken together, and running over, will be poured into your lap. For with the measure you use, it will be measured to you."
Proverbs 22:16: "One who oppresses the poor to increase his wealth and one who gives gifts to the rich—both come to poverty."
Malachi 3:10: "Bring the whole tithe into the storehouse, that there may be food in my house. Test me in this,' says the Lord Almighty, 'and see if I will not throw open the floodgates of heaven and pour out so much blessing that there will not be room enough to store it.'"
Luke 16:11: "So if you have not been trustworthy in handling worldly wealth, who will trust you with true riches?"
Proverbs 11:24-25: "One person gives freely, yet gains even more; another withholds unduly, but comes to poverty. A generous person will prosper; whoever refreshes others will be refreshed."
Hebrews 13:5: "Keep your lives free from the love of money and be content with what you have, because God has said, 'Never will I leave you; never will I forsake you.'"
Ecclesiastes 5:10: "Whoever loves money never has enough; whoever loves wealth is never satisfied with their income. This, too, is meaningless."
2 Corinthians 9:7: "Each of you should give what you have decided in your heart to give, not reluctantly or under compulsion, for God loves a cheerful giver."
Proverbs 28:20: "A faithful person will be richly blessed, but one eager to get rich will not go unpunished."
Psalm 37:21: "The wicked borrow and do not repay, but the righteous give generously."
Proverbs 19:17: "Whoever is kind to the poor lends to the Lord, and he will reward them for what they have done."
1 Chronicles 29:11-12: "Yours, Lord, is the greatness and the power and the glory and the majesty and the splendor, for everything in heaven and earth is yours. Yours, Lord, is the kingdom; you are exalted as head over all. Wealth and honor come from you; you are the ruler of everything. In your hands are strength and power to exalt and give strength to all."
Luke 12:15: "Then he said to them, 'Watch out! Be on your guard against all kinds of greed; life does not consist in an abundance of possessions.'"
Proverbs 30:8-9: "Keep falsehood and lies far from me; give me neither poverty nor riches, but only my daily bread. Otherwise, I may have too much and disown you and say, 'Who is the Lord?' Or I may become poor, steal, and dishonor my God's name."
James 1:17: "Every good and perfect gift is from above, coming down from the Father of the heavenly lights, who does not change like shifting shadows."
These passages offer diverse perspectives on money, stewardship, generosity, and contentment, encouraging individuals to approach their finances with wisdom and a heart of integrity.
Doesn't the Bible Say That Money Is Bad?
While some might interpret biblical passages as condemning wealth, it's essential to understand the context. The Bible doesn't vilify money itself but warns against the love of money, which can lead to greed and detachment from spiritual values. Money is a tool, and when used thoughtfully and with a generous heart, it can serve positive purposes, God's intended purposes.
As you can see from reading the Bible passages in the previous section, God teaches how to interact with money, not that it is terrible. If you love wealth above all else, it becomes bad for YOU and YOUR LIFE, not in general.
What If I'm Not Sure If I Believe in God?
Numerous individuals discover solace in their trust in the Lord; for many, the sovereignty of God and Jesus Christ remains unshakable. Conversely, some approach the existence of God with skepticism or adhere to an entirely distinct religious and belief structure.
Irrespective of your convictions, cherish that faith wholeheartedly. For the context of this article, our stance aligns with the Christian faith.
Perhaps this could mark the inception (or rekindling) of your spiritual expansion and unwavering faith in the Lord. Alternatively, you can utilize the provided prayers as a stepping stone, shaping them to resonate with your unique belief system.
If you acknowledge that embracing Christianity doesn't align with your convictions, yet you resonate with the concept of directing prayer to a higher entity, then contemplate the adoption of affirmative money declarations. Nurturing your perspective on money holds the potential for significant rewards, and it's a journey that extends to all individuals, transcending specific faith affiliations.
At the End of the Day
In a world where financial stresses can feel overwhelming, the power of prayer for finances lies in the potential for material assistance and its ability to transform your mindset. You can cultivate a more empowered and balanced relationship with your financial journey by weaving together faith, intention, and action. So, whether seeking relief from debt, aiming for prosperity, or simply striving for financial wisdom, prayer can guide your path to economic well-being.