Are you looking to supercharge your savings account? Look no further! This article presents 12 money-saving challenges that will help you boost your savings and meet your financial goals. Whether you're saving up for a dream vacation, a down payment on a house, or want to create an emergency fund, these saving money challenges are designed to inspire and motivate you.
By taking on these challenges, you can save money and learn valuable financial habits that can benefit you for life. We've got you covered, from cutting back on unnecessary expenses to finding creative ways to increase your income.
Try one a month for a year and see how much you can save!
We understand that saving money can be challenging, so we've carefully curated these challenges to ensure they are achievable and enjoyable. Whether you prefer a week-long challenge or a month-long commitment, there's something for everyone.
So, are you ready to take control of your finances and watch your savings account grow? Let's dive in and get started on these exciting money-saving challenges!
Benefits of participating in money-saving challenges
Participating in money-saving challenges offers numerous benefits beyond just building up your savings account.
First, it helps you develop strong discipline and self-control when managing your finances. By actively engaging in these challenges, you'll become more mindful of your spending habits and learn to differentiate between wants and needs.
Second, money-saving challenges provide a structured framework that makes saving money more enjoyable and rewarding. Instead of feeling overwhelmed by the idea of saving, these challenges break it down into smaller, achievable goals, keeping you motivated along the way.
Last, participating in money-saving challenges can boost your confidence and sense of accomplishment. As you successfully complete each challenge, you'll realize you can take control of your financial future and achieve your goals.
Not to mention, you can finally reach a financial goal or milestone you are going toward. If you want to save for a particular purchase, that new couch you want for your living room, or to take your family on a Disney Cruise, jump-starting or completing this savings goal would be easier with a savings challenge. Savings challenges can also help you find extra money to start or increase your investing and pay off a high-interest debt faster than ever.
My kids and I often complete a no-spend or eat-from-the-pantry challenge before we vacation to increase our spending budget for the trip.
Whatever your motivation for a money-saving challenge, there will be several right for you here.
Money-saving challenge ideas for beginners
Starting with simple and manageable tasks is best if you're new to money-saving challenges. Here are three challenges that are perfect for beginners:
The Spare Change Challenge
Collect any loose change daily and put it in a jar. At the end of each month, deposit the accumulated amount into your savings account. This challenge helps you develop the habit of saving regularly, even if it's just small amounts.
Let's be honest: few of us work with cash, making this challenge less effective. If you do use cash, this may still work for you.
You can take the change you collect at the month's or quarter's end to a Coinstar Kiosk near you. You often find them in a grocery store. Sometimes if you are willing to accept gift cards, you may get more money out of your change because they add a bonus or reduce the exchange fee. Also, check for these kiosks at your bank or credit union, sometimes they will waive the fees giving you an even exchange for cash.
If you don't use cash, you can use an option at some banks or through an app like Acorns to round up your extra change. Acorns invests the spare change for you so it will grow and the banks usually put the extra change into your savings account with them. Some banks I have seen do this are Chime and Bank of America.
The No-Spend Weekend Challenge
Choose one weekend each month where you commit to not spending any money. Plan activities that don't require spending, such as hiking, reading, or having a movie night at home. Don't forget no eating out!
This challenge helps you identify areas where you may be overspending and encourages creativity in finding free or low-cost ways to enjoy your time.
The 30-Day Meal Prep Challenge
Challenge yourself to plan and prepare meals at home for an entire month. Not only will you save money by avoiding expensive restaurant meals, but you'll also develop healthier eating habits. This challenge teaches you the importance of meal planning and the savings it can bring. 
You can save money on food even more with these saving money on food hacks.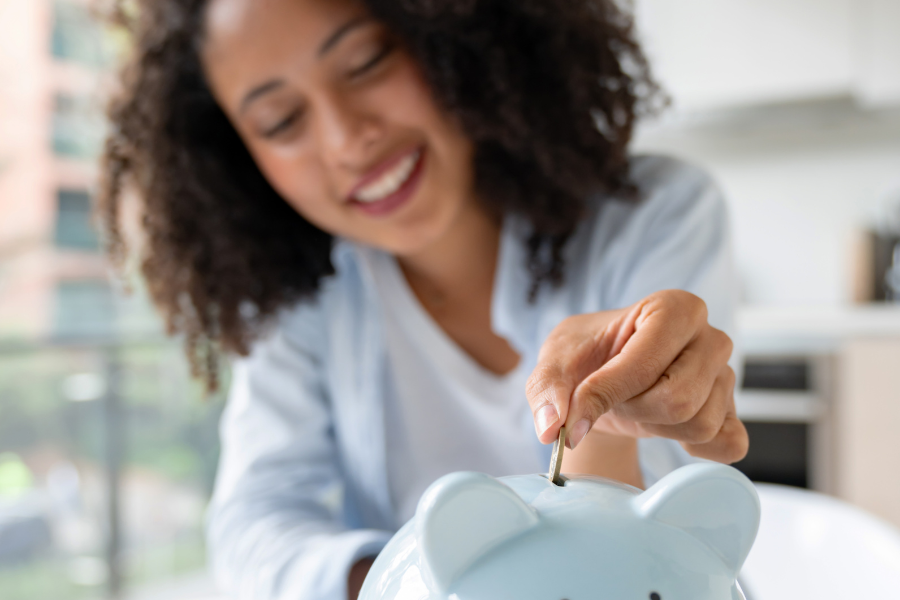 Intermediate money-saving challenges
Once you've mastered the beginner challenges, it's time to level up and take on more substantial money-saving challenges. Here are three intermediate challenges to try.
Eat-From-the-Pantry Challenge
Avoid grocery shopping or eating out for a weekend, week, or an entire month if you are ambitious. This challenge will invoke all your creativity to use what you already have. This challenge works best for families that over-buy at the grocery or bulk shopping stores and have lots to use up or clean out. 
Some families make this work by taking turns preparing the meals "Chopped" style only with what is on hand and then choosing a winner. (Tip: You can search recipes with ingredients at Allrecipes.com!) A prize can include not having to do a regular chore or everyone else doing something special for the winner.
The 52-Week Money Challenge
Start by saving $1 in the first week, $2 in the second week, and so on, until you reach $52 in the last week of the year. By the end of the challenge, you'll have saved $1,378. This challenge helps you gradually increase your savings and can be a fun way to stay motivated throughout the year.
Think about how you will execute this savings challenge to make it easy to accomplish. After saving more significant amounts, you may need to cut out something you usually buy to allow it. You can set up auto transfers into your savings account for this to work without much thought.
Just be sure you don't put things on credit to allow the same amount of spending; otherwise, the extra money will just be eaten up with the interest earned.
If you need to cut some costs to allow this extra savings, check these cutting costs lists to help.
The Digital Detox Challenge
Challenge yourself to reduce your monthly digital subscriptions and expenses. Identify any subscriptions you no longer use or need, cancel them, and redirect the saved money to your savings account. This challenge helps you declutter your digital life while saving money at the same time.
Take this challenge one step further and explore all your memberships. Determine how many you don't use or can live without and cancel them. You may need to review your bank and credit card statements for the last year.
I wouldn't be surprised if you find some memberships or subscriptions you are paying for but have forgotten about.
Advanced money-saving challenges
If you're up for a more intense challenge, these advanced money-saving challenges will test your dedication and commitment to saving:
The 30-Day No-Spend Challenge
Commit to not spending money on non-essential items for an entire month. Stick to your budget for necessities like groceries and bills, but avoid unnecessary purchases. This challenge helps you break free from impulse buying and encourages mindful spending.
The trick with this challenge is to ensure you get clear on what you can and can't spend on before you begin the challenge. If you do this yourself, chart it with yes and no lists and stick to those decisions during your challenge.
If you are doing this with a partner, kids, or a family, complete the chart together and decide and agree on what should be on the chart as a group. If you are saving for a family goal, like a trampoline for the backyard or a family vacation, it works better to get everyone on board, even your youngest children.
It will help when you are at the store. You won't feel guilty for telling your kids "no," and believe me, your kids will remind you if you put an item in your cart that "shouldn't" be there!
The 365-Day Penny Challenge
Starting with one penny on day one, double the amount each day for a year. By the end of the challenge, you'll have saved over $6,700. This challenge requires long-term commitment and discipline, which significantly boosts your savings.
I would also recommend setting this up as an auto transfer, maybe weekly instead of daily. Just be sure you have enough money in your account to allow for the transfer without any complications.
The cutting costs checklists may be helpful with this challenge also.
The Side Hustle Challenge
Challenge yourself to earn extra income through a side hustle for a specific period, such as three months. Whether freelancing, selling handmade products, or offering a service, the goal is to generate additional income to put directly into your savings account. This challenge increases your savings and helps you explore new skills and opportunities.
You may be able to find some work through Fiverr, Upwork, or Task Rabbit if you don't have any of your ideas.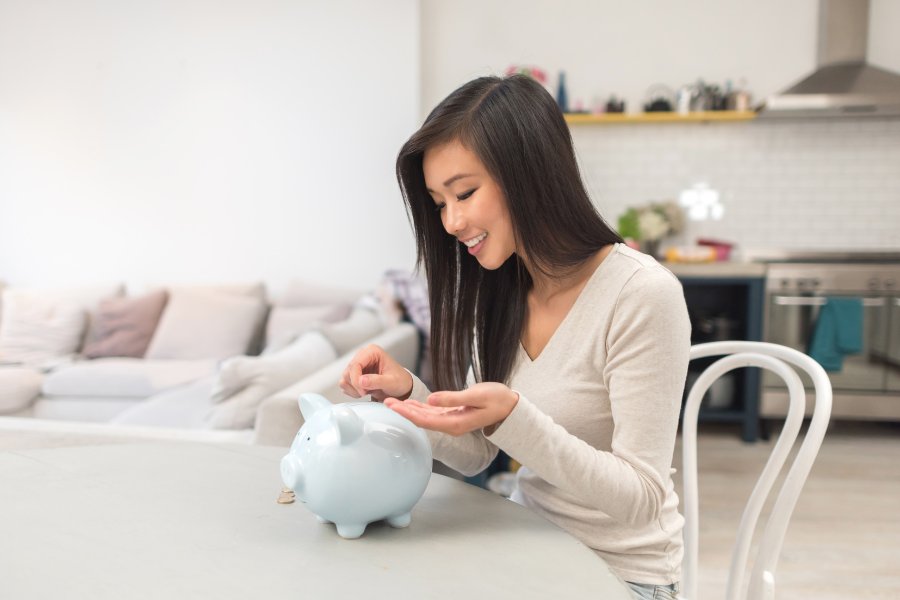 Tracking your progress and staying motivated
Tracking your progress and staying motivated can help ensure your success with your money-saving challenge. Use a spreadsheet or a budgeting app to monitor your savings, set reminders for depositing money into your savings account, set up automatic transfers, and celebrate small milestones throughout the challenge.
Additionally, consider finding an accountability partner or joining online communities focused on money-saving challenges. Sharing your progress, challenges, and achievements with others can provide valuable support and encouragement throughout your savings journey. We would love to have you join our Facebook Group for Women or follow our Facebook Page for motivation.
Tips for success in money-saving challenges
To maximize your success in money-saving challenges, keep the following tips in mind:
1. Set specific goals: Clearly define what you're saving for and set specific targets for each challenge. A clear purpose will keep you motivated and focused on your financial goals.
2. Automate your savings: Set up automatic transfers from your checking account to your savings account to ensure consistent savings. Automation removes the temptation to spend money and makes saving effortless.
3. Review your expenses: Regularly review your costs to identify areas where you can cut back. Look for subscriptions, memberships, or services you no longer use or need and redirect the saved money towards your savings.
4. Embrace frugality: Embrace a frugal mindset by seeking discounts, comparing prices, and finding ways to save money on everyday expenses. Small savings can add up significantly over time. Remember, you don't have to be frugal in every area. Choose a place to be economical in so you can spend more on what matters to you most!
5. Stay accountable: Share your goals and progress with someone you trust, such as a friend or family member. Having someone hold you accountable can help you stay on track and motivated.
Celebrating your savings milestones
As you reach savings milestones, it helps to celebrate your achievements. Rewarding yourself for your hard work and dedication can help maintain motivation and make the journey more enjoyable.
Treat yourself to a small indulgence or engage in a low-cost activity that brings you joy. Remember, celebrating doesn't have to be extravagant or expensive. The key is acknowledging your progress and giving yourself a well-deserved pat on the back.
Utilize Saving Money Apps and Tools
Consider using money-saving challenge apps and tools to make your money-saving challenges more convenient and efficient. These can help you track your progress, set reminders, and offer additional resources and tips to support your savings journey.
Some popular money-saving challenge apps include Mint, Acorns, and Qapital. These apps offer features like automatic savings transfers, goal tracking, and personalized tips to help you reach your savings goals.
Conclusion
Whether you want to jump-start your emergency savings, save for a specific purchase, or have extra to pay off an annoying debt, savings money challenges can be a great way to get you moving toward those goals in a fun and predictable manner.
Try one or try them all to supercharge your savings this year. Let me know how it goes or if you have others you like in the comments below.
If you want help reaching your financial goals or knowing the best financial moves, a financial counselor may be just what you need. Find out more HERE.