Some of the links on this post are affiliate links. This means if you click on the link and purchase the item, I will receive an affiliate commission at no extra cost to you. I only promote products I believe in and all opinions remain my own.
Crying is Cleansing, Tears are Powerful and Beneficial
It's been close to two years since I served my husband with divorce papers and there are still times when I feel the grief well up inside so intensely that I can barely hold it down. My first inclination is to push it back.
I mean, I shouldn't feel sad, should I? It has been so long. Get over it already! He was such a mean person, I am happy to be free, right?
After a deep hurt, it is so important to allow yourself to cry, the tears help to cleanse your soul. A lot of us hold back tears, push down the hurts when we feel them and hide them in shame. Our society often teaches that it is not good to show our emotions. We are told to suck it up, get over it, and move on. This is not only detrimental to our emotional wellbeing, but to our physical health as well.
Your body produces several types of tears.
Sadness tears are different from the tears that are produced when you get something irritating in your eye. They are different because they have different purposes. Sadness tears contain stress hormones and researchers believe that as we shed these tears, we reduce the stress hormones in our body thereby reducing the stress we feel.
Shedding these emotional tears has also been found to release oxytocin and endorphins in the body. These chemicals relieve pain and help you to feel better.
Sadness tears reduce our stress and help us feel better all at the same time.
Crying can serve to help us get our emotions back to a balanced state. 
Yale researchers found that crying can help to regulate our emotions regardless of whether we are crying for grief, joy, fear, or stress. Crying helps us move back to balance after experiencing one of these extreme emotions. Allowing yourself to cry when you feel the need is not only ok but also can be good for you.
Does this mean you should schedule regular times to cry or create moments that will help you to cry?
Some people think you should.  In Japan, people pay to attend crying events.  At these events, participants may be shown sad movies that elicit the emotions that allow them to cry.  This may sound intriguing, especially if you have trouble shedding tears, however, researchers have also found that crying tears for our own life events is more beneficial than crying for someone or something else.  I have found that when I am feeling sad to the point of wanting to cry, watching a poignant movie or reading a touching story can help me to cry for my own grief, as well.  Crying for someone else's story may just help me open the floodgates that are too stubborn to open on their own.  This is especially true for me when the story I am watching or reading relates to my own grief.
Looking back through photos or reading my journal or old letters I have received is another way that I can review memories that I need to release emotion over.  It allows me to relive the moment so I can cry over it again. This helps me let go of the trauma that the moment has caused me. 
Take time to let the tears flow.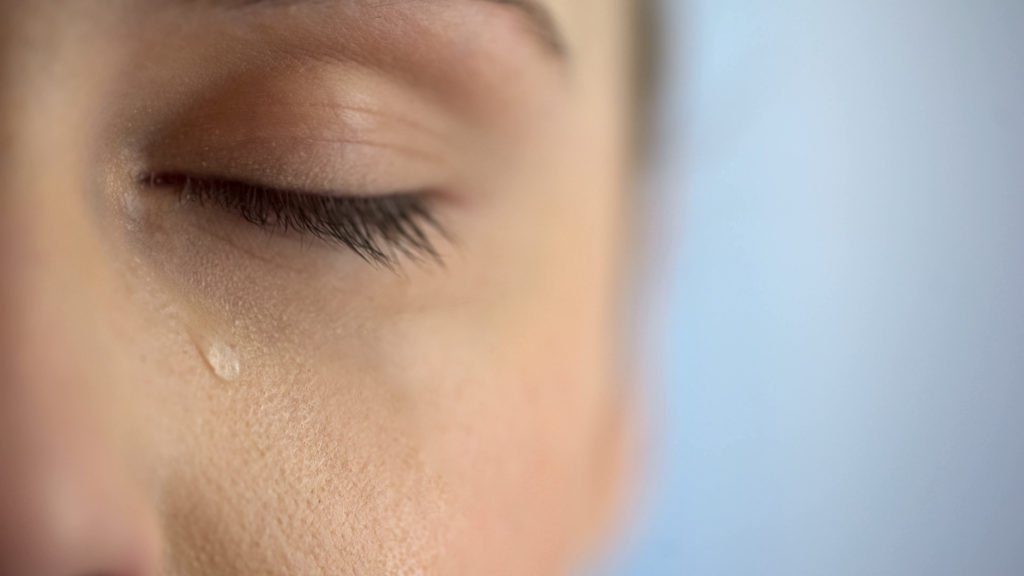 Allow yourself to feel your sadness and grief and let your tears wash them away, little by little. Over time the feelings will get smaller and you will have them less and less often.
"There is a time for everything…under the heavens…a time to weep and a time to laugh, a time to mourn and a time to dance.

Ecclesiastes 3:4
The writer of Ecclesiastes was Solomon, a king known for his wisdom. He understood that it was important to allow time in your life for both sadness and joy. It is imperative to feel both ends of our emotional spectrum. To allow both to wash over our minds, bodies, and hearts. There is nothing wrong with feeling sad and finding yourself crying at times.
It's my life and I'll cry if I want to
Allow yourself to cry when you feel you need to, especially when you are grieving a loss or change. Do not ever feel that you shouldn't cry or think that enough time has passed so you shouldn't need to cry.
When you feel the desire to cry, find a safe place and allow the tears to fall. It may well be the release you need to cleanse your soul. You will feel better after and then you can take your next step on the path moving forward.
The cure for anything is salt water: sweat, tears or the sea.


Karen Blixen