It's been close to two years since I served my husband with divorce papers, and there are still times when I feel the grief well up inside so intensely that I can barely hold it down. My first inclination is to push it back. 
I mean, I shouldn't feel sad, should I?  It has been so long. Get over it already! He was such a mean person. I am happy to be free, right? There is still grief over loss in this case. Loss of hopes and dreams of a happy family and a particular family for your children.
After a deep hurt, allowing yourself time to cry is essential because there are many benefits of crying.  Let's dive in to find out all of those benefits.
Negative Implications of Crying in Today's Society
Many of us hold back tears, push down the hurts when we feel them, and hide them in shame.  Our society often teaches that it is not good to show our emotions.  Others tell us to suck it up, get over it, and move on.  These sentiments are not only detrimental to our emotional wellness but to our physical health as well.  Let's explore some of the stigmas our society places on crying, making it more difficult to release our emotions.
1. Workplace Stigma
One significant negative implication of crying in today's society is the workplace stigma associated with it. According to a survey by Monster, a leading global employment website, 45% of respondents believed that crying at work could negatively impact their careers. This perception can discourage employees from expressing their emotions openly, potentially leading to emotional suppression and increased stress levels.
2. Gender Stereotyping
Gender stereotypes can exacerbate the negative view of crying. Societal expectations often dictate that men should be stoic and unemotional while women are allowed more emotional expression. This stereotype can create a double bind for individuals navigating conflicting societal norms. Women often feel pressure to act more like a man if they want to appear as solid and capable as one, suppressing feelings often considered normal for a woman.
4. Unrealistic Emotional Standards
Society often expects individuals to maintain a facade of constant happiness and composure. This unrealistic emotional standard can lead to feelings of inadequacy when people struggle to meet these expectations. A survey by the American Psychological Association found that nearly 70% of respondents felt that societal pressure to hide their emotions contributed to their stress.
5. Underlying Mental Health Stigma
Finally, the negative implications of crying also intersect with the broader stigma surrounding mental health. People who shed tears frequently may be unfairly labeled as "overly emotional" or "unstable," which can deter them from seeking the help they may need for underlying mental health issues.
Recognizing that crying is a natural and essential healthy emotional release is crucial. Understanding the negative implications that societal norms can have on our emotional well-being is the first step toward dismantling these stigmas.
In the following sections, we will explore how embracing our tears and the benefits of crying can improve mental and emotional health.
Now, I'm not saying you should cry all the time and over anything. It is more about finding balance and allowing your body what it needs.
Your body produces several types of tears. 
Sadness tears differ from those produced when you get something irritating in your eye. They are different because they have other purposes. Sadness tears contain stress hormones, and researchers believe that as we shed these tears, we reduce the stress hormones in our body, thereby reducing the stress we feel.
Shedding these emotional tears has also been found to release oxytocin and endorphins in the body. These chemicals relieve pain and help you to feel better.
Sadness tears reduce our stress and help us feel better all at the same time.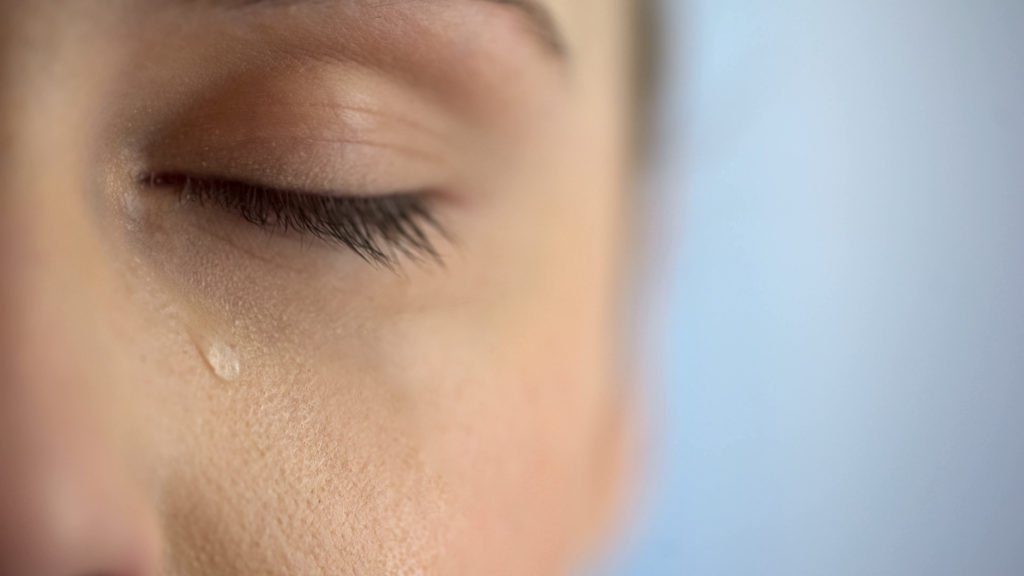 Crying can help us balance our emotions.
Yale researchers found that crying can help regulate our emotions regardless of whether we cry for grief, joy, fear, or stress. Crying helps us move back to balance after experiencing one of these extreme emotions. Allowing yourself to cry when you feel the need is okay and can be good for you.
Should You Schedule Time to Cry?
Does this mean you should schedule regular times to cry or create moments to help you cry?
Some people think you should. In Japan, people pay to attend crying events. At these events, organizers show participants sad movies that elicit emotions that allow them to cry. These events may sound intriguing, especially if you have trouble shedding tears. However, researchers have also found that tears for our life events are more beneficial than crying for someone or something else.
I have found that when I am feeling sad to the point of wanting to cry, watching a poignant movie or reading a touching story can also help me cry for my grief.  Crying for someone else's situation may help me open the floodgates that are too stubborn to open on their own.  This is especially true when the story I am watching or reading relates to my grief.
Looking back through photos or reading my journal or old letters I have received is another way to review memories I need to release emotion. It allows me to relive the moment to cry over it now. Reliving and reviewing these experiences helps me let go of the trauma the moment has caused me.
Crying: The Natural Way Your Body Heals and Helps Itself
Crying is a natural and often misunderstood response to our emotions. It's not just a sign of sadness; it's your body's way of healing and helping you cope with various challenges in life. Let's explore the many benefits of shedding those tears.
Crying Cleanses Your Body
Our eyes produce three types of tears. These tears serve distinct purposes, one of which is detoxification.
Reflex tears help clear out debris like smoke and dust, safeguarding your precious eyes.
Continuous tears: They maintain moisture and protect your eyes from potential infections.
Emotional tears: These contain stress hormones and toxins your body needs to release. So, when you cry emotionally, you're letting go of built-up stress.
Crying Lifts Your Spirits
Contrary to what you might think, crying can improve your mood. Emotional tears release stress hormones, which, when expelled, significantly drop your stress levels. This release can enhance sleep quality and build a more robust immune system. So, don't be surprised if you feel much better after a good cry.
Crying as Self-Soothing
When you cry, your parasympathetic nervous system (PNS) kicks in. The PNS helps your body with tasks like digestion and relaxation. So, shedding a few tears can do wonders if you're stressed and physically uncomfortable. It's like a soothing balm for your emotions and your body.
Crying Heals Grief
Grieving the loss of a loved one can be an incredibly challenging journey. Though not a solution for everyone, crying can be a comforting companion. It aids in accepting loss and helps you navigate the various stages of grief. Sometimes, letting the tears flow is a step toward healing.
Crying Eases Pain
Whether you're dealing with physical or emotional pain, crying can provide relief. It triggers the release of endorphins, your body's natural painkillers. These endorphins numb the pain and promote an overall sense of calm. It's a natural way to self-soothe and lessen the intensity of suffering.
Crying as an Emotional Alert
Sometimes, we bury painful emotions deep inside without realizing it. Crying acts as an emotional alarm, signaling something is amiss, whether emotionally or in your current situation. This recognition is the first step to addressing the issue and healthily coping with your emotions.
Crying for Healthy Eyes
Maintaining healthy tear production is essential for preventing dry eyes and discomfort. Regular crying helps keep your eyes well-lubricated, reducing the risk of infection and pain associated with dry eyes.
Crying as a Call for Help
It may indicate a deeper issue if you shed emotional tears consistently for an extended period. Consistent crying can signify that it's time to seek help from a mental health professional. Remember, there's no shame in seeking support when needed. Crying can serve as your internal signal, guiding you toward seeking the assistance you deserve.
There are so many ways to get mental help these days. It is even easy to get help while remaining in the comfort of your own home with online therapy options. There is little excuse for not getting any help when you need it.
Take time to let the tears flow. 
Allow yourself to feel your sadness and grief and let your tears wash them away, little by little. Over time, the feelings will get smaller, and you will have them less often.
"There is a time for everything…under the heavens…a time to weep and a time to laugh, a time to mourn and a time to dance.

Ecclesiastes 3:4
The writer of Ecclesiastes was Solomon, a king known for his wisdom. He understood that allowing time in your life was essential for both sadness and joy. It is imperative to feel both ends of our emotional spectrum. To let both wash over our minds, bodies, and hearts. There is nothing wrong with feeling sad and finding yourself crying at times.
It's my life, and I'll cry if I want to
Allow yourself to cry when needed, especially when grieving a loss or change. Never feel that you shouldn't cry or think that enough time has passed, so you shouldn't need to cry.
When you desire to cry, find a safe place and allow the tears to fall.  It may well be the release you need to cleanse your soul.  You will feel better after gaining the benefits of crying; then you can move forward. 
The cure for anything is salt water: sweat, tears or the sea.


Karen Blixen