There are not too many people who don't like Starbucks, especially if they can score a free Starbucks drink!
My favorite drink is the Pumpkin Spice Coldbrew that comes out in the Fall. I save up all my Starbucks money for the Fall, just for this drink.
Wouldn't it be great if you knew all the secrets to get free Starbucks coffee? Keep on reading.
Earn free Starbucks gift cards
Don't we all love a gift card? I carry them in my wallet when I have them and use them to treat myself without using my cash. That is one of the best feelings.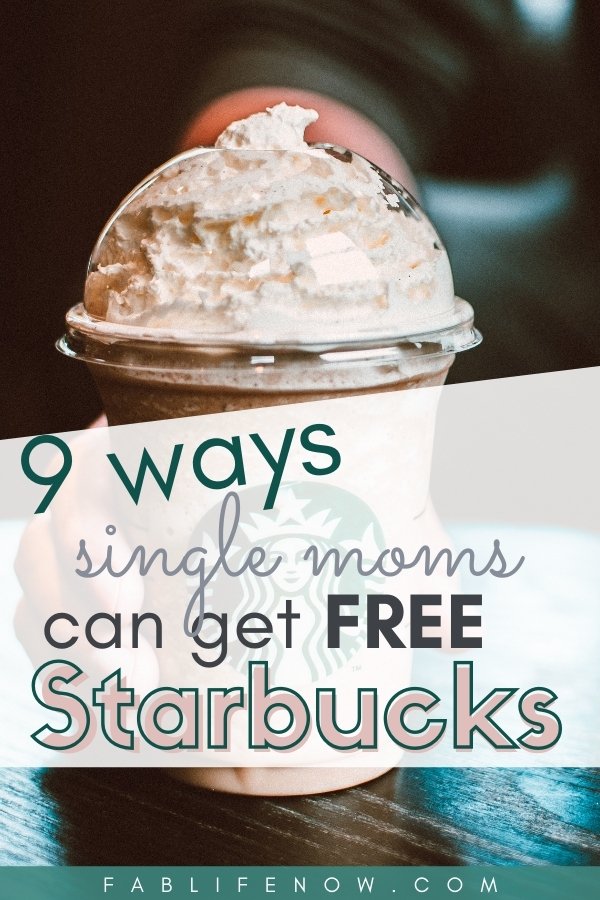 Did you know there are simple things you can do to earn free Starbucks coffee gift cards? Yes, you really can! There are survey sites that you can sign up with, and after earning points from doing surveys in your free time, you can redeem points for gift cards.
Some of the easiest to work with include:
Sign up for one or all of these and complete the surveys offered. Earn cards instead of mindlessly scrolling social media when you are waiting for something. Put those minutes to fair use and earn yourself some free Starbucks coffee.
Watch for Thursday BOGO
Starbucks offers Happy Hour on select Thursdays, where you can get a Buy One Get One Free drinks during the hours 2-7 pm.
You have to purchase one grande size or larger to get the free one. BOGO Thursday is not every week, only when announced. Get the app on your phone to get the Happy Hour Coupon and then watch for the select Thursdays to roll around.
The best way to cash in on this deal is to plan Starbucks dates with a friend or family member during all these extraordinary times, then take turns on who buys. One of you always leaves with a free drink. Score!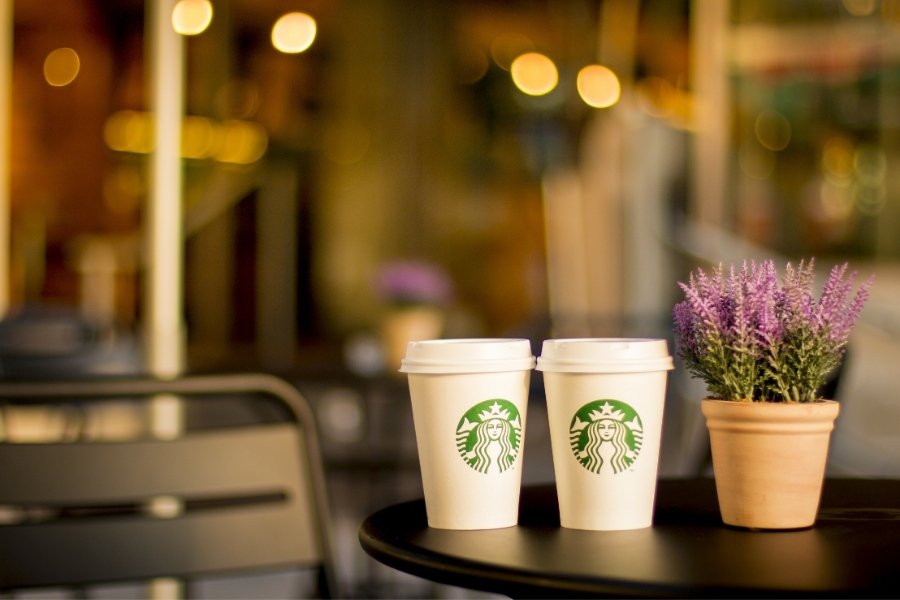 Earn free Starbucks coffee with rewards
Earn Starbucks Reward stars when you purchase food and beverages in the store or online. Then when you collect enough, you can cash in the rewards for free Starbucks coffee. Don't forget to scan your app or pay through the app to earn the stars.
Tips for earning more Starbucks Rewards Stars
Earn double stars by preloading your Starbucks digital card then paying through the app or by registering and using your Starbucks Giftcard that you earned from the survey sites! (double win).
Get star codes off Starbucks items that you purchase in other stores, like off the coffee bags that you buy in the supermarket. Saving money by brewing at home can help earn you a free Starbucks coffee in-store, occasionally.
Watch for Double Star Days and buy your drinks on those days.
Play the Member Only Games, and complete Bonus Star Challenges to earn stars through the app.
Get the Starbucks Rewards Visa
For real Starbucks die-hard fans, you may want to consider adding the Starbucks Rewards Visa to get free coffee.
Before you start trying to earn rewards on any credit card, I encourage you to read How to Win at the Game of Credit Card Rewards, so you don't lose money trying to get those free coffees.
When writing this, it looked like you would earn a reward of 4500 stars after spending $500 before the first three months. That could be a couple of trips to the grocery store and get 30 free drinks!
Now that is a nice reward.
You also get free "Barista Picks" 8 times a year, free food or drink with your credit card.
Starbucks Birthday Rewards
A great way to say Happy Birthday to yourself is with a free Starbucks coffee drink or food item.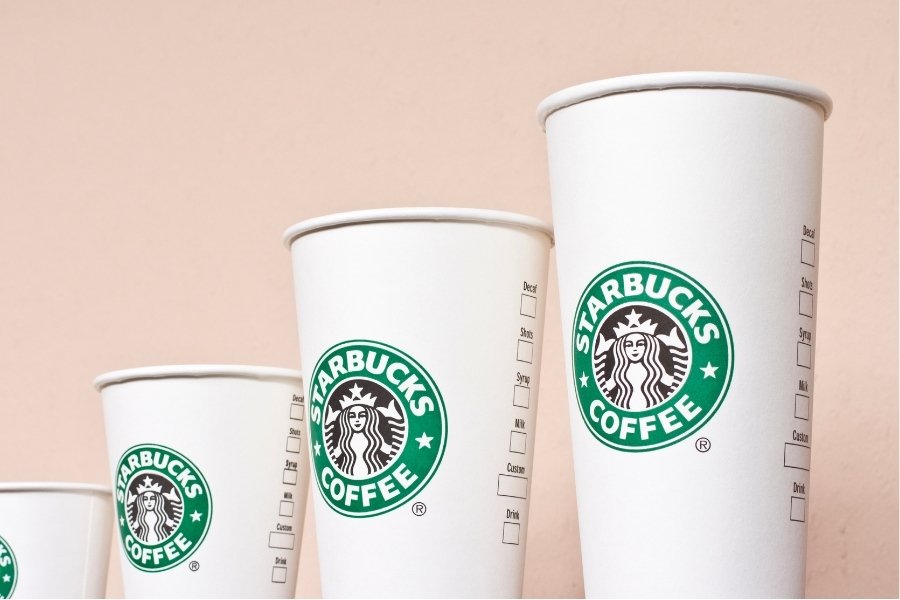 You can earn your birthday drink by joining the Starbucks Rewards Program at least seven days before your birthday. You also must make at least 1 star in the year to get your birthday reward.
Use Cash Back Apps to get Money to Pay for Your Starbucks
How can you get your Starbucks to fix without spending your own money? You can register and use cashback apps to fund your Starbucks budget.
A couple of great ones are Rakuten. If you use this link to sign up, you will earn $10, that's two drinks to start you off!
Another I like is Top Cash Back.
The idea with these is you open them up before doing online shopping. Use the link on the site or app to go to your favorite store, and then you earn cashback on the shopping you were going to do anyway.
The best time to do this is, of course, during your Christmas shopping. You can rack up some extra cash to buy those free Starbucks coffee drinks for yourself.
Get free Starbucks coffee refills while in-store
Yes! You can buy one coffee and get free refills while in the store. To qualify for this freebie, you need to pay with your registered Starbucks card or through the app to purchase your first drink. Then show it again to get the refill.
No matter which drinks you buy first, you can get free refills on brewed coffee (hot, iced, or cold brew), and tea (hot or iced).
Remember, once you leave the store, you no longer qualify for refills, so this works best if you hang out for a while.
Get a free Puppuchino for your furry friend
One of the items on Starbucks' secret menu is a Puppuchino. Because it is secret, you won't find it on the app, but you can ask for it in person or at the drive-thru.
A Puppuchino is a cup with whip cream free for your dog or puppy when they are with you.
Although this is not a free Starbucks coffee, it is a free treat for your favorite four-legged friend when you have them with you on your Starbucks visit.
Watch Groupon
Although this is not technically a free drink, you can often see Starbucks pay $5 to get $10 through Groupon.
This deal is just about a BOGO too. Pay for one drink to get the second free.
Or you can use your $10 to get a drink and free snack for the extra $5.
Enjoy all those free Starbucks coffee drinks
Let me know how these ideas work out for you.
I would love to know what strategy you like best, what drink you get for your freebies, and what you do with the money you save getting your drinks for free! Add a comment below to share.