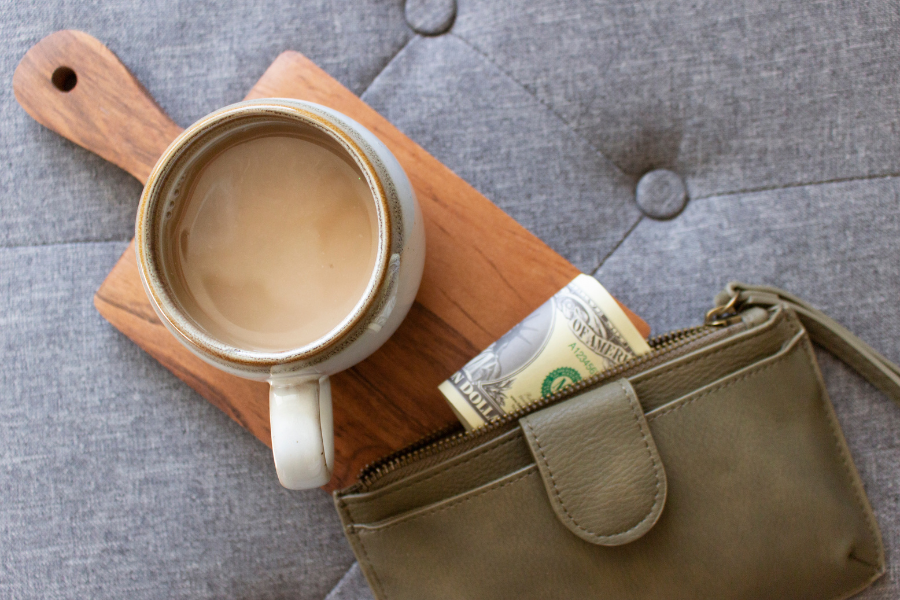 Maybe you have noticed that the Fed has raised interest rates several times this year! That can be daunting to get loans if you need one.  However, when loan interest rates increase, do you know what else goes up?  Saving account rates also rise!  Savings accounts are higher than I have seen in the last six years.  When you pay more for everything due to inflation, it is time to be sure you are also earning interest on your money.  It is time for you to earn more interest in a High Yield Savings Account. 
As a financial counselor, I watch interest rates closely to advise my clients where to get the most for their hard-earned dollars.  I have been surprised by what is happening in our economy many times this year.  Inflation, Fed raising rates, and now high yield savings rates rising.  They have broken 5%!  That is no risk and no locking it in for a year or more with a CD. It is simply a savings account that pays you for holding money in it. 
If you don't know what interest rate your savings account is earning, you can find out from your bank through your account when you log in or by checking the website. Actually, check the website for what the bank you are at is giving for their highest-yielding (earning) savings account, then be sure you are in that one.
I have helped clients with savings accounts at one of the high-yield institutions I recommend regularly. Then we checked their account, and they were in an older account that was earning much, much less, even though they were at the same institution. They had to call and be sure their savings was moved to this newer higher-earning account to get the same amount of interest.
What is a high-yield savings account (HYSA)?
A high-yield savings account, lovingly referred to as an HYSA by financially "savvy" people, is one where the institution pays you higher earnings on the savings you keep there.
The same liquidity in your current savings account would apply. Traditionally, you can withdraw up to 6 times a month without penalty.
The sad thing is that many of our favorite big-name banks are low-yielding accounts and will always be low.  We keep our emergency fund sitting there because we are unsure what else to do with it (or we keep adding to it because we don't know what else to do with our monthly money).
If you don't know what interest rate yours is getting, now is a good time to pause, open a new window on your device, and look at your situation at your current bank.
What are the current rates for high-yield vs low-yield savings accounts?
Low-yield accounts generally hover at 0.01% interest!  With today's market increases, you may start seeing an increase, but you may not see them go above 0.1%!!  So, it's incredibly tiny, but that would be a 10x increase in earnings. It just doesn't amount to many extra dollars in your pocket. 
High yields, on the other hand, go up when the rates in the country are high.  They will, though, go down when rates are down.  Currently, (2023) about 4% is where many of the HYSAs are sitting. However, some have gone above 5%! 
Let's say you have the following balances and see what you would earn this year.  If the interest rate stays the same, it might even go up with what we see with inflation.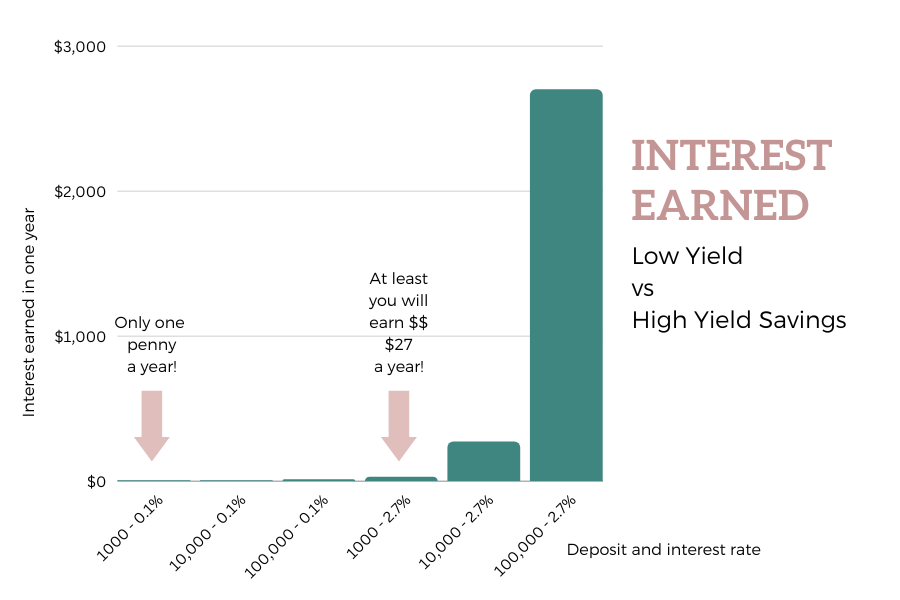 How can I find a good high-yield savings account?
The easiest way to find the best current possibilities and rates is to research through Bankrate.com. You can search HYSAs by zip code, which helps you to find all the possibilities in one place.
You can choose any that are among the top percentage yields showing (at the time of writing this, 4-5% is the norm) and know they are in the High Yield category, and they will fluctuate above and below each other on the list over time.
Should I be worried about moving money to a bank I have never heard of?
You can rest assured of putting your money in an institution, even if you have never heard the name before, if you first check that they are FDIC or NCUA insured. FDIC is for banks, and NCUA is for credit unions.
This coverage ensures the bank is a trustworthy institution and that your money is safe inside it, up to $250,000 per account. If anything were to happen to that institution, the FDIC or NCUA would pay you back up to that $250,000 limit.
You may want to take the time to check customer service ratings before opening an account.  Also, check things like the website; if you want to use an app, check that they have one. 
How do I access my money from my high-yield savings account?
It is generally easy to access your funds. You transfer them to your current checking account to spend them. Or, if you decide to invest some of it, you can transfer it to an investment company.
Since everything is done electronically today, your current bank or credit union, where you do daily banking, can most likely link to your HYSA to make transfers a breeze. You can check this through your current institution before opening your new account if you wish.
What else must I know about keeping money in a high-yield savings account?
Just realize there are no guarantees on the interest rate in a HYSA.  It will fluctuate with the market.  It could go down next week. 
However, you can rest assured that if you have money in one, it will be one of the highest-earning places you can hold your money that you want to keep liquid.
If you have a HYSA you like, please drop a note in the comments for other readers to find.