Some of the links on this post are affiliate links. This means if you click on the link and purchase the item, I will receive an affiliate commission at no extra cost to you. I only promote products I believe in and all opinions remain my own.
When I was a teacher, one of my favorite things to ask parents to donate at the beginning of the year was Clorox wipes. I loved the convenience of the cloth I could pull from the top of the round plastic container loaded with cleaning goodness that would kill the germs those little rug rats bought into my classroom every day. I would start the year with a full cabinet of the cylinders. Each week, or more often in the winter, I would pull one canister out and walk the room dropping a wipe on each child's desk so they could clean the desktop removing the germs from their space.
I enjoyed the clean smell of Clorox after the students left, sometimes we were lucky enough to have the lemon or "fresh scent" that was added to some of the special canisters. Little did I know at the time that while I might have been killing some of the flu and cold germs, the chemicals and fragrances we were leaving behind was most likely worse for myself and the whole class long term.
In the past several years, there has been much research and discovery about the chemicals we use to produce, clean, wear, and grow the things we use every day. We wipe down our surfaces, place things on our bodies, spray nice smells, and eat our fruits and veggies all with the thought of making our home a better place for our families, the whole time we are harming them in the process. When I started to understand this fact, I was thankful that I could start to change my ways.
Since I was a teenager, I have seen illness affect many around me: my Grandfather died of lung cancer, my Great Grandma struggled with skin cancer until her death, my dad has had several bouts of skin cancer, including melanoma, my friend died of breast cancer that eventually filled her body, and my daughter's classmate had a softball-sized tumor removed from her brain. Cancer is attacking our population. I am sure all of you have experienced its treachery in one form or another. As a mother, all I can think is that I want to reduce the risk of my kids seeing me die like that or them themselves ending up with some form of cancer.
The best way I can reduce my children's risk of dealing with Cancer and other health issues is to reduce the carcinogens and other toxins they are exposed to, at least the ones that I have control over. There is no place I have more control than in my home. My goal is to eliminate known carcinogens and other toxic substances little by little until we have very little in our home. We are exposed to chemicals in the following ways; inhalation, contact with food, transfer to food or drink from unwashed hands, or a baby or child putting the product in his or her mouth.
Some of the biggest culprits we need to detox
Carcinogens
Chemicals in the products we purchase and used in the production of the things in our homes sometimes contain carcinogens. That means that with enough exposure, these substances have been found to cause cancer in humans.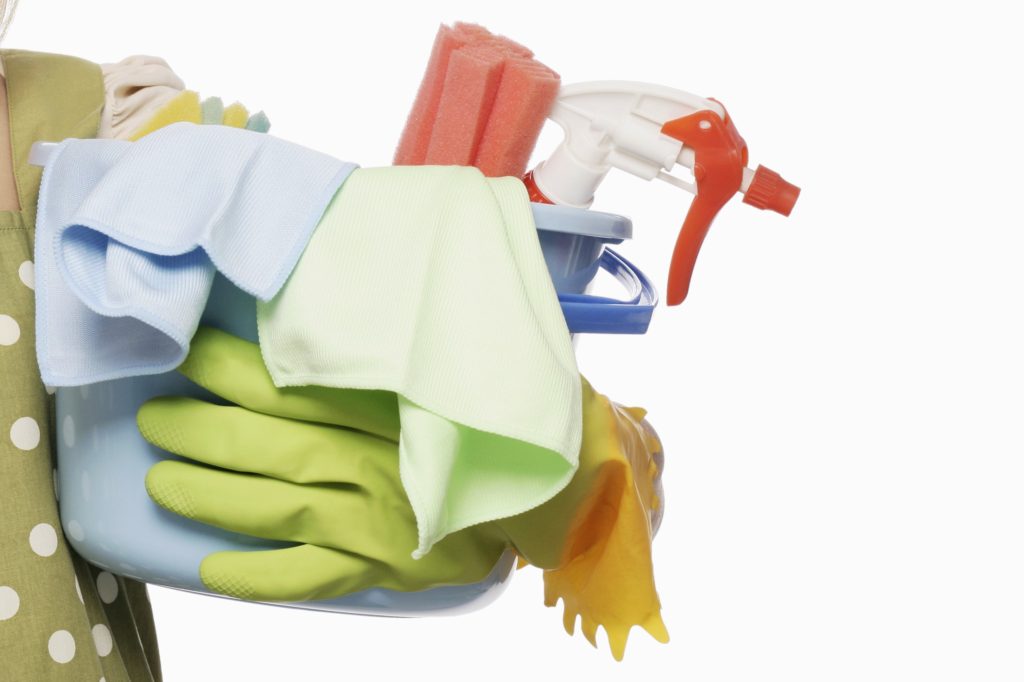 VOCs
"Volatile organic compounds, or VOCs, are gases that are emitted into the air from products or processes. Breathing VOCs can irritate the eyes, nose, and throat can cause difficulty breathing and nausea and can damage the central nervous system as well as other organs. Some VOCs can cause cancer. Not all VOCs have all these health effects, though many have several.


American Lung Association
Endocrine Disruptors
Chemicals that cause problems with your hormone levels and can, in turn, wreak havoc on your health are known as Endocrine Disruptors. These are often found in beauty and health products which we apply directly to our bodies.
Pesticides on the Produce we Consume
Pesticides are sprayed on produce at the farms prior to us ever finding it in the stores. Even if the produce is washed during processing and then again by the consumer there are still traces of it found on many of the fruits and vegetables we eat.
"Pesticides are linked to dozens of health problems, including certain cancers, symptoms of ADHD, autism, Parkinson's and a whole host of other issues.

Dr. Josh Axe
How to Get Started Without Going Crazy
By now, you may already be thinking you want to reduce, or eliminate these things from your home altogether. I completely understand.
I imagine some of the questions going through your mind are…
How to do I find out what items in my home have these harmful chemicals in them?
What do I do to eliminate them?
How do I find products that don't contain them?
Trying to find all the chemical-laden things in your home might make you go a bit crazy.  However, there are a few things that are easy to start with. 
1. Start doing some research on the topic of detox.
Read about what products are harmful and what the chemicals in them can cause. This will be further motivation to begin to change habits and look for new products to use.
Some good resources for this are: (none of these are affiliate links, I just think they are helpful)
Draxe.com – a doctor who teaches about all things to do with natural health.
Ewg.com – a research group that has a great deal of information to help consumers make wise purchases. They even have an app that you can search or scan beauty products to see just how harmful the ingredients in it are.
The Proposition 65 List– California produces a list of their Prop 65 chemicals every year. This is a list of chemicals that are found to have caused cancer.
Madesafe.org – a non-profit site that has some helpful information and good lists of safe products to begin to try. They also have chemical profiles that you can download to help with understanding the chemicals you are looking for.
2. Begin to eliminate synthetic fragrance.
Chemical fragrances are often made up of a combination of endocrine-disrupting chemicals.  This means they cause problems with the hormone balance in our bodies. 
Chemical fragrances are often made up of a combination of endocrine-disrupting chemicals.  This means they cause problems with the hormone balance in our bodies.  These are found in many, many of the beauty and personal care products our families use every day such as deodorant, shampoos, lotions, and of course, perfume.  Just getting rid of some of these products and replacing them with safer versions will help reduce the amount of these chemicals on your family.  Think about how often you use these, daily or more!  I have already had issues with my menstrual cycle at various times of my life and the hormones from that cause me further issues of headaches and acne.  I don't know about you, but the last thing I need is chemicals causing even more havoc on my hormonal systems!  
To find out if there is a synthetic fragrance in an item, you will need to read the ingredient list on the package. If you see the words, "fragrance, parfum, or perfume" listed, then you have a synthetic.
Air fresheners in the form of sprays, plugins, and chemically based candles are some of the main culprits that release VOCs into the air with the guise of making things smell nice. Removing these fresheners can be an easy start. Instead, refresh your rooms with natural replacements such as baking soda, lemon, and essential oils.
3. Start to shop organic for a few select items and increase as you are able.
The organic label is regulated by the US Department of Agriculture (USDA). When you see that term or label you can rest assured that the farm produced the food "without using most conventional pesticides; fertilizers made with synthetic ingredients or sewage sludge; bioengineering; or ionizing radiation."
A great way to help you choose what to buy organic first is the "Dirty Dozen" list put out each year by the Environmental Working Group.  Choose some or all the items on the list and buy strictly organic for those items.  The 2019 list was just released, and the 3 dirtiest foods were kale, spinach, and strawberries. 
Start with a little at a time and work your way up. This will keep your money conscious mind from panicking as you throw out all the half-used products you paid good money for. It will also ease you and your family into trying new products because you will find some of them will look, feel, and smell different than what you are used to. Every time you think you don't like the way the new products seem, remind yourself just how much closer your family is moving to health. A study done in California followed a group of teenage girls and found the level of several dangerous chemicals in their bodies measured 25 percent to 45 percent lower after only three days of switching to fragrance-free products! You can make a big impact on your family if you just get started.
Share your favorite chemical-free products with us, here in the comments, in our Facebook group or through one of our other social media channels.