Some of the links on this post are affiliate links. This means if you click on the link and purchase the item, I will receive an affiliate commission at no extra cost to you. I only promote products I believe in and all opinions remain my own.
There are few things as magical as watching a light, airy butterfly fluttering near you. At The Butterfly Pavilion, just outside Denver, CO, we were enchanted as we walked among more than 1,600 free-flying butterflies in an enclosed rainforest! It has become one of our all-time favorite places that we have ever visited.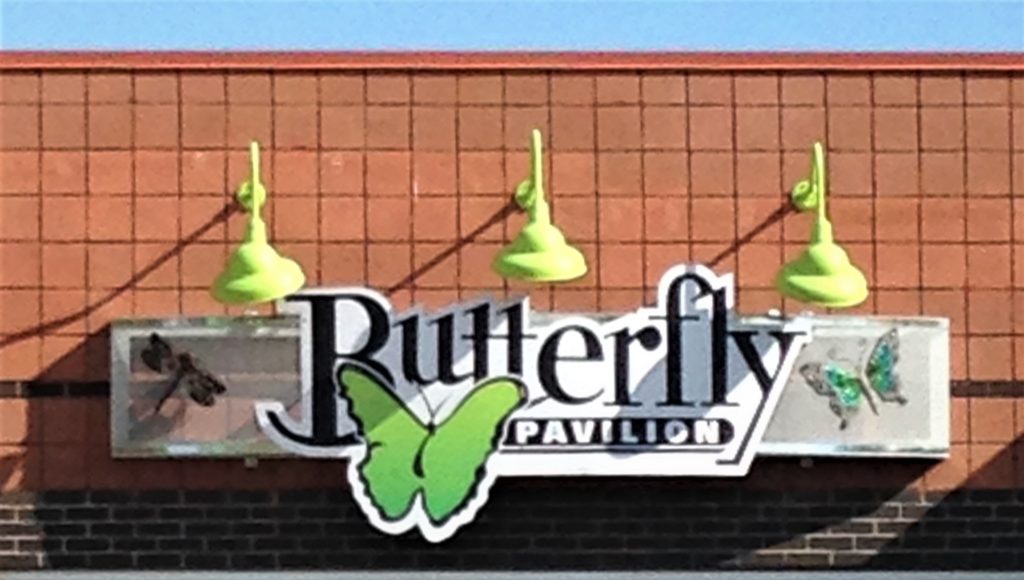 This is the perfect place to spend the morning or afternoon. It is affordable and well worth the admission price of $12 for adults and $8 for children. You can save a dollar if you purchase the tickets online, here.
It isn't large and could be walked through in an hour, but it is the perfect setting to slow down, pause, observe, and enjoy. My kids, 7 and 9, loved every minute of the 3 hours we spent there and would have stayed longer if their tummies hadn't won the battle between food and fun.
Our visit began with the indoor exhibits. The Pavilion is a non-profit zoo dedicated to teaching visitors about all types of invertebrates, not just the butterfly. My kids' favorite indoor exhibit was the Crawl-a-See-Em where they were able to hold a live tarantula named Rosie. I didn't have the guts to do it, but they were thrilled!
The rest of the Crawl-A-See-Em is filled with large glass viewing containers where there are many arthropods on display in their natural habitat. Some blend in so well to their surroundings, it was difficult to spot them, and sometimes astonishing to see that they were hiding in plain sight.
Another indoor exhibit is The Water's Edge, where we were able to experience several shallow water pools displaying underwater invertebrates. Here we enjoyed touching sea stars and horseshoe crabs and learning what part we could play in the of our oceans. There is also a small aquarium with tanks filled with various underwater invertebrates such as starfish, coral, and sea urchins.
Once finished inside, we made our way out to see the stars of the show, the butterflies. The main outdoor exhibit, Wings of the Tropics is a 7,200 square-feet enclosed setting that is kept at a balmy temperature year-round to create just the right environment for the tropical butterflies. When we first walked in, we were expectant but unsure of what we would find, but the more we looked and the slower we went, the more we saw. Butterflies mingled with over 200 species of beautiful tropical flowers, everywhere around us. Some were flying through the air, some were camouflaged among the foliage, some sat bright and beautiful on flowers nearly equal in beauty.
When the kids started seeing the butterflies landing on other people, they were intensely jealous, and immediately began trying to get one to land on them. As long and you don't harm them by touching their wings, it is acceptable to allow them to land where they may, and they were landing on all three of us! This was by far the most magical part for the kids. We walked several times through the space, weaving in and out; sometimes sitting still on a bench both watching in every direction, and hoping that if we were still enough, a butterfly would land.
The Butterfly Pavilion also offers a variety of daily programs and shows. Click here to find their current schedule. I encourage you to try to catch some of them while you are there. You can watch the caretakers feed Rosie the Tarantula and the other animals in the indoor exhibits, enjoy storytime or catch a tour. Our favorite show was the Butterfly Encounter. This is when a Pavilion employee releases the newly hatched butterflies into the open Pavilion. We were able to watch and learn about the various species while they were let out to fly for the first time. The thing we loved most about this encounter, is that many of the newly released butterflies didn't fly far for that first flight, so there were quite a few within a small area for us to see up close and enjoy.
The Pavilion is opening a new outdoor exhibit in the Spring of 2019, called Colorado's Backyard. It will feature indoor play structures, live animals, a virtual reality experience and a rotating exhibit area. We can't wait to check it out.
If you are visiting the Denver area with or without kids, we would highly recommend the Butterfly Pavilion. It was an amazing experience and we will definitely return the next time we are in the area!