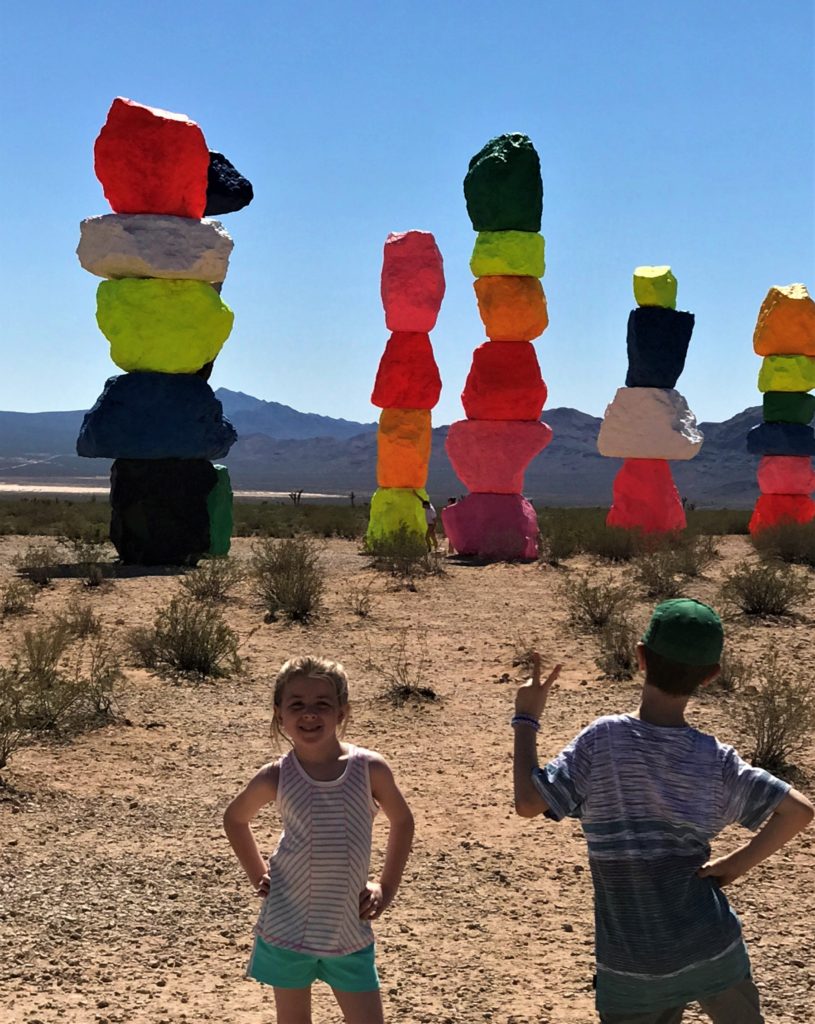 One Spring I took my kids to Las Vegas because we found a great deal on a condo that we were able to share with friends. I was excited to take the kids somewhere new to explore, but unsure what we could find in Vegas that was both kid friendly and budget friendly. We were able to find quite a few fun things. Visit our Las Vegas Page to find out about all the cool places we went to that week. (Link to Vegas Page). However, out of everything we experienced while we were there, The Seven Magic Mountains remains one of our best memories of that trip.
Someone had suggested we check out the Seven Magic Mountains. When I looked it up online, it was something that piqued my interest, but the pictures on their website do not do it justice. The kids and I allowed the GPS to guide us by coordinates as we drove out of town until we were just along the highway, a little unsure about the directions. Then we spotted these colorful anomalies in the distance. As we neared, we couldn't believe what we saw. The spectacular artwork took our breath away. It might have been the strange juxtaposition of the natural desert with the enormous man-made totem poles. It might have been the thoughts of fantasy and imaginative play that the bright colors, standing 35 feet high over us, stirred in our hearts. I am not sure what it was exactly, but we had so much fun visiting the art piece, just south of Las Vegas.
What are The Seven Magic Mountains?
The Mountains are a large-scale public art exhibit created by the world-renowned Swiss artist, Ugo Rondinone. The exhibit was designed to be temporarily on display from 2016 until 2018. However, they have been so popular that their stay has been extended for another three years,at least until 2021. This is such great news because if you haven't visited them yet, you still have time! The seven mountains are all made up of locally-sourced boulders that were painted in bright dayglow colors and stacked in the middle of the desert, each standing 30 to 35 feet tall.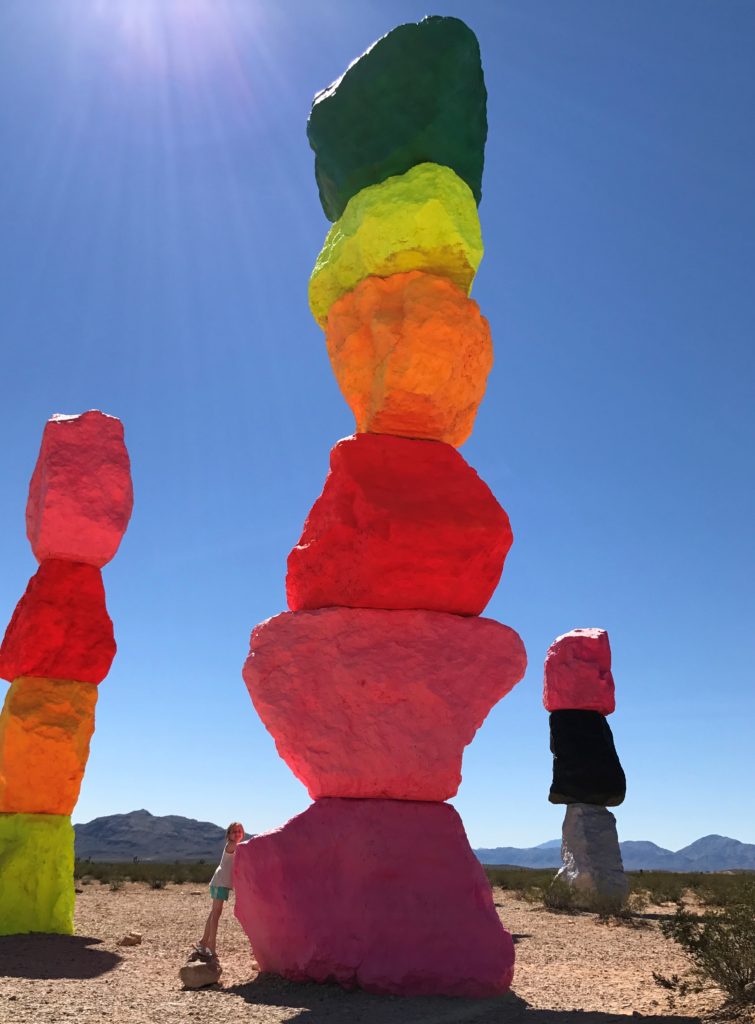 What to expect?
This exhibit is completely FREE, which makes the attraction all the more enjoyable! However, this may be the reason you will also find no facilities or amenities at the exhibit. It is important to plan ahead; make sure your kids (and yourselves) use the bathroom prior to leaving your hotel because there is nothing within 5 miles of the location. Be sure to check the local weather so you can plan ahead and come prepared. On a cold or windy day, the winds may be strong. It gets hot quick out in the Nevada desert and there is no shade other than what is made by the Mountains themselves. Wear sunscreen if you plan to be out very long and bring a hat and sunglasses to increase your comfort level. Bring plenty of water and other nutrition in case you decide to stay awhile. If you need an address to plug in the GPS, use this S Las Vegas Blvd Sloan, NV 89054. Seven Magic Mountains are about 10 miles outside of Las Vegas.
This is the perfect spot for your epic vacation photos and Instagram shot!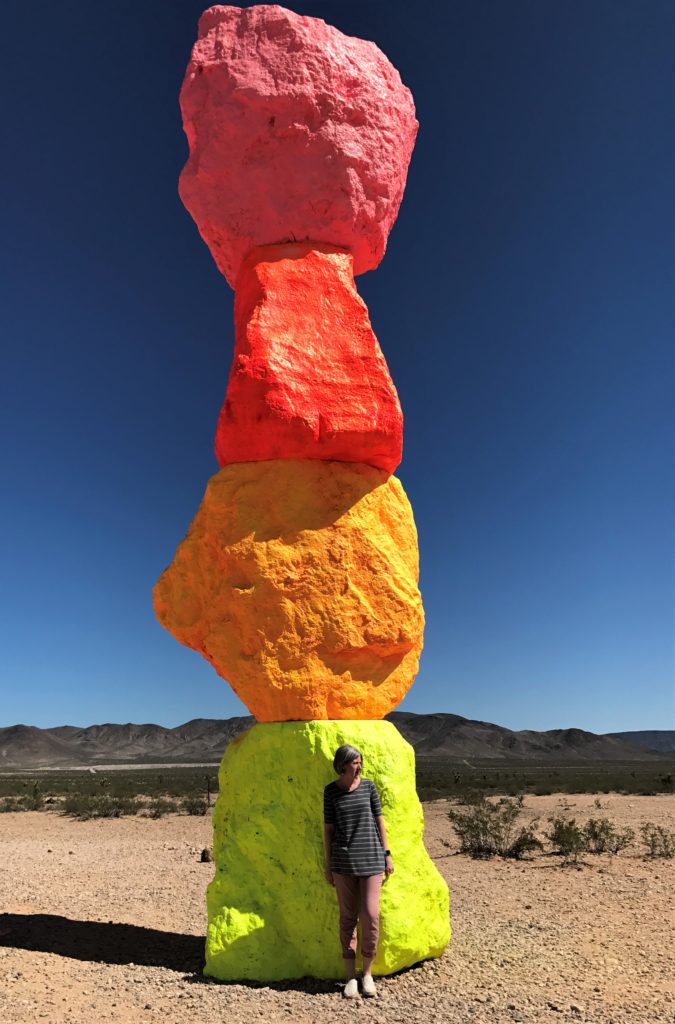 There are often many visitors during the day. It may be hard to catch a photo opportunity without someone else in the background, but if you are patient, you might get lucky and grab the perfect shot.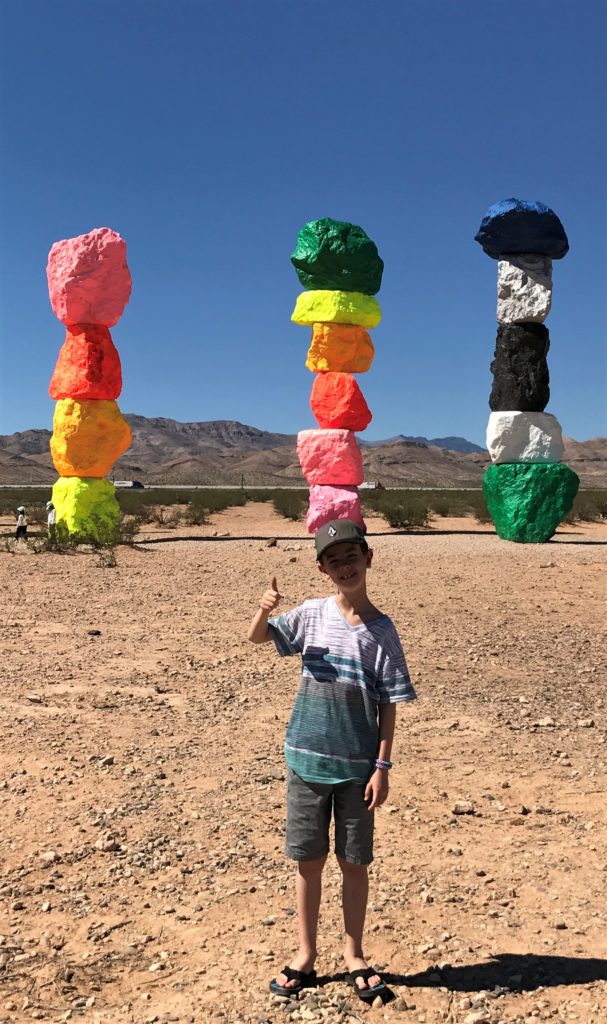 Be sure to head out early or sit on a blanket and watch the sunset. The exhibit is open from sunrise to sunset and both of these times offer the best photo opportunities due to perfect lighting. 
Educational opportunities for this attraction.
While visiting, there is a Guide you can access through your cell phone by calling 702.381.5182 and following the prompts to learn about the artist, the artwork, and other land art in Southern Nevada. You can also find a video that explains how the Mountains were built, and various STEAM lessons available HERE. These would be great resources for homeschooling families, as well as any parent who wishes to enrich the vacation.
If you are in the Vegas area and want to get off the Strip and see something truly unique. Head out of town to see the magic that awaits you in the Las Vegas desert.