The All Day Dining Pass at Sea World sounds like a good idea, but is it worth it? Can you save money, and is it as convenient as they make it out to be?
My small family loves to go to Sea World. We are especially grateful for the once-a-year FREE admission for veterans and service members. This free offer has enabled us to enjoy the park in San Diego several times and never pay for entry! Thank you, Sea World!
The one thing I don't love about Sea World is that they are one of the parks that don't allow outside food or drink. You can pack a cooler and keep it in the car, but that means a long walk out and back smack in the middle of your fun day. Packing a cooler is the most frugal way and will save you the most money for your day.
On a short day like some of them, when the park is only open from 10:30 to 5:00, returning to your car for lunch can take a lot of time away from watching shows, seeing animals, and riding the rides.
That is why we started using the All Day Dining Pass. They are the same price at all three parks, Sea World San Diego, Sea World Orlando, and Sea World San Antonio. A pass will cost $49.99 for adults and $24.99 for kids (ages 3-9).
What does a Sea World All Day Dining Pass include?
An all-day dining pass for an adult includes one entrée, one side or dessert, and one drink each time you dine.
The pass for kids includes one kid's meal, one side or dessert, and one kid's size drink each time they dine.
The thing is, you can't eat as often as you like. There are time limits for each pass. You can only eat once every 60 minutes at Sea World San Diego and once every 90 minutes in San Antonio and Orlando.
That is more than enough because sometimes you have to wait in line for 15 or 20 minutes to get your meal.
What does a typical meal cost?
The adult entrées range in price from about $11 for a single slice of cheese pizza to $22 for Tri-Tip BBQ. Sides and desserts were between $6-$11 for fruit cups, salad, fries, and cakes. Soft drinks and bottled water were $4.50 or $5.00.
Kids' meals were generally about $11 or $12 and came with a drink. The desserts or sides were the same price as adults.
So, if you use the pass twice, you have saved money!
Do you need a pass for each person in your party?
I would say that depends. You know your family best. Mine is picky and not big eaters.
I generally buy 2 of the passes for all three of us to share. Then we eat more often than usual and switch off who picks the items we get.
When the kids were younger, I would choose one adult pass and one kids' pass since they liked the simple kids' meals best anyway.
The year they turned 11 and 13, I did upgrade us to two adult meals for the day. That meant I paid just about $100 + tax. That is a lot, but we are discussing a full day of amusement park food here.
This is what we got in one day at the park:
Taco Rice Bowl, Carmel Cheese Cake, 20oz Dasani Water Bottle
Taco Salad, Carmel Cheese Cake, Medium Soda
½ BBQ Chicken, Baked Beans, Soda
Chicken Caesar Salad, Cup of Fresh Strawberries, Soda
Slice of Pepperoni Pizza, Bag of Chips, Soda
Slice of Margarita Pizza, Bag of Chips, Dasani Water Bottle
Chicken Nuggets and Fries, Miniature Size of Soft Serve Ice Cream, Soda
Funnel Cake, Dasani Water Bottle
That was A LOT of amusement park food for $100! We ate as we wanted to and all for one price. That is the best part. Being frugal and cost-conscious, I usually hate paying the park prices to eat. Sea World's All Day Dining Pass freed me from feeling that way.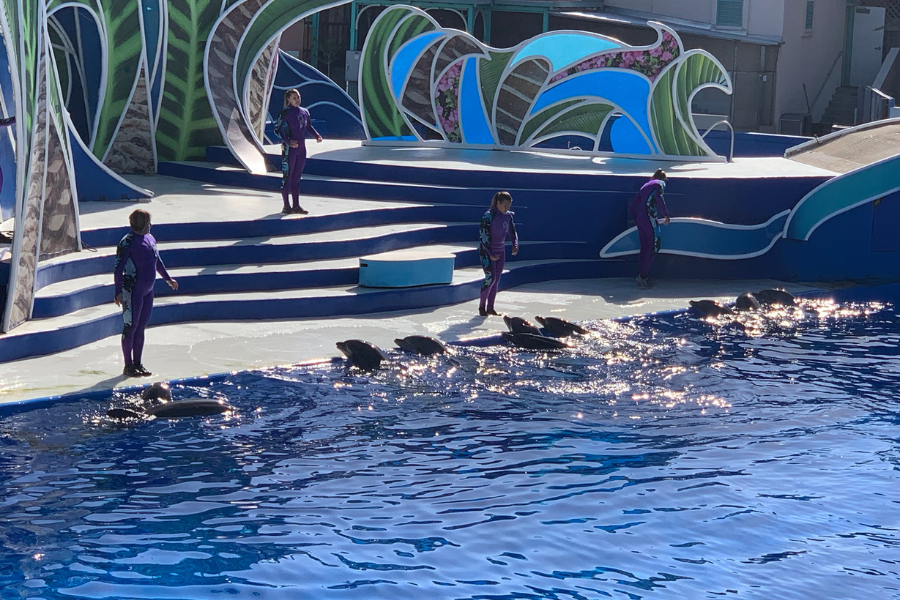 Is the food included with a Sea World All Day Dining good?
I would say the food is mediocre at best. However, remember that I said we are picky. We didn't think anything was good or worth the price, but we could find enough that we liked, keeping us full all day.
Is all park dining included in the pass?
Certain dining establishments in the park are included with the pass, and some are not. You can check the restaurant lists at each park before purchasing, but most of the full meal options are included.
You can't get drinks at the Coke stops with the pass. You also can't stop at the Fresh Markets with the pass. You also won't be able to get some of the specialty items like the pineapple whip and soft serve ice cream. One place allowed us to get ice cream in a smaller serving.
Alcoholic beverages are also not included in the Dining Pass.
Overall, there is a lot to choose from and plenty of variety to keep you eating different items all day.
How can you maximize the price and make the Sea World All Day Dining Pass worth it?
With the time limits included in the All Day Pass, I recommend you carefully use it. Plan to have lunch early, like 11 or 11:30. That leaves plenty of time to eat throughout the day.
Even if my family weren't ready for a full meal, we would stop and get snacks and water bottles to stay full all day and eat often.
We try to eat near the park closing so we don't have to pay for another full dinner outside the park. With the park closing at 5, we ate last just before 4. That enabled us to have a light dinner later, six-inch sandwiches at Subway with no sides or drinks.
With free breakfast at the hotel and the All Day Passes, we only spent about $120 on dining on vacation for the entire day. Not a bad deal at all, especially when it was an amusement park day. 
The Sea World All Day Dining has worked well for my family to save money and make dining a breeze and less stressful on a day at Sea World. It may work for you too.
Pin and share this article if it is helpful!