Are you considering buying a house after separation but before divorce? Navigating the path of homeownership during this delicate period requires careful planning and a thorough understanding of the legal implications. In this article, we will explore the ins and outs of purchasing a house while separated and going through the divorce process, providing you with the information you need to make informed decisions.
Buying a house after separation but before divorce can present unique challenges and considerations. From understanding property settlements to financing options and potential implications on future divorce proceedings, there are many factors to consider. Our goal is to guide you through the process, offering insights and expert advice to help you make the right informed choices for your situation.
Whether you're looking to secure a stable home for yourself or your children or want to secure a place to live before the finalization of your divorce, this article will provide you with the knowledge and resources you need to navigate this often complex journey. Where you live and settle after a separation and decision to divorce is very emotional. Many of us desire to determine somewhere new to allow us to begin the healing process. Others may need to sell the marital home to pay for the divorce or other needs before the divorce is final.
Join us as we delve into the world of homeownership amidst separation and divorce, ensuring you have the right tools to move forward confidently as you navigate these issues.
Understanding the legal implications and considerations
When buying a house after separation but before divorce, it is crucial to have a clear understanding of the legal implications and considerations involved so you don't live to regret your purchase or the timing of your purchase later.
One of the critical aspects to consider is property settlements. Depending on the laws in your jurisdiction, the property acquired during the marriage may be subject to the division of marital assets between spouses. This is the case in many states and is most clearly defined if you live in a 50/50 or community property state. It is essential to consult with a family law attorney to understand your rights and obligations regarding property ownership during this transitional period. Typically, property purchased, even during a separation, is not considered separate property. Until a final court order splits assets, anything purchased will be considered marital property. It is often hard to prove that something was purchased with separate funds and not with marital money if purchased before a legal split of assets. Some locations will be more lenient and only consider the date of separation, and anything after will be regarded as separate assets.
Additionally, it is essential to consider any potential impact on future divorce proceedings when the case is still pending. Purchasing a new house before the divorce is finalized may influence the division of assets, child custody, and child support arrangements. The value of the new home may be included in marital assets and part of the 50/50 split, significantly reducing the marital assets the purchaser is awarded. It is advisable to consult with your attorney and discuss how buying a house may affect your overall divorce settlement strategy.
Lastly, ensure that you have a clear understanding of any legal restrictions or limitations that may apply to your situation. For example, some jurisdictions have laws prohibiting certain financial transactions during separation. Familiarize yourself with the specific regulations and seek legal advice to avoid pitfalls. Please realize this article is designed to help you navigate but can not and does not replace legal advice in your home state or location. Every state is different, and there will be nuances that only a qualified divorce lawyer can advise on.
My experience with buying a home after separation before divorce
While going through my divorce, I was left with two children in a large home, including a pool, that needed much work. Neither myself nor my soon-to-be ex could afford the repairs the house needed. I knew it would be better financially to sell the home and find one that would suit my needs and those of my children. The divorce process was looking like it would take 12 to 18 months, and I didn't want to wait. Part was impatience, and part was the financial instability the current family home posed.
I spoke to my divorce attorney, and she made it sound like it was widespread, and all we would need would be to get a quitclaim deed from my soon-to-be ex-signed. This would be the legal document required to waive his rights to any property division of the new home. I figured that it would be reasonable to get that. I had used that form for a previous home, and I could do it again. I also felt the financial gain from selling the current home would be beneficial to the point that my soon-to-be ex would desire to get it. He would cooperate with signing a quitclaim deed for that money. Boy, did I underestimate his hate and greed!
What I failed to consider is that I was divorcing a narcissist, and that changed the whole game. Most people are generally more combative and problematic in a divorce, often more than their partner ever expects. However, when you are dealing with a narcissist, the levels of conflict are off the chart and not within the limits of a "normal" divorce process. Narcissists think of no one but themselves, how they can win, and how they can harm the partner leaving them. They don't stop to consider the wellbeing of their children, or even themselves when it will also benefit their soon-to-be ex-partner. They will often go to any lengths to harm the ex.
If you are divorcing a narcissist or someone who has abused you in any way during the marriage, move forward with purchasing a home or anything else during the divorce process with extra caution. You don't want to be surprised by what they do when it can mean you are losing a new home, sharing in the value of the new property, or anything else they come up with.
My "creative" ex decided to refuse to sign the quitclaim deed the week before we were to sign simultaneously on selling our old home and I would be purchasing a new home. I had the new one built and waited seven months for this signing to happen. What he did was email me a refusal to sign and an attempt to extort money from me. He said that he would only sign if it brought him gains since it should because we were still married. He said he would only sign if I paid him $10,000! Yes, he said that! It was clear and explicit extortion, and the best part was that the police refused to do anything because we were still legally married. It is still disconcerting to me that a spouse has a legal right to harm and abuse you if you are married to them.
Thankfully, I had a fantastic team of strong women who got to work to support me. I had a helpful realtor, two mortgage brokers (one I wasn't even doing business with), and their legal teams on the case. They were going to figure out a way around this need for a signature from the narcissist ex or find a way to get him to comply. One of them contacted him and convinced him it was in his best interest to sign so we could sell the marital home. They prepared the quitclaim deed as part of his paperwork to sign for the sale of the marital home. They secured his signature and then sent it by courier to the title company for my new home. There, it was added to the paperwork.
Of course, he asked me for one a few months later. I thought about asking him for money to show him how ridiculous it was, but I realized that I would not stoop to his level. I considered that signature one more
This quitclaim deed was essential in Arizona, where they wouldn't record the property under my name alone when I was married. My ex could have gone after half of the value many years in the future, simply showing the date of purchase and the divorce order with a date after the purchase.
If I knew then what I know now, I would have waited. I would have been patient and saved money to secure a home after I had a divorce decree in hand and legally filed in my state. It is not worth the stress and worry of having a new property that my narcissist ex could potentially seek royalties from, and knowing my ex, if he heard he could, he would try. That alone could ruin me financially, paying for a court battle over the value.
Think twice, do your due diligence, and I would even suggest getting a general quitclaim deed from the soon-to-be ex BEFORE even shopping for a new home. This will alleviate much stress and concern in the process.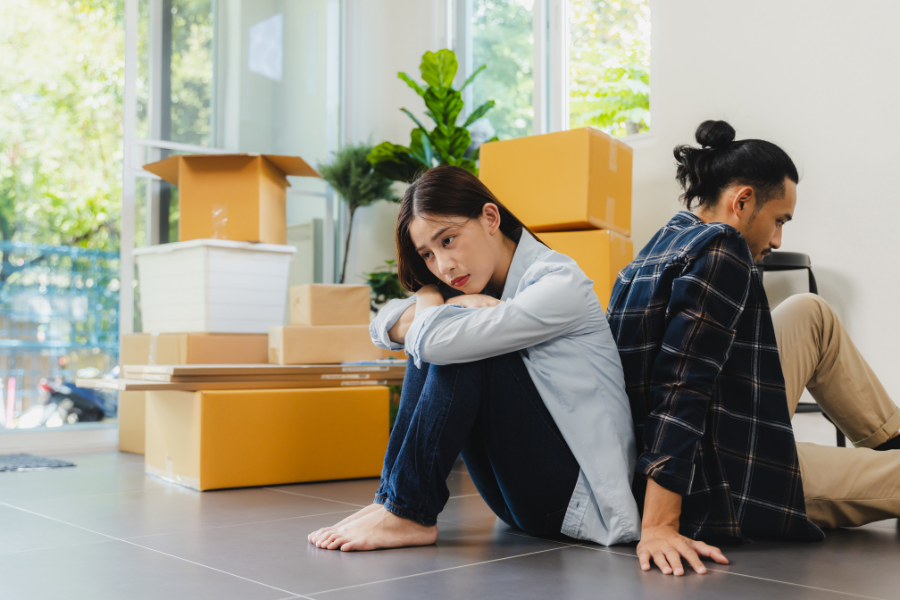 Financial considerations: Assessing your budget and financial stability
Before diving into buying a house, it is crucial to assess your budget and financial stability. Evaluate your current financial situation, including income, expenses, credit, and outstanding debts, to determine if purchasing is a good idea. It is vital to have a clear understanding of your financial capabilities to determine what you can afford and avoid any additional financial stress during this already challenging period.
Consider working with a financial professional who can help you create a realistic current budget and a forecast budget for any home you are considering purchasing. This will ensure you can afford the property you are considering. Remember, just because the bank will approve your loan does not mean you can afford the loan. The lender does not care if you have enough money left over so you can eat after you pay your monthly payments.
I encourage you to develop a plan to ensure financial stability throughout the home-buying process and after you begin paying the new bills associated with the purchase. They can assist you in determining the appropriate mortgage amount, down payment, and monthly mortgage payments that align with your financial goals and resources.  Financial coaching is an excellent option for this kind of financial support, and I am an expert in assisting people to rebuild their finances after separation or divorce.  
Other posts of interest
Top Financial Moves to Make in Divorce
Top 3 Moves to Improve Your Credit Fast
7 Proven Steps to Overcome Loneliness
The Proven Benefits of Allowing Yourself to Cry
Preparing your credit and improving your credit score
Improving your credit score is another crucial step in preparing for homeownership. A higher credit score can help you secure better mortgage rates and loan terms.  It is worth renting for six months to a year while you build or improve credit to reduce your interest rate or wait to see if interest rates will come down before buying a new home. Take the time to review your credit report, identify any errors, and address any outstanding debts or late payments. Paying off debts can reduce your debt-to-income ratio and help improve your credit score.
Do not open a new credit card, especially if you plan to purchase a new home in the next six months. This new credit will bring your credit score down and could increase your mortgage interest rate and payment.
Finding the right real estate agent and lender
When buying a house during a separation, partnering with the right professionals can make a significant difference in your home-buying journey. Start by finding a reputable and experienced real estate agent who understands the complexities of buying a house amidst separation and divorce. They can provide valuable guidance, assist in property searches, and negotiate on your behalf. While not necessary, it is nice to have someone on your side who understands your current situation as you choose the right home.
Similarly, finding the right lender is crucial to securing financing for your home purchase. Take the time to compare mortgage rates, terms, and eligibility requirements to find the best fit for your needs. I suggest starting with your current bank. If you haven't yet opened a separate account from your former spouse and only have joint accounts, now is the time to get your account without your spouse's name on it. It is crucial to separate your income and assets. If you have a paycheck, have it auto-deposited to your new account so the bank can see your regular paycheck coming in. Then, I encourage you to shop with at least two other lenders. If you are having a home built, the builder often has a lender they are working with. Take caution. Even if they are offering a financial incentive to use their lender, they may offer the most cost-effective option you have. Sometimes, that incentive is negated with extra hidden fees added to the loan. Review the Good Faith Estimates provided by each lender you are considering carefully to avoid this.
Your reputable realtor may have a mortgage broker they are working with. Have them give you an estimate, and think about asking friends and family if they have any mortgage lenders or mortgage brokers they have worked with and been happy with. Do not just take their word for it. Check the Good Faith Estimates to be sure you are getting the best mortgage loan. Sometimes, friends and family don't realize when they signed a loan with exorbitant fees but had a good service experience. That feels nice, but it won't save you money!
Searching for the perfect home: Must-haves and deal-breakers
As you buy a house after separation, identify your must-haves and deal-breakers. Consider your current and future needs, as well as the needs of any children involved. Make a list of essential features and amenities that you prioritize in a home.
Additionally, it is essential to consider the location and neighborhood. Research the area's safety, proximity to schools, healthcare facilities, and other amenities that are important to you. Consider the potential impact on your daily life and the well-being of your family. If you already have a job, research the commute times at various times of the day and even times of the year. Choosing one house over another could mean a difference in hours of commute time if you don't check traffic patterns in the area.
Another tip is to return to the neighborhood and street the new home is on and check the noises, lights, and activities of the neighbors. Try sitting in your car and listening to the surroundings to see if there will be things that keep you from sleeping well. Walk around and talk to any neighbors outside and ask them about the area and neighbors to learn vital information before being stuck next to a difficult neighbor or in a place where large dogs bark all day and night, affecting your peace in your new home.
When searching for the perfect home, it is also essential to remain flexible. Recognize that compromises may need to be made, and not every aspect of your dream home may be achievable now. Keep an open mind and be willing to adjust your expectations as necessary.
Once you've found a potential home, it's time to make an offer and negotiate the purchase price. Consult with your real estate agent to determine a fair and reasonable offer based on market conditions and the property's value. Take into account any necessary repairs or renovations that may be required.
Making an offer and negotiating the purchase price
Do not make an offer unless you find a home you want to live in and can afford for three to five years. You may not financially be able to resell before then. If you can't afford the payment, wait. If you can't find a home you want to pay to live in, then rent a while. There is no hurry to purchase a home. It can be a financial disaster to buy when you aren't ready or can't find the right home. Renting is not a bad option sometimes. Use this alternative if you need to.
Negotiation skills are crucial during this phase. Be prepared to make counteroffers and engage in a back-and-forth with the seller. Your real estate agent can provide valuable guidance and negotiate to ensure you secure the best possible deal.  Be firm in your boundaries at this stage, and be willing to walk away if needed.  There will always be other homes, but once you buy, you will be responsible for the payment and the upkeep of that home.  
Home inspections and due diligence: Protecting your investment
Before finalizing the purchase of a new home, it is essential to conduct a thorough home inspection and due diligence. Hire a qualified home inspector to assess the property's condition and identify any potential issues or repairs that may be needed. This step is crucial to protect your investment and avoid surprises after the purchase. I have seen people feel rushed into purchasing and buying, waiving their rights to an inspection. This is a huge mistake, in my opinion. Unless you know you will be fully renovating, I would pay for an inspection so you know what you are getting into. If you don't, there could be major costly repairs hidden under a pretty surface that could even bankrupt you, if severe enough.
Additionally, review all relevant documents and disclosures related to the property. This may include past renovations, property surveys, and existing liens or encumbrances. Consult with your attorney and the realtor to ensure you have a clear understanding of all legal aspects and potential risks associated with the property.
Other posts of interest
Top Financial Moves to Make in Divorce
Top 3 Moves to Improve Your Credit Fast
7 Proven Steps to Overcome Loneliness
The Proven Benefits of Allowing Yourself to Cry
Financing options: Mortgage types and eligibility
Take time to understand the various financing options available when buying a house after separation. Make sure the lender and title company are aware of the situation you are in, purchasing before final divorce orders have been received. They will tell you anything they require that you may not have thought of. There could be different requirements for different companies. Some have policies to ensure the success of their clients residing in multiple states. They may have stricter standards than your state does. If you find this is the case, decide if it is better to postpone the purchase or find another lender or title company that will work with you in your current legal status.
Research different mortgage types, such as conventional loans, FHA loans, or VA loans, and determine which option best suits your needs and financial situation. Consider interest rates, down payment requirements, and eligibility criteria. A good lender will consider all of the options you qualify for and will ensure you get the best choice for your circumstances. I like using a broker rather than a single institution for my mortgage needs.
Gather the necessary documentation, including income statements, tax returns, and bank statements, to support your mortgage application. This could be difficult during a divorce.  That's why I suggest gathering all documents before leaving a marital home and doing some "detective work" of your own before applying for large loans.  If you don't have access to past tax returns, you can request them straight from the IRS.  You should pull your credit report before the lenders, too, so there are no surprises your former spouse didn't tell you about.  
Lenders will evaluate your financial stability and creditworthiness to determine your eligibility for a loan. Work closely with your lender to ensure a smooth and efficient mortgage approval process.
Finalizing the purchase: Closing costs and legal processes
As you approach the final stages of buying a house after separation, you must know the closing costs and legal processes involved. Closing costs typically include fees for appraisals, inspections, title searches, and attorney fees. Closing costs will come out of your pocket at closing unless they are negotiated to be paid by the seller as part of the purchase deal. Consult with your real estate agent and mortgage lender to fully understand these costs and budget accordingly.
Additionally, ensure that all necessary legal processes are followed. This may include reviewing and signing the purchase agreement, coordinating with the seller's attorney, and conducting a final property walkthrough before closing. Your attorney will guide you through these processes and ensure all necessary paperwork is completed accurately and efficiently, including anything you need from your soon-to-be ex.
By following these steps and seeking expert advice, you can navigate the path of homeownership after separation but before divorce with confidence. Remember to prioritize your financial stability, consult with professionals, and make informed decisions based on your circumstances. With careful planning and understanding, you can secure a stable home for yourself and your family during this transitional period.
Buying a house after separation but before divorce can present unique challenges and considerations. Review your needs and requirements carefully as you navigate this precarious situation to avoid undue stress and heartache. Then, settle into your new home and new life after divorce. As you do, may you find the peace, safety, and security you seek.