Some of the links on this post are affiliate links. This means if you click on the link and purchase the item, I will receive an affiliate commission at no extra cost to you. I only promote products I believe in and all opinions remain my own.
As a busy single mom, I find it is easy to put off caring for myself. It can often be the last thing on my mind.
I neglect to go to the doctor and getting well-checks, I neglect to get physical therapy to help with stiff muscles, I neglect relaxation and eating healthy when it takes more time than the easy grab and go meal.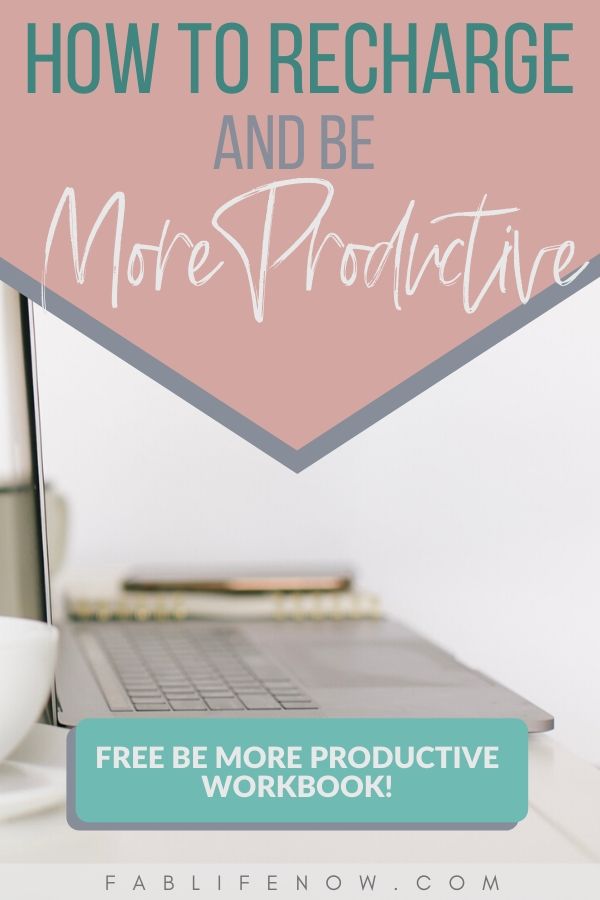 All of this can affect my productivity each day.
When it comes to being productive, your body is just as important as your brain. If you don't care for your body, you'll have a hard time finding the motivation to get through your day. You'll experience decreased energy and be more likely to feel sluggish and tired.
The best way to get back into your normal productive routine is to recharge your body. You'll find it easier to tackle your work with motivation and you'll be able to give your full attention to the projects on your to-do list. While there are many ways you can recharge, here are three things you can try.
Take a power nap.
A power nap is a short nap that enables you to wake up feeling refreshed. The trick with a power nap is the timing. If you don't nap long enough, then you may feel groggy upon waking. If you nap too long, then you'll have a tough time getting to sleep when it's bedtime.
Many people find that the best length of a power nap is between fifteen and twenty minutes. For even better results, stick to a regular nap schedule. Most doctors advise taking your power nap in the middle of the day. This will allow you to get the benefits of a power nap without it wrecking your sleep cycle.
Find a comfy place to curl up, mid-day and nap. Don't feel guilty it is actually good for your productivity. Some businesses, like the bank USAA, actually provide napping rooms for their employees to access during their breaks because they understand the benefits.
Read More of the Be More Productive Series
Eliminate These 3 Things to Be More Productive
5 Energy Boosting Snacks to Recharge and Be More Productive
4 Drinks to Rehydrate to Be More Productive
6 Ways to Find Inner Focus and Be More Productive
Treat yourself to a massage.
There are not many of us who can avoid spending a significant part of our days in front of a computer. When you sit all day like this, it's easy to overwork the muscles in your neck and shoulders. That's why it can be helpful to get a shoulder or neck massage.
Besides helping your muscles, a massage is an excellent way to increase your blood circulation and getting one will make you feel more alert. It's also helpful if you suffer from chronic pain due to a medical condition like fibromyalgia or arthritis.
You can opt for a day trip to the local spa or you could find a massage therapist online through a website like the American Massage Therapy Association (AMTA).
Go on a mini-retreat.
A retreat is a chance to withdraw from everything around you. It gives you the space to reflect on your priorities and sort through your emotions. A mini-retreat might be just what your body needs to recharge and get back to your normal productivity or even more.
Your mini-retreat doesn't have to last long. You can choose to have your own private retreat for just a few hours or make it longer like a night or two away.
Try to pick a place or a series of places that you can go where you feel safe and comfortable. For some people, a safe, relaxing place might be a library, church, or museum.
As you see, a retreat doesn't have to happen at a spa. The destination can be anywhere that fills you up. For, me, I love to head to the mountains or the beach. If I can't get there easily enough, I just love a walk outside when the weather is good. Anything outdoors enjoying the beauty of nature is the retreat I need to clear my head and recharge my body.
Remember self-care is just as important as the other things in your life. Keep it running well and you will have a long healthy life full of productivity.
Read the Rest of the Be More Productive Series
Eliminate These 3 Things to Be More Productive
5 Energy Boosting Snacks to Recharge and Be More Productive
4 Drinks to Rehydrate to Be More Productive
6 Ways to Find Inner Focus and Be More Productive